Ridgid Adds a Cordless Glue Gun to Its 18V Lineup
Glue guns have tons of practical uses ranging from DIY projects to professional applications, but their basic function is the same across the board. Where they tend to differ is in performance— things like maximum temperature can affect who the tool is intended for. In Ridgid's case, the 18V High-Temp Glue Gun has something for everybody, and we're looking at what that means for pros, DIYers, and everyone in between.
Ridgid 18V High-Temp Glue Gun Performance
Model: Ridgid R860433B
90-second heat-up time
Three temperature settings
Maximum heat: 400°F
Stroke adjustment dial
The Ridgid R860433B is the brand's first cordless glue gun. It features rapid heat-up, reaching full temperature in as little as 90 seconds with three temperature settings. On the high end, this tool reaches a maximum heat of 400°F.
Ridgid tells us you can use the lowest heat setting (280°F) for heat-sensitive materials, the medium setting (340°F) for general and automotive gluing, and the high setting (400°F) for heavy-duty construction gluing.
Additionally, this tool's stroke adjustment dial lets you control the amount of glue flow for the application at hand.
Ridgid 18V High-Temp Glue Gun Design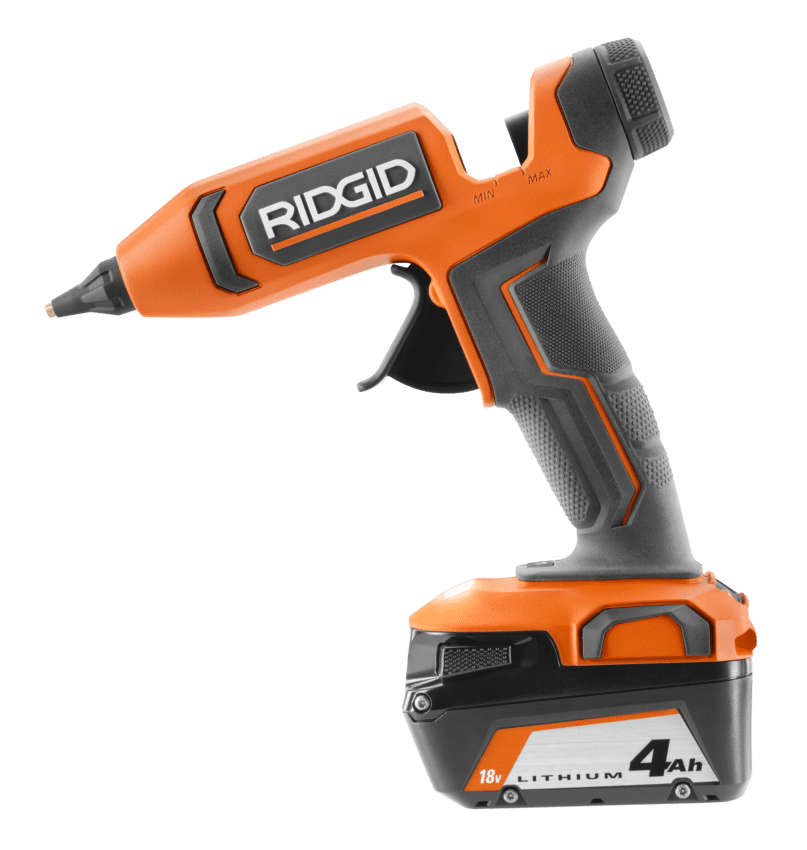 Dimensions (LxWxH): 9 x 3.2 x 8.5 inches
Weight: 1.2 pounds
Ergonomic trigger design
Interchangeable nozzles
Hex grip
LED heat indicator
LED work light
This glue gun is fairly compact standing at just 9 inches long and weighing a very manageable 1.2 pounds bare. It features an ergonomic trigger design and a downward-angled head to reduce fatigue during all-day use.
This tool includes three interchangeable nozzles— a standard nozzle, a spreader nozzle, and a precision nozzle. It also comes with a nozzle wrench to provide easy switching between the three nozzles.
An integrated LED heat indicator provides the glue gun's temperature status, with a blinking light indicating the tool is heating up and a solid light indicating that it's reached temperature.
Finally, an LED work light provides extra illumination when you're working in low-light areas.
Ridgid 18V High-Temp Glue Gun Price
This glue gun retails for $79 as a bare tool are there are no kit options at the time of writing. It includes three nozzles, five 8-inch glue sticks, and a nozzle wrench. Ridgid backs your purchase with a 3-year warranty and a Lifetime Service Agreement when you register your tool within 90 days of purchase.