We've reviewed a lot of work lights, headlamps, and flashlights over the years and had the pleasure of witnessing major improvement across all of those categories. A little while back, we got our hands on the Acebeam X75 80,000 Lumen Flashlight, and it made quite an impression on our testing team! Now, we're turning our attention to their more compact model, the Acebeam E75 High-Performance Flashlight, to see what it has to offer!
Acebeam E75 Flashlight Performance
Output
Acebeam has two models in their E75 line, the differences being their max lumen output and LEDs. Their most powerful in terms of output hits a max 4,500 lumens at a 6500K color temperature. The other model peaks at 3,000 lumens and features Nichia 519A-V1 5000K High CRI90 LEDs.
Both models feature a set of four LED chips set in their Quad-Core reflector cone. The reflectors direct the light out in a fairly tight beam with a central spot beam and a max range of 260 meters.
Modes
This light has seven modes to choose from. There's Turbo, High, Medium 2, Medium 1, Low, Moonlight, and Strobe. Acebeam's single button design is very streamlined, but there is a slight learning curve.
As you would expect, pressing the button once will turn the light On or Off. To switch modes, first turn the light on and hold it down until it cycles to the mode you want to use. A quick double-click on any mode will engage the Turbo mode, and another double tap disables it and returns back to the original brightness setting.
A triple click at any time while the light is on engages the Strobe feature, and a single click will disengage.
The last mode to discuss is actually one of my personal favorites. The Acebeam E75 flashlight's lowest setting is their Moonlight mode that emits just 1 lumen. This mode is perfect for things like late night reading, illuminating small spaces, and even gives you a tactical advantage by keeping the light to a minimum. When the light is off, press and hold the power button for 0.5 seconds to activate this mode.
If you're taking this light on the go, Acebeam included a lockout feature that prevents accidental activation. Why is this important? Well, due to the high light output, the lens and bezel quickly heat up and are a potential fire hazard if it activated while in a backpack or suitcase. For this reason, we highly recommend activating the lockout feature when not in use. Simply hold the power button for 3 seconds to lock and unlock the light.
Note: we put a full control overview chart at the bottom of the review.
Runtime
When it comes to runtime, it's not long at max output, but the 5000mAh battery extends significantly based on the output you use. Due to the high power output, this light will automatically step down the lumens in order to manage heat and protect the battery. This leads to some complicated runtime estimates. Here's a quick guide on runtime estimates from Acebeam:
E75 5000K High CRI90
Lumens/Runtime/Throw
E75 6500K Cool White
Lumens/Runtime/Throw
Turbo
3,000 -> 1,000 lm
1 min -> 1 hr 45 min
260m
4,500 -> 1,500 lm
1 min -> 1 hr 45 min
210m
High
1,000 lm
1 hr 50 min
148m
1,500 lm
1 hr 50 min
128m
Medium High
450 lm
4 hr 40 min
97m
600 lm
4 hr 40 min
82m
Medium Low
150 m
16 hr
64m
200 lm
16 hr
58m
Low
30 lm
2 days 12 hr
50 lm
2 days 12 hr
Moonlight
1 lm
26 days
1 lm
26 days
Strobe
2,400 -> 1,000
15 min -> 3 hr
221m
3,500 -> 1,500 lm
15 min -> 3 hr
185m
So why not just give normal runtime estimates? That's the intelligence of Acebeam's heat management system. Take Turbo mode for example. You can run at 4,000 lumens for a brief time. As the temperature rises, the light steps down to 1,000 lumens. That level of output quickly creates significant heat, so it's important to dial back the power before causing any damage.
Your actual results will vary with the ambient temperature and humidity, so it's tough to nail down exact estimates with this kind of light. However, these are tested based on the ANSI FL1 standards, not some random test.
Control Overview
In spite of the single-button design, there is still a slight learning curve when it comes to the controls. Everything is detailed out in the user manual, but here's a quick overview:
| | |
| --- | --- |
| Function | |
| Turn Light On/Off | Single click |
| Change Output | Long press to cycle through the output modes |
| Turbo Mode | Double click |
| Strobe Mode | Triple click |
| Moonlight | 0.5 Second press with Light Off |
| Lock/Unlock | 3-Second Long Press with Light Off |
Acebeam E75 High-Performance Flashlight Design Notes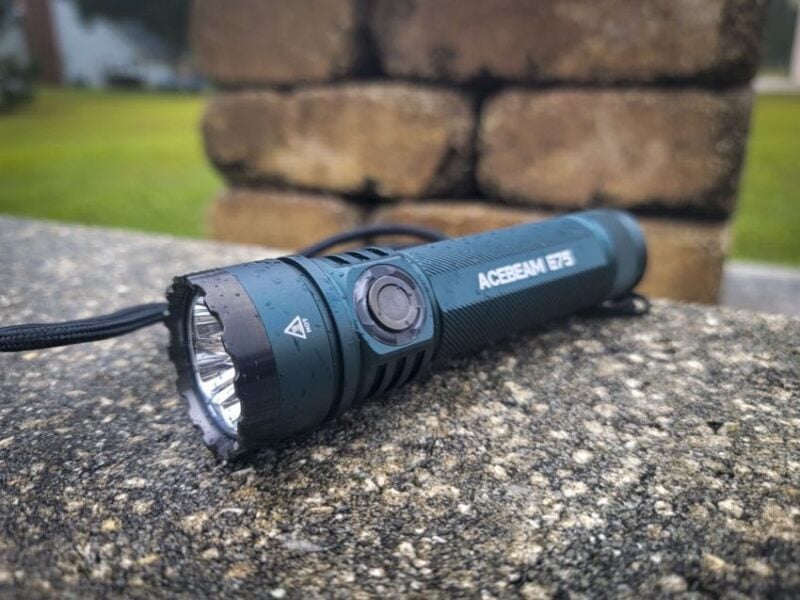 Durability
Acebeam designed this light in a way that earns an IP68 ingress rating. That means it's waterproof up to 2 meters deep for up to 30 minutes. Just make sure the charging port cover and end cap are closed tight and you're good to go in the rain, snow, or completely underwater.
When it comes to external durability, it has a 1.5 meter drop rating and a stainless steel strike bevel for self-defense and as a car emergency tool. The tempered glass lens features an anti-reflective film plating for scratch resistance and near perfect light transmittance. Lastly, the body is covered with a hard-anodized anti-abrasive finish to help prevent corrosion and reduce wear and tear.
Charging
To charge the light, you flip open the rubber cover located near the bezel to expose the USB-C charging port. The battery level indicators around the power button will blink red while charging and then show green when fully charged.
When the light is in use, the battery level indicator will show up green until the power reaches 20 percent remaining. At 10 percent battery remaining, the lights will flash red.
Accessories
The E75 is useful for more than just your typical flashlight tasks. Acebeam also sells silicone covers for directing traffic, as well as white and amber silicone diffuser caps.
Additional Features
Lanyard
Magnetic base
Two-way body clip
Acebeam E75 High-Performance Flashlight Price
This light will run you $99.99 in either configuration. If you have any issues with the light within the first 15 days of purchase, you'll want to contact your Acebeam dealer to arrange a replacement. Otherwise, they offer a 5-year repair or replacement warranty as well as a 1-year battery warranty.
If you're buying direct from Acebeam, use code PTR15 for 15% off!
The Bottom Line
The Acebeam E75 High-Performance Flashlight is more than just an ordinary flashlight, and in fact, it's very well-built and loaded with useful features. It has an impressive output level on the top end, but I find that I utilize the lower output levels primarily. With that said, I like having the high output options to use for non-lethal defense, signaling, or simply filling a room with light.
Check out more Acebeam lighting solutions by clicking here!