This week, we have a Flex vs Makita hammer drill head-to-head review on tap for you. Both brands have long ties to professional tradesmen, with Flex getting its start in Germany and Makita coming to us from Japan. However, both the Flex 24V line and the Makita 40V XGT line are relative newcomers to the cordless space. Check out what we discovered and decide for yourself which one deserves the win.
For Flex, the original high-performance hammer drill from the 2021 launch is still top dog in the 24V (21.6V nominal) line. Unlike 18V/20V max systems that rely on 5-cell groups, Flex ups the ante with a 6-cell configuration that legitimately has 20% more available energy in the pack. Both on paper and in real-world use, its performance was eye-catching at launch, and it remains one of the best cordless drills available.
Makita enters with its 40V max XGT GPH01 hammer drill. Using a 40V max (36V nominal) battery system, it's running at twice the voltage of Makita's popular 18V LXT line and boasts the brand's most advanced battery technology ever.
Both drills had to complete four performance tests as part of our evaluation. While certainly the most significant aspect of drills at this level, performance isn't everything. We're also going to consider size, weight, features, and price. We'll set all that out for you, and you can decide for yourself which of these impressive tools deserves the win.
What About the Makita GPH02?
Makita does have a second drill on the XGT line. However, the GPH02 is a compact model and focuses on reducing size rather than getting the highest possible performance. For this test, we want the fastest, strongest models available, ADN that's the GPH01 for Makita.
Flex Vs Makita Hammer Drill Specifications
Before we jump into the performance tests, here's how these two drills line up on paper.
Flex 24V
FX1271
Makita XGT
GPH01
Top Speeds
700/2500 RPM
650/2600 RPM
Max Torque
1400 in-lbs
1250 in-lbs
Max Hammer Rate
40,000 BPM
39,000 BPM
Head Length
7.3 in
7.2 in
Bare Weight
3.8 lbs
3.7 lbs
Weight w/Tested Battery
6.0 lbs (5.0Ah battery)
5.3 lbs (2.5Ah battery)
The Makita 40V max 2.5AH battery has 90Wh of capacity, while the Flex 5.0Ah has 108.
Flex Vs Makita Hammer Drill Test Results
We ran a series of four tests to gauge the performance of both hammer drills. Before each test, we fully charged the battery.
Soft Torque
To test the soft torque, we used an inline torque meter and drove a thick lag screw as far as we could into stacked OSB subfloor. This gives us an idea of how much torque each drill is able to put into wood fastening, but it's not perfect.
Modern brushless motors sense the load and shut the motor off before it reaches its full power potential as a protection mechanism. Still, we get an objective, comparable number that's representative of the soft torque in a demanding wood fastening application.
Flex 24V
FX1271
Makita XGT
GPH01
Max Measured Torque
425 in-lbs
428 in-lbs
Spade Bit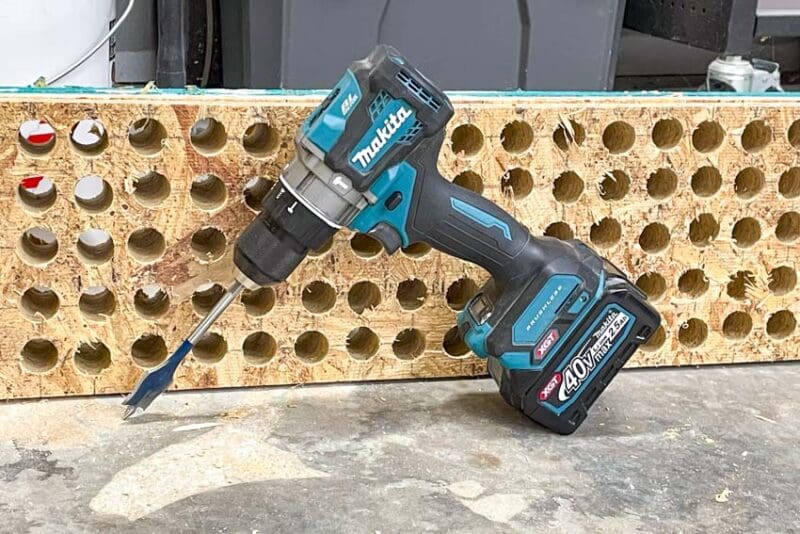 For our medium-load test, we used a 1-inch spade bit with a self-feeding tip to drill through 4 inches of stacked and glued 1/2-inch OSB. The result is the average of three tests. Any outlier results were thrown out, and the run repeated.
Flex 24V
FX1271
Makita XGT
GPH01
Average Time
2.8 seconds
2.6 seconds
Self-Feed Bit
To get an idea of how these hammer drills perform under a heavy rough-in load, we used a 2 9/16-inch self-feed bit to drill through a 2×4 pine stud. We tried each drill in high speed first, and if it was unable to complete the test, dropped into low gear. The result is the average of three tests. Like before, we eliminated any outlier results and repeated the test.
Flex 24V
FX1271
Makita XGT
GPH01
Average Time
4.7 seconds
2.1 seconds
Concrete Bit
The final test was drilling through concrete. Using a 3/8-inch concrete twist bit, we drilled 3 inches deep in fully-cured 4000 PSI concrete. We took the average of three tests to get our results. Again, in the event of any outliers, we threw out the result and repeated the test.
Flex 24V
FX1271
Makita XGT
GPH01
Average Time
3.4 seconds
4.2 seconds
What About Flex's Stacked Lithium Battery?
To make our Flex vs Makita hammer drill head-to-head review a little more complete, we also gave Flex the advantage of running the same tests with its 6.0Ah Stacked Lithium battery. Considering you can get a kit with standard or Stacked Lithium batteries, it's helpful to know how much it helps. Here's how it all stacked up:
Flex 24V FX1271
w/5.0Ah Battery
Flex 24V FX1271
w/6.0Ah Stacked Lithium
Makita XGT
GPH01
Soft Torque
425 in-lbs
549 in-lbs
428 in-lbs
Spade Bit
2.8 sec
2.5 sec
2.6 sec
Self-Feed Bit
4.7 sec
2.5 sec
2.1 sec
Concrete Bit
3.4 sec
2.6 sec
4.2 sec
Weight
6.0 lbs
6.1 lbs
5.3 lbs
Flex Vs Makita Hammer Drill Highlight Features
As the flagship drills for their respective platforms, these tools have some of the best features available from these two top brands. Here's a quick breakdown of the major highlights:
Flex FX1271
Brushless motor
Kickback control
Turbo mode that works in both low and high gears
Makita GPH01
Brushless motor
Kickback control
Electronic clutch (41 low-speed settings, 21 high-speed settings)
Flex Vs Makita Hammer Drill Price
The last piece of the puzzle is price. As flagship tools from powerhouse brands, it's not a surprise to find that these drills are on the expensive side of their respective lines. That doesn't mean they're a bad value, though. When you need the best performance available or the most innovative features to make a real difference in how productive you are, top-of-the-line tools can be a fantastic value.
Flex 24V
FX1271
Makita XGT
GPH01
Bare Tool
$159
$244
Basic Kit
$249
FX1271 Hammer Drill
1 x 2.5Ah Battery
1 x 5.0Ah Battery
$499
GPH01 Hammer Drill
2 x 2.5Ah Battery
Upgrade Kit
$279
FX1271 Hammer Drill
1 x 6.0Ah Stacked Lithium Battery
NA
2-Tool Combo
$299
FX1271 Hammer Drill
FX1371 Impact Driver
1 x 2.5Ah Battery
1 x 5.0Ah Battery
$469
GPH01 Hammer Drill
GDT02 Impact Driver
2 x 2.5Ah Battery
Warranty
5 Years
Lifetime w/ Registration by 12/31/23
3 Years
Prices at Acme Tools at the time of writing