We have to admit that this article arose out of a desire to finally understand how to choose the best knife sharpener when tackling the various EDC folding knives and kitchen knives used by our staff. With our experience critically testing tools and our large array of experience with literally dozens of different pocket knives over the years, our staff had decades of combined experience to suss out the very best sharpeners for almost any application or user.
Table of Contents
Also In This Article
How to Choose a Knife Sharpener
When thinking about how to choose a knife sharpener, start with what kinds of knives you plan to sharpen. For example, our recommendations differ between someone wanting to sharpen their collection of EDC folding knives and one looking to hone their kitchen knives. The desired application definitely matters.
In general, those looking to sharpen very dull knives will want something specifically made to put a new or renewed edge on the blade. That entails either a good quality sharpening stone, diamond stone, or—at the very least—carbide blades. For the task of putting on a new edge, you also want to ensure you have a good level of consistency. If your system lets you vary the angle because it relies on your grip or hand position, you could end up working against yourself with every other stroke. Something with a solid angle guide should speed up the process.
If you tend to keep up with knife sharpening, then simply having a good-quality ceramic sharpener might be all that you need. A few passes regularly with that kind of system and you can maintain a nice edge for many years. One last consideration—aside from your budget, of course—is the sharpening of serrated blades. Not every sharpening system accommodates those blades—and not all serrated blades are the same. Whether you need a conical file or a pull-through solution, be certain your sharpener has everything required to keep these blades in tip-top shape.
Best Knife Sharpener Overall
Work Sharp Professional Precision Adjust Knife Sharpener
Having used the Lansky knife sharpening system for years, Work Sharp takes everything great about that system and improves it. While not inexpensive, the Work Sharp Professional Precision sharpener features metal construction. Of particular note, the articulating hinge point is metal—the part that arguably suffers the most abuse during use. You can adjust the system from 15 to 30 degrees using a simple adjustment knob. On top of that, Work Sharp gives you a digital angle finder for even better precision.
While Work Sharp also makes electric sharpeners like their Ken Onion Edition, we prefer the less aggressive manual sharpener as it produces a much better and much more consistent result. Note: If you want to risk plastic construction and a weaker hinge point, check out the Work Sharp Precision Adjust Knife Sharpener which has many of the same core features but at a savings of nearly $200!
Pros: Excellent construction and enough flexibility to sharpen nearly any knife (even serrated); replaceable magnetic sharpening stones
Cons: Expensive
Verdict: The most flexible sharpening system guaranteed to give you an excellent edge every time
Specifications
Model: WSBCHPAJ-PRO
Grits: 220, 320, 400, 600, 800 (diamond), fine ceramic, and leather strop
Includes: Metal sharpening frame, table attachment, digital angle indicator, seven 1×6 sharpening abrasives, ceramic rod, leather strop, metal V-clamp, clamp stabilizer
Price: $249.99
Best Knife Sharpener for the Money
Smith's PP1 Pocket Pal Knife Sharpener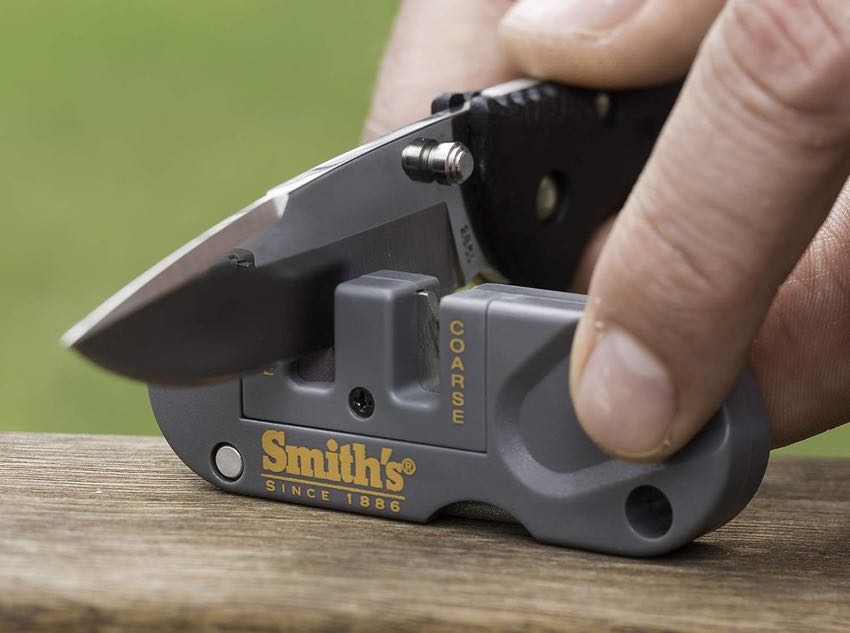 You can find a lot of inexpensive solutions for portable knife sharpening. We tend to lean into those that work well for pocket knives as opposed to tabletop kitchen knife sharpeners. Smith's PP1 Pocket Pal Knife Sharpener gives you a very simple, travel solution for sharpening even the dullest knives. We love the independent coarse/fine carbide/ceramic grooves as well as the fold-out diamond-coated rod for dealing with serrated blades. If you want something to take camping, leave in your glove box, or just about anywhere you may run into a need to care for a dull blade.
We also love the design of this tool. Where some require you to (dangerously in our opinion) hold the sharpener in your hand, the flat bottom of the PP1 lets you sit it securely on a table while you pull away from the sharpener.
Pros: Super-portable, tackles serrated blades
Cons: Only one angle option for sharpening your knives
Verdict: Take this $12 sharpening tool with you anywhere!
Specifications
Model: PP1
Grits: coarse (carbide) and fine (ceramic) plus tapered diamond rod
Includes: All-in-one sharpener
Price: $12.13
Best Pocket Knife Sharpener
Lansky Professional Knife Sharpening System
If you merely want to focus on pocket knives, then you can forgo systems that cater to longer chef's knives and other lengthy blades. This can save you money, and you can focus on tools that cater to the sharpening angles most typically found in folding pocket knives. We think the best pocket knife sharpener still has to be the Lansky Professional Knife Sharpening System. While not necessarily as easy to use as some others, it gives you the flexibility to tackle any knife edge. It also provides the flexibility to handle all blade angles and also includes everything you need except a leather strop (which we recommend adding!)
Pros: Supports the widest array of angles (17–30 degrees)
Cons: A more manual sharpening method that takes more time and technique
Verdict: Using this system makes you feel like a Pro and gets professional results
Specifications
Model: LKCPR
Grits: 120, 280, 600, and 1000 grit stones plus medium grit serrated knife sharpener
Includes: Clamp and angle holder, 5 extension rods, 5 sharpening/honing stones, honing oil, case
Price: $79.95 (often less)
Best Electric Knife Sharpener for Kitchen Knives
Chef'sChoice Trizor 15XV Professional Electric Knife Sharpener
If you want a much speedier method of sharpening all of your kitchen knives, the ChefsChoice Trizor 15XV Professional Electric Knife Sharpener does an amazing job. While certainly not as quiet as a manual sharpener, you gain the advantage of being able to cruise through sharpening a dozen knives in less than 15 minutes. The Trizor 15XV features a three-stage sharpening system (sharpen, hone, polish). It takes up just 10 inches of width on your counter—but honestly we recommend storing it underneath in a cabinet and just pulling it out when you need to sharpen a knife or two.
What really makes this system stand out are the guides. The sharpener automatically guides your knife through the sharpening process. For those new to sharpening, this means you don't have to develop a technique or hold the knife exactly at the perfect angle. The system automatically presses the blade against the plastic guide to hold the perfect angle. The course grind also has enough oomph to rehone your blade to 15 degrees if it has a slightly shallower grind to begin with. Another advantage of this system is that you can use the polish (third) slot for serrated blades.
Pros: Truly carefree sharpening, supports serrated blades
Cons: Expensive, a tad loud during use, no scissors sharpening
Verdict: A truly quick and idiot-proof kitchen knife sharpener for anyone
Specifications
Model: 15XV
Grits: diamond abrasives for course, hone, and polish
Sound: 65-75 dBA
Price: $149.99 (often less)
Best Manual Knife Sharpener for Kitchen Knives
Smith's 50146 Stainless Adjustable Angle Knife Sharpener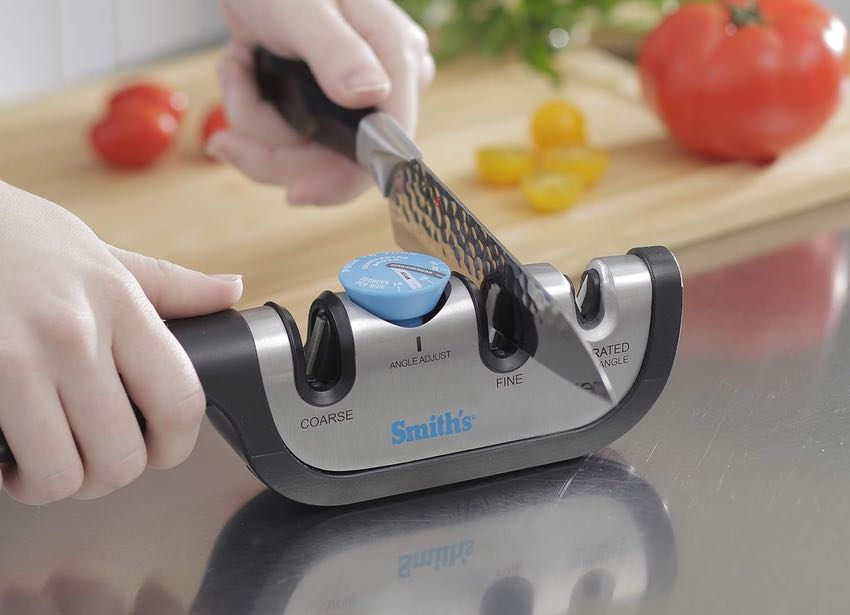 With possibly the most helpful feature we've seen, the Smith's 50146 Adjustable Angle Knife Sharpener gives you a way to dial in angles from 14 to 24-degrees. That makes it perfect for paring or chef's knives. It even handles serrated blades with the help of a fixed blade. Smith's makes a plastic version of this, but we prefer the stainless model. If you want to exchange the serrated function for a way to sharpen scissors, check out the more expensive but similar model from Razorsharp.
Pros: Adjustable sharpening angle, stainless steel design
Cons: Not suitable for serrated blades
Verdict: The only knife sharpener you need for your non-serrated kitchen knives
Specifications
Model: 50146
Grits: Coarse (carbide) and fine (ceramic) plus fixed angle serrated
Includes: All-in-one adjustable sharpener
Price: $49.99 (often less)
Best Serrated Knife Sharpener
Lanksy Blademedic 4-in-1 Knife Sharpener
While many blade sharpeners claim to work by drawing the serrated edges past a set of honing blades, we prefer a manual draw-through sharpener. However, why not combine that with a decent handheld sharpener that also does smooth blades? The Lanksy Blademedic 4-in-1 Knife Sharpener presents an excellent solution for both. We love the fold-out tungsten-carbid draw-throygh sharpener and the carbide and ceramic sharpeners also do excellent for sharpening and honing regular blades.
Pros: Single solution for serrated and non-serrated blades
Cons: None
Verdict: Take it with you anywhere for any type of blade
Specifications
Model: PS-MED01
Grits: Coarse (carbide) and fine (ceramic) plus serrated ceramic and draw-through diamond-tapered
Price: $14.99
Best Ceramic Knife Sharpener and Scissors Sharpener
Smith's 50185 Jiffy-Pro Handheld Sharpener
Sometimes you come across a solution that really excels at more than one task. That's the case with the Smith's 50185 Jiffy-Pro Handheld Sharpener. It has a nice ergonomic grip for fine ceramic sharpening, but the tool also lets you sharpen scissors more easily than most. Stand the tool upright and you can insert a pair of scissors from either side depending upon which blade you want to sharpen. We don't think it does the best at sharpening a truly dull blade, but in a pinch it can get you back up and operating. For honing a reasonably sharp blade, however, it does very well.
Pros: One inexpensive solution for honing blades and sharpening scissors
Cons: Plastic construction
Verdict: Best for quickly honing or deburring blades of all types plus sharpening scissors
Specifications
Model: 50185
Grits: Coarse (carbide) and fine (ceramic) plus scissors
Price: $13.18
Best Whetstone Sharpener for Knives
Intelitopia Complete Whetstone Knife Sharpening Set
You can choose to pay more for a DMT sharpening kit—and we used to—however, the Intelitopia Complete Whetstone Knife Sharpening Set includes everything you need for taking care of most non-serrated blades. We particularly like the dual-sided 400/1000 and 3000/8000 grit blocks coupled with the bamboo base. You also get a leather strop for finishing your edge as well as a course flattening stone to reset your aluminum oxide sharpening stones back to flat. Finally, for those who don't know how to use a whetstone, you get a handy instruction manual that walks you through the entire process along with a handy angle guide.
Pros: Straightforward sharpening process, includes strop and angle guide
Cons: Prep required for stones, requires a consistent angle to get a perfect edge
Verdict: Our go-to sharpener for larger fixed-blade knives
Specifications
Model: MDS00A
Grits: 400/1000 and 3000/8000
Includes: Bamboo base w/silicone holder, 2X aluminum oxide sharpening stones, flattening stone, leather strop, angle guide
Price: $49.99
Other Knife Sharpeners We Recommend
Work Sharp Ken Onion Knife & Tool Sharpening System
We enjoyed using the Work Sharp Ken Onion Knife & Tool Sharpener Field Kit. While, by far, the quickest sharpening system of all the ones we've tested, it didn't make our top list due to the learning curve and how much material it tends to take off the blade. You also have to go through a process to swap out the abrasive belts to go from one grit to another—a process that, while not difficult, slows down the process considerably. Lastly, by its nature, the Work Sharp puts a convex edge on your knives as opposed to the other systems we were using, which produced a flat grind.
Pros: Supports 15–30 degree angles; fast sharpening
Cons: Removes lots of material, creates a convex edge, requires belt changes
Verdict: We acknowledge that some simply love the sharpening speed this system affords
Specifications
Model: WSKTS-KO
Grits: P120 Extra Coarse, X65 Coarse, X22 Medium, X4 Fine, 6000 Extra Fine
Includes: Sharpener, 5 pc belt kit, adjustable guide, DVD, soft bag
Price: $139.95
Frequently Asked Questions
Do Knife Sharpeners Really Work?
Absolutely! Regardless of what type of sharpener you use, you'll quickly find that you can take an underperforming blade and make it good as new. Factors that affect the whether a blade sharpens well have more to do with the style of steel in the blade itself and whether or not you follow a proper technique when honing the blade. Also keep in mind that the level of dullness on the blade should determine the grit or level of sharpening you should do when getting it back to pristine cutting condition.
Which Knife Sharpener Works Best for Fillet Knives?
Fillet knives require a much steeper 15- to 20-degree blade angle. Asian style knives tend toward 15-degrees with their American counterparts often manufactured to the 20-degree angle. In either case, you want to ensure your knife sharpener supports this shallower angle so that you can keep that nice filleting edge on your blade. Expect to sharpen these knives more frequently to ensure consistent performance.
What Knife Sharpener Does Gordan Ramsey Use?
We can't speak to what sharpener he always uses, but if you look closely at a video posted to his Youtube account on December 17, 2013, he demonstrates his sharpening technique using what appears to be a Friedr Herder 12-inch 1/2″ Round Sharpening Steel. The current model to this can be found here and runs about $39 before shipping. As you can imagine, Gordan has really honed his technique over the past several decades (pun intended!)
Some Additional Thoughts
Knife sharpening is part craft, part technique, part efficiency, and part passion. When you add those up and tack on your own preferences, we're certain you can choose something off this list and have great success. The bottom line? If you want to keep your knives sharp, lots of excellent systems exist to help you do that. What surprised us was just how affordable many of these solutions are. In the end, you may end up wanting to purchase more than one to take care of your personal knife collection.
Ever check out a "review" site and you can't tell if they actually tested anything or if they're just "recommending" the Amazon top sellers? That's not us. We won't recommend anything unless we'd actually use it ourselves, and we don't really care who the primary retailer is. It's all about giving you a legitimate recommendation and our honest opinion of each product.
We've been in business since 2008 covering tools, writing reviews, and reporting on industry news in the construction and lawn care industries. Our Pro reviewers work in the trades and have the skills and experience to know whether tools can perform well in the field.
Each year, we bring in and review more than 350 individual products. Our team will put our hands on hundreds of additional tools at media events and trade shows throughout the year.
Pro Tool Reviews consults with innovators in the technology and design of tools to gain a broader grasp of where these products fit and how they work.
We work with more than two dozen professional contractors around the United States who review products for us on real job sites. We consult with them extensively on testing methods, categories, and practical applications.
Our site will provide more than 500 pieces of new content this year absolutely free for our readers. That includes objective evaluations of individual tools and products.
The end result is information you can trust because of the editorial, scientific, and real-world professional experience we collectively utilize each and every time we pick up and test a tool.