Have a dead car battery? Whether stranded at home, work, or somewhere in between, you need a quick solution to get back on the road. And with battery-powered jump starters, jumper cables are now a thing of the past. In this in-depth buyer's guide, we show you the best jump starters we've tested and teach you how to choose the right one for your vehicle.
By the way—we're not talking about jumper cables. Those are a thing of the past. The best way to choose a jump starter is to decide what type is best for you, then compare the various models in each category. In this guide, you'll learn about the best portable jump starters in every category, including plug-ins, battery jump starters, supercapacitors, and multi-function jump starters. Read on to get our top recommendations.
Why Do You Need a Jump Starter?
Jump starters don't get used frequently, but you have to be able to rely on them in an emergency. They are made to boost your starter when your battery doesn't have enough power to turn the engine over. The best portable jump starters can mean the difference between waiting for a tow truck and getting back on the road instantly. They also don't require you wait for anyone else to help you and anyone can use these handy products in a pinch.
Once you're convinced you need a jump starter, your next concerns have to do with the price, type, and capacity. We've found so many affordable options, nearly anyone can (and should) own one.
Benefits of Having a Reliable Jump Starter
The best battery jump starters give you a power boost when your vehicle's battery is dead. They can also be used to charge cellphones and devices, and some of them have additional features like LED flashlights, tire inflators, and SOS lights that come in handy during an emergency stop.
A jump starter not only helps make sure your car can survive a low or dead battery, it also lets you help other stranded travelers you may meet along the road. Find one that's the right size for the type of vehicle you own, and set your worries aside.
Jump starters go by many names. The best models may go by battery-powered jump starters, jump boosters, portable chargers, or booster packs. The two basic types of jump starters fall into battery-powered models and supercapacitor jump starters. All of them are portable, and the former type needs to be charged first in order to work properly.
Battery Jump Starters
Battery Jump Starters feature an internal battery—typically lithium-ion. Once charged, they hold a charge and can jump start most light- and medium-duty vehicles. They do not, however, work on completely dead batteries as they need to detect some charge in order to function. These tend to be the best jump starters for passenger vehicles.
Supercapacitor or Capacitor Jump Starters
Unlike battery-powered jump starters or boosters, supercapacitor jump starters require no pre-charging. Lacking batteries, the internal capacitors charge off the low power provided by a weak battery until it has enough power to start your engine. You might see the difficulty here. Like battery-powered chargers, you need to have enough charge left in your battery for this to work. The best supercapacitor jump starters also work better in freezing temperatures than other technologies.
Multi-function Jump Starters
Nearly every one of our best jump starter picks technically falls into the multi-function category. For example, most include a flashlight and/or SOS light in addition to the jump starter. However, a true multifunction jumpstarter likely includes something like a high-pressure tire inflator. We find this an advantage for those who want these features without having to deal with separate products.
Plug-in Jump Starters
Plug-in jump starters with an automatic charge system are the best choice for a well-equipped home or garage. With fully-automatic charging features, they are the best way to charge a dead battery at home. Many of these models lack any sort of internal battery, so keep that in mind as they primarily serve in locations with access to a 120V power outlet.
Best Battery Jump Starters
The two types of battery jump starters are lead-acid and lithium-ion. Lithium batteries surpass lead-acid batteries in every sector of the battery industry, so it's not surprising that they outperform lead-acid batteries in jump starters. The first two best battery jump starter recommendations listed here have lithium batteries. We included a lead-acid pick after that in case you prefer to go with that technology.
NOCO Boost Plus GB40
When many people think of jump starters, they imagine a bulky contraption that takes up a quarter of their trunk space. Not so with this little booster. The NOCO GB40 is one of the smaller jump starters on the market, weighing just under 2.5 pounds.
The GB40 measures less than 2x3x8 inches—small enough to fit in your glove box. That alone might make it one of the best portable jump starters for those low on storage. Powerful enough for 20 jump starts on a single charge, we can recommend it for 6.0 L gas and 3.0 L diesel engines.
The UltraSafe technology tells you if it's not connected properly. The GB40 also acts as a portable power bank for charging cell phones and other devices. 
The NOCO Boost Plus GB40 charges in 3 hours with a 2.1 amp USB port. It comes with a microfiber storage bag and has an LED flashlight. If you're looking for the perfect gift for anyone with a car or a cell phone, this one is an excellent choice, and it's small enough to be a stocking stuffer.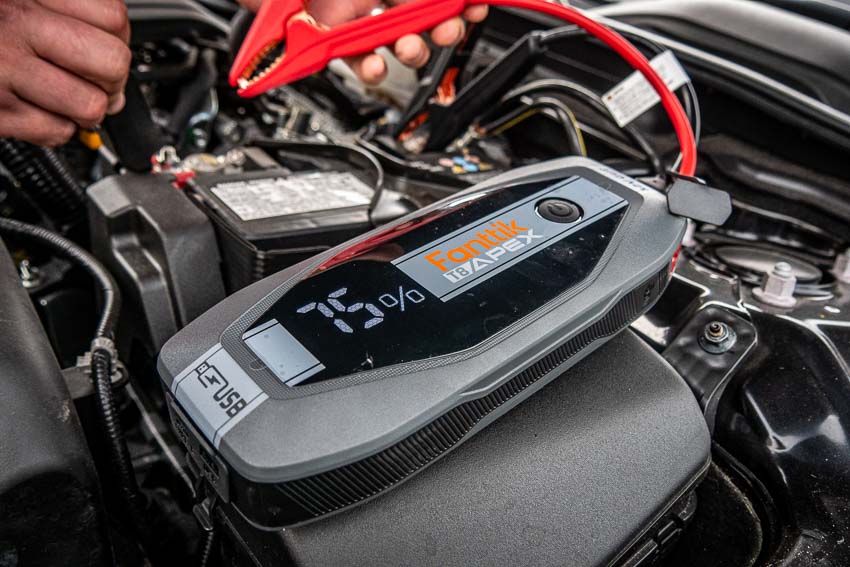 The Fanttik T8 can hold a charge for up to one year and offers 2000 (peak) amps of power to jumpstart all types of vehicles, including SUVs and pickups (8.5L gas and 6L diesel). It features a large inverted LED display as well as a flashlight with SOS signals.
The Fanttik T8 Apex runs less than $100, making it a fairly economical jumpstarter. At a little over the cost of a (truck) tank of gas, there's no excuse for not having one. You get all the necessary features to stay safe and on the road, and it has multiple charge methods, phone charger outputs, and 65W of two-way (bidirectional) USB-C charging. Having tested literally dozens of these products, this is our personal favorite.
The DBPOWER 800A jump starter is only slightly bigger than the NOCO GB40. It's another one of the best jump starters for cars that can fit in your glove box or under your seat.
Designed to start 7.2 L gas and 5.5 L diesel engines, the DBPOWER supplies up to 20 starts in one charge. It has 1600 amps of peak current, and you can easily tell exactly how much power remains on this jump starter with the backlit LCD screen display. 
Some extra features included in this little gem are a fast USB-C charge port for cellphones, iPads, and other devices and an IPX7 dust-tight and waterproof case. The DBPOWER 800A also has a zippered pouch that holds all the accessories.
On the downside, the cables are extremely short, but since the unit is small enough, it isn't really an issue, making the entire unit more compact for storage.
Best Supercapacitor Jump Starters
Even when you're battery is too dead to start your vehicle, it still contains residual power. A supercapacitor jump starter can harness that power to start your vehicle. These small units are the best car jump starters because they won't take up any space in your car.
Autowit SuperCap 2 Lite
The Autowit SuperCap2 Lite has a supercapacitor that uses the residual energy in your vehicle's battery to turn over your engine. Battery technology has come a long way, and so has jump starter technology. 
You never have to worry about keeping supercapacitor jump starters charged because they don't have a battery. That also means you don't have to worry about the other drawbacks of a battery, like the short lifespan and unreliability in extreme temperatures.
The Autowit is rated for reliability in the most extreme temperatures of any jump starter on the list. It works in temperatures ranging from -40°F to 158°F (-40°C to 60°C).
The Autowit SuperCap2 Lite jump starts with 700 amps of power, and because of the simplicity of the design, its lifespan is projected at ten years, almost three times as long as most other types of jump starters.
Schumacher DSR132 ProSeries Ultracapacitor Battery-less Jump Starter
The Schumacher DSR132 ProSeries packs more power than nearly any other jump starter, providing superior reliability. It's the ultimate in supercapacitor and lithium-ion technology, combining the best of both worlds, but it has a higher price tag to match its advanced features.
At 6x10x10.5 inches, it's small enough to store under the driver's seat and weighs only 7 pounds. Even with the small size, this ultracap jump starter lasts longer and recharges faster than others in its class.
Like all supercapacitor jump starters, the DSR132 has maintenance-free technology, and with over 1200 peak amps and 900 cranking amps, it's powerful enough to start any vehicle. It has all your safety features, including microprocessor control and short circuit and reverse polarity protection.
Another reason to choose Schumacher DSR132 ProSeries is the extreme weather rating. If you're worried about the weather, this jump starter has you covered in all temps, from -40°F to 140°F (-40°C to 60°C).
Best Multi-Function Jump Starters
Looking for great features like air compressors and power stations for your roadside emergency kit? Take a look at these multi-function jump starters. 
Stanley J5C09 JUMPiT Portable Power Station Jump Starter
If you want both a jump starter for dead batteries and an air compressor for flat tire emergencies, the Stanley J5C09 is an economical choice. It weighs 18 pounds, so it's much bigger than many others in this guide, but it's got a lot of extra features, like a flashlight, 12V DC charger, and a built-in USB port.
The Stanley J5C09 offers the functionality you need with 1000 peak amps and 500 cranking amps provided by a lead-acid battery. It can start most 4, 6, and 8-cylinder vehicles, providing multiple jumps on one charge.
This unit has sturdy clips, long cables, and it's rugged. Several online reviews show this model can take a beating, and it works well in freezing temperatures. The Stanley J5C09 is a reliable and capable jump starter that won't leave you stranded.
Clore Automotive Jump-N-Carry JNC660 (Lead Acid)
The Clore Automotive Jump-N-Carry JNC660 is designed to boost light passenger vehicles but is strong enough to work on trucks. It has 1,700 peak amps and 425 cranking amps, and with an easy-to-read volt meter, it's a powerful charger for multiple jump starts.
The 46-inch cables make it easy to reach the starting points in engine compartments, and with the Industrial Grade Hot Jaw clamps, you'll get the best connection to ensure reliable power transfer and maximum performance.
The Clore JNC660 comes with a 22Ah Clore PROFORMER lead acid battery, which you can remove and replace when it wears out. It also has a 12V DC power outlet on the back to charge phones and devices.
Best Plug-in Jump Starters
Schumacher SC1281 Automatic Battery Charger
The Schumacher SC1281 plug-in jump starter is a fully automatic starter designed for charging and starting large batteries. It works with all types of batteries and is the ideal choice for SUVs and pickup trucks. 
The automatic battery charger function is perfect for when your vehicle is left sitting for weeks or months, making this charger a great option when restoring an old automobile or when you're out of town for weeks at a time. 
The Schumacher SC1281 automatically adjusts voltage and amperage with a microprocessor-controlled charging system. You can plug it in and leave it, letting it maintain the battery. 
This unit will charge a completely dead battery (unless it's a bad battery). The advanced charging system works automatically to desulfate a battery and uses multi-stage charging to ensure the best charge for your battery. It also comes with reverse hook-up protection and alternator testing, making it the ultimate choice for home garages and anyone just starting out with a jump starter.
Frequently Asked Questions About Jump Starters
Can I use a jump starter on any vehicle?
You should always read the owner's manual for your vehicle before using a jump starter because, in some rare cases, manufacturers don't recommend using them. However, most vehicles can be started with a jump starter. The issue lies with the electronics found in newer and EV cars that can incur damage if they receive a voltage spike. Sensitive electronics include engine control units (ECUs), power steering systems, airbags, traction control systems, and more. Again, typically, this isn't an issue—and also worse with traditional jump-starting vs using battery-powered jump starters.
Can a jump starter damage my car?
Similar to the above, jump-starting a vehicle can be hard on the various electronics and systems. Some people choose a plug-in jump starter with more sophisticated voltage monitoring. With the automatic charging system of plug-in models, your battery will slowly charge without damaging the starter. If you have to jump start a newer car, however, the "smarter" battery and supercapacitor jump starters do better than connecting the car via cables to another vehicle.
How often should I charge my jump starter?
If you use your jump starter once you can leave it for a month or two before recharging it. If you end up having to use it multiple times to get a car started, then you may want to charge it as soon as possible so it's ready to go the next time you need it. To keep it maintained and in the best condition, it should be topped off every one to two months. 
What is the lifespan of a jump starter?
Some jump starters only last a few years. The first component to fail in a jump starter is usually the lithium-ion battery. To protect the battery's life, keep it charged and store it in moderate temperatures whenever possible. Extended exposure to temperatures over 90 °F (32 °C) will shorten the lifespan quicker than anything else. Capacitor-style jump starters can last for up to 10 years.
Are all jump starters portable?
All non 120V plug-in jump starters, except high-end ones used in garages and industrial settings, are portable. They are designed to give you extra juice on the go. Plug-in battery chargers do not typically have battery packs, so they require an electrical outlet. Some plug-in chargers include batteries, and you can take those models with you in the vehicle.