What's better than a new pocket knife? A high-quality custom model! We went through the process to make create a custom Benchmade Bugout pocket knife. We'll show you what options we chose and help you decide if it's worth going custom on your next order.
Pros
High-quality materials
Tons of customization options
Reversible deep carry pocket clip (tip-up carry)
Lifetime sharpening and maintenance service included
Made in the USA
Cons
Expensive for budget-conscious shoppers
Benchmade Custom Knife Shop
While we chose the Bugout to customize, it's not the only option. Here's the full list of models you choose from:
Bugout
Mini Bugout
Crooked River
Mini Crooked River
3-Piece Set
Station Knife
Meatcrafter
Table Knife/Table Knife Set
Benchmade Bugout Custom Pocket Knife Handle
When you jump into the custom menu, there are three tabs across the top, starting with the handle. You can go with Grivory, G10 (+$60), or carbon fiber (+$100). Grivory has the widest range of color choices with 12, followed by G10 with 5. Carbon fiber sticks with its native black/gray weave pattern.
I wanted my knife to stand out so that it's more visible on my adventures but not necessarily flashy, so I stepped up to the G10 in orange. It keeps the weight down while offering a bit more stiffness than the Grivory handle.
Grivory Colors
Black
Blue
Red
Dark Grey
Lime Green
Pink
Light Grey
Orange
Purple
White
Yellow
Medium Grey
G10 Colors
Black
Blue
Medium Grey
Orange
Red
Once you choose your handle, click the next tab on the bottom of the image to select a silver or black liner color. I went with black to match the color of the blade.
Benchmade Bugout Custom Pocket Knife Blade
Clicking over the next tab, you get to choose your blade, and there's a lot in this section. The first tabs are for selecting what you want engraved on the blade.
Artwork is your first option, and there are a TON of choices from military-inspired to holiday and a lot in between. As you're perusing, take a look at the Limited Edition National Park series artwork. I'm a huge fan of the Rocky Mountain region and ended up choosing the Rocky Mountain artwork.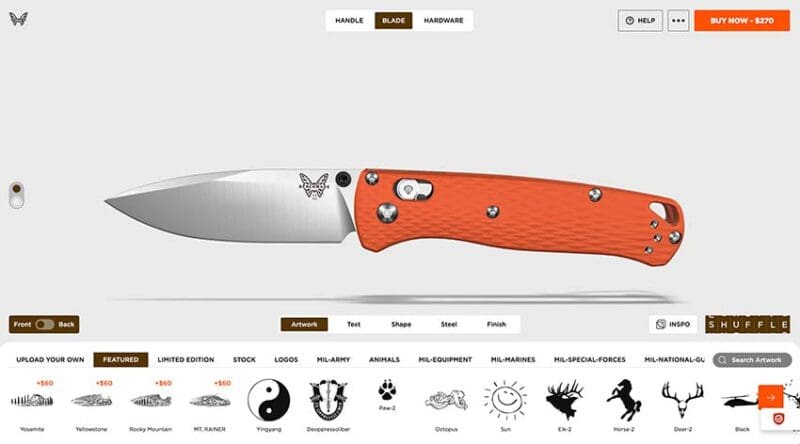 You can mix and match most of the artwork to put something on both sides of the blade. You can add text as well, either with an image or on its own.
Once you select the image or text you want, you can use the sliders to adjust the size, horizontal and vertical orientation, and angle. For text, you can also choose from a variety of font styles.
The Bugout features a drop point blade, and on the Shape tab, you can decide between a plain or partially serrated edge. Unless I know I'm going to be cutting cord, I go with a plain edge, and that's what I did for this build.
Next up, it's time for blade steel selection. The standard blade is S30V, which is an excellent entry to high-end steel blends. If you prefer, 20CV (+$10) and S90V (+$30) are also available. Benchmade offers a very helpful graph of the corrosion resistance, edge retention, and toughness characteristics of each material. In my opinion, the S90V is the best balance of the three, and the $30 premium for it is worth it.
Last but not least is the finish—either satin or black. I went with the black to keep the color theme of my design consistent and to contrast with the orange handle.
Deployment and Closing
Blade deployment on the Bugout is primarily via ambidextrous thumb studs. It's a quick action even though there's no spring to assist it, though not quite as snappy as the Redoubt with it's higher-mass blade.
To close the blade, Benchmade uses a spring-loaded release at the top of the handle. While it's unusual, we really like how it keeps your fingers out of the way of the blade. If you've ever had a blade swing down and cut your knuckle, you'll appreciate the added layer of safety.
You can also use the release as a deployment mechanism. If pull it back and flick your wrist, you'll get a one-hand opening. Again, a knife such as the Redoubt with more blade mass makes it an easier operation, but it's still very effective on the Bugout with a little practice.
Benchmade Bugout Custom Pocket Knife Hardware
At this stage, you're done with most of the decision-making, but there are a few hardware colors to pick.
For the spacers and thumb studs, there are 10 colors to consider. Whether you're looking to keep consistency, add a creative contrasting flair, or show off your favorite college team's colors, there's a good bet you can find a combination you like.
Moving on to the deep carry clip, you can go with silver, black, or forgo it altogether. The clip is removable and reversible (tip-up carry only). You have the same silver or black choice for the screws as well as the blade release axis. It's nice that all three are separate in case you want to mix and match the black and silver.
Benchmade Bugout Custom Pocket Knife Price
The final price depends on which materials and options you want. It starts as low as $210 and runs as high as $400.
As you're creating, keep in mind that Benchmade knives are 100% Made in the USA and they'll sharpen, clean, oil, and adjust them at no cost for as long as you own them.
The Bottom Line
On its own, the Benchmade Bugout is a fantastic EDC pocket knife for people who prefer something on the lightweight side and a little smaller profile. If that's what you're after, there are plenty of stock configurations to choose from. However, customizing the Bugout (or any of Becnhmade's custom models) gives you a knife that's uniquely yours. It's a process that's easy and fun, and we highly recommend giving it a shot to see what you can come up with.