Milwaukee Pipeline 2023 had a tremendous number of products for us to drool over. While some had been announced earlier, most were new. We're going to take a brief look at our top 10 and give you a list of every new Milwaukee tool that was on the docket.
Milwaukee Pipeline 2023 — Our Top 10 Favorites
Forging ahead with the latest battery technology, the M18 and MX Fuel lines are the recipients of the new Forge batteries.
For the M18 platform, there's a 6.0Ah pack, and yes, it uses pouch cells. This is a first for Milwaukee and they tell us they're getting the power of the 12.0Ah High Output pack in this much smaller battery. Additionally, it charges from 0% – 80% in just 15 minutes and offers the longer service life than any of Milwaukee's previous lithium-ion batteries.
The MX Fuel line is upgrading as well, adding 8.0Ah and 12.0Ah Forge batteries to the line. These aren't pouch cell packs, though. Instead, Milwaukee cracked the nut on a true tabless cylindrical design, opening up lower resistance that leads to higher performance, faster charging, and longer life.
Price: $249 (M18 6.0Ah), $849 (MX Fuel 8.0Ah), $1149 (MX Fuel 12.0Ah)
Milwaukee MX Fuel Walk-Behind Trowels
In the category of "we didn't see that coming", Milwaukee launches a 36-inch concrete trowel and a 24-inch edging trowel as part of the MX Fuel line. These walk-behind models replace their gas counterparts and are perfect for scenarios where gas engines prevent issues due to emissions or noise.
Both trowels boast 5HP gas equivalent performance and while that may sound like it's a runtime issue, the new Forge batteries have your back. Packed with 12.0Ah packs and an MX Fuel Super Charger, you'll be able to work continuously as you cycle batteries.
Price: $5999 (24-inch Edging Trowel with two 12.0Ah Forge batteries and a Super Charger), $7999 (36-inch Trowel with three 12.0Ah Forge batteries and a Super Charger)
Milwaukee MX Fuel Plate Compactor
The new Milwaukee MX Fuel Plate Compactor has implications for both construction and landscaping. Hitting hard, this 20-inch compactor is capable of compacting 5500 square feet per charge over 35 minutes with a 12.0Ah Forge battery. The kit comes with two of those packs, and a Super Charger gets each one back to a full charge in 65 minutes.
The compactor has two speeds, making it easier to work around forms and edges. It's also multi-directional, so working arcs and corners is easier. Whether you're laying the groundwork for concrete or prepping for a paver driveway, it's a convenient gas-free way to get the job done right.
Price: $5499 with two MX Fuel 12.0Ah Forge batteries and a Super Charger
Milwaukee M18 Fuel Cordless 1/2-Inch Router
We figure there would be a next level M18 Fuel router coming at some point. Even though the rumor mill has been quiet, the Milwaukee 2838-20 is due out in September 2023. This model fits in the 2.25 horsepower class with a top speed of 25,000 RPM. When you're working 5/8-inch roundovers in softwood, the runtime is 225 linear feet on a 6.0Ah High Output battery.
All the features you expect on a Pro-grade router are present. A couple of accessories to keep your eyes on are a plunge base and an adapter that fits the router to Milwaukee's track saw guide rails.
Price: $349 bare, $599 kit including the router, fixed base, plunge base, M18 6.0Ah High Output battery, M18 and M12 rapid charger, contractor bag, 1/4-inch collet, 1/4-inch collet, template base, dust shroud, spindle wrench, and edge guide.
Milwaukee M12 Fuel Barrel Grip Jigsaw
The M12 Fuel woodworking lineup is getting a new addition in the form of a barrel grip jigsaw, and this thing is sleek. With the battery sliding into the rear, the handle itself is a smaller diameter than many models we've used, making for a more comfortable grip. At 3000 SPM with a 7/8-inch stroke length, it promises to cut faster than you'd think for a 12-volt model. Additionally, vibration control is built in along with 5 levels of orbital action to along with the jigsaw's variable speed dial.
Price: $169 bare tool
Nitrus Carbide is Milwaukee's top blade line for Sawzall blades. Now, the technology comes to oscillating multi-tool blades with incredible results compared to other OMT blades currently available. There are two versions to look for. Extreme Materials blades are your go-to for everyday cutting when you're not sure what's behind the wood or drywall. Extreme Metal blades are your top choice for attacking metal head-on. Pricing is the same no matter which blade you want.
Price: Singles are $24.99, 3-packs run $49.99, and 5-packs cost $79.99.
Milwaukee M18 Fuel Torque-Controlled Impact Wrenches
Ever since smart tools became a thing, we've wondered if we could get legitimate dial-in torque control on an impact wrench. Previous attempts were based on blow counts rather than actual torque sensing. However, Milwaukee has developed new-to-world sensors that not only help the M18 Fuel Torque Controlled Impact Wrenches have more accuracy, but also the ability to learn as they go.
Currently, Milwaukee is targeting the Power and Utility sector with this technology, so automotive techs may have to wait a little longer. That said, this is an exciting step forward that can eliminate the need for a two-step impact wrench/torque wrench process.
Price: $1299 – $1399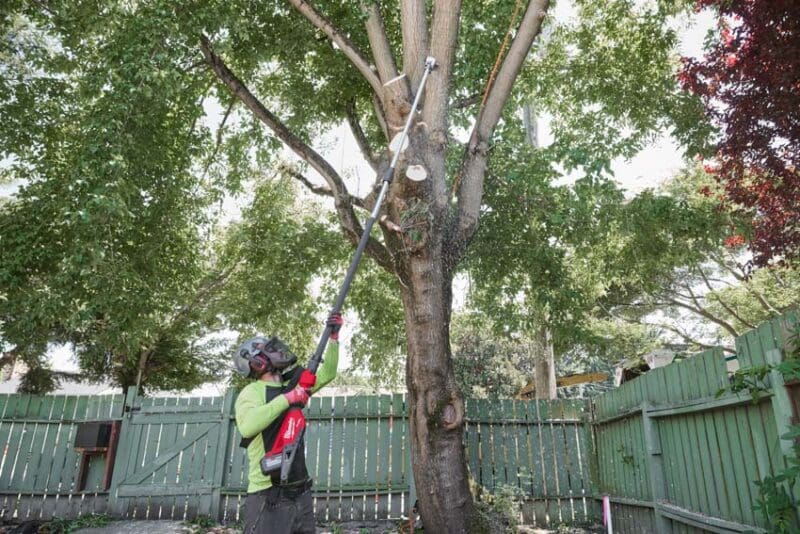 Prior to this model, your only option for cutting at height with a Milwaukee pole saw was to use the Quik-Lok model with an extension or two. That's fine for folks who only have occasional pole sawing jobs to take care of. For those of you who use them more frequently, the Milwaukee M18 Fuel Telescoping Pole Saw's ability to quickly adjust lengths with a reach up to 13 feet to fit the job makes owning the dedicated model a better option to keep your productivity high and frustration low.
Price: $799 kit with a 12.0Ah battery and charger
For crews who maintain larger properties or those who tackle a large volume of small lawns each day, the Milwaukee M18 Fuel Backpack Blower is a welcome sight. With 650 CFM and 155 MPH, it's capable of matching or even exceeding the performance of 60cc gas units. Alongside the expansion of the M18 Fuel Quik-Lok attachment system, the professional lawn care crew's trailer is looking more brilliantly Red than ever.
Price: $499 bare, $1499 with four 12.0Ah batteries and charger
Yes, we know Milwaukee's M18 Fuel wet dry vacuums and Air-Tip accessories aren't brand-new, but they were shown off at Pipeline 2023, so they're fair game.
To put it succinctly, we're impressed. Milwaukee's cordless wet dry vacuum performance is fantastic, the build is clearly more durable than other designs, and we absolutely love the modular aspect. If you're tired of treating your vac like a consumable you replace after every job, Milwaukee M18 Fuel Cordless wet dry vacuums are a big upgrade.
Price: $249 – $799
Milwaukee Pipeline 2023 – Batteries and Chargers
Milwaukee Pipeline 2023 – General Contracting
MX Fuel 14-inch Cut-Off Saw with RapidStop: $2999, available September 2024
Diamond Ultra Segmented Blades: Price varies, available January 2023
MX Fuel 36-inch Walk-Behind Trowel: $7499, available October 2023
MX Fuel 24-inch Walk-Behind Edging Trowel: $5999, available October 2023
MX Fuel Plate Compactor: $5499, available September 2023
MX Fuel 6-inch Green Concrete Saw: $5499, available September 2023
Green Concrete Diamond Blades: Price varies, available September 2023
M18 Fuel 1 1/4-inch SDS Plus D-Handle Rotary Handle with One-Key: $749, available October 2023
M18 Fuel HammerVac 1 1/4-inch Dedicated Dust Extractor: $199, available October 2023
M18 Red Exterior Duel Slope Rotary Laser: $1999 – $2100, available March 2024
M18 Red Exterior Rotary Laser: $1199 – $1399, available November 2023
M18 Green Interior Rotary Laser: $1999, available November 2023
Rotary Laser Tripod: $99, available November 2023
Rotary Laser Wall Mount: $159, available November 2023
Green Interior Rotary Laser Remote Control and Receiver: $429, available November 2023
Red Exterior Rotary Laser Receiver: $279, available November 2023
Red Exterior Dual Slope Rotary Laser Receiver: $329, available March 2024
Milwaukee Pipeline 2023 – Carpentry and Remodeling
M18 Fuel 1/2-inch Router: $599, available August 2023
M12 Fuel Jig Saw: $169, available September 2023
M18 Fuel 16-gauge Straight Finish Nailer: $329, available August 2023
M18 Fuel 18-gauge Compact Brad Nailer: $249, available January 2024
Nitrus Carbide OMT Blades: $24.99 – $79.99, available June 2023
M12 Brushless Rotary Tool: $129 – $199, available November 2023
M12 Brushless Planer: $199, available March 2023
M18 Compact Brushless 1/2-inch Drill/Impact Driver 2-Tool Combo Kit: $239, available August 2023
Milwaukee Pipeline 2023 – Plumbing, Mechanical, and HVAC
MX Fuel Pipe Threading Machine: $6999, available April 2023
MX Fuel Pipe Threading Dies: $84.99 – $204.99
MX Fuel Core Rig with Stand: $5999, available September 2023
Diamond Ultra Wet Core Bits: $634 – $1199, available July 2023
M18 Fuel 5 CFM Vacuum Pump: $849, available July 2023
M18 100-foot Flexible Pipeline Inspection System: $6624, available March 2023
M18 Fuel High-Speed Chain Snake for 1 1/2-inch – 4-inch Pipes: $2499, available May 2023
M18 Fuel 4 1/5-5-inch Dual-Trigger Braking Grinder: $349, available November 2023
Faucet Swap-Out Wrench: $29.97, available September 2023
Aluminum Self-Adjust Pipe Wrenches: $59.97 – $79.99, available December 2023
Milwaukee Pipeline 2023 – Electrical and Power Utility
Electrical Hand Tool Expansion: Price varies, launch date varies
Gutting Pliers and Screwdrivers: Price Varies, available June 2023
M18 Force Logic Single Channel Strut Shear: $3750, available December 2023
Single Strut Shearing Dies: $499, available December 2023
M18 Fuel Controlled Torque Impact Wrenches: $1299 – $1399, available October 2023
M18 Force Logic 5-inch Underground Cable Cutter w/ Remote: $6499, available November 2023
M18 Force Logic 12-ton Latched Linear Crimper: $4999, available March 2023
M18 Force Logic 12-ton Kearney Linear Crimper: $5299, available November 2023
M18 Force Logic 11-ton Dieless Utility Crimper: $5299, available April 2023
M18 Force Logic 6-ton Latched Linear Utility Crimper: $2999, available March 2023
Milwaukee Pipeline 2023 – Transportation Maintenance
Taps and Dies: Price varies, available August 2023
M18 Fuel 1/2-inch High-Torque Impact Wrench w/ Friction Ring: $299 – $499, available October 2023
M18 Fuel 1/2-inch High-Torque Impact Wrench w/ Pin Detent: $299 – $499, available December 2023
M12 Fuel Insider Extended Reach Box Ratchet and Sockets: $299 – $499, available September 2023
M12 Auto Technician Boresope: $499, available November 2023
Torx and Hex Bit Sockets: Price varies, available January 2024
13-inch Long Reach Pliers: Price varies, available August 2023
13-inch Long Reach Hose Grip Pliers: Price varies, available August 2023
Snap Ring Pliers: Price varies, available September 2023
Combination Wrench Sets w/ Packout: Price varies, available December 2023
Ratchet and Socket Sets w/ Packout Low Profile Organizer: Price varies, available November 2023
Pry Bars: Price varies, available March 2023
Flare Nut Wrenches: Price varies, available April 2023
Extensions (set and open stock): Price varies, available September 2023
Milwaukee Pipeline 2023 – Outdoor Power Equipment
M18 Fuel Telescoping Pole Saw: $799, available November 2023
M18 Fuel 17-inch Dual Battery String Trimmer: $699, available January 2024
M18 Fuel Brushless Telescoping Pole Pruning Shears: $699, available March 2024
M18 Fuel Quik-Lok Cultivator Attachment: $249, available January 2024
M18 Fuel Quik-Lok Reciprocator Attachment: $399, available January 2024
M18 Fuel Quik-Lok Bed Redefiner Attachment: $279, available January 2024
M18 Fuel Quik-Lok Hedge Trimmer Attachment: $169, available January 2024
M18 Fuel Quik-Lok Blower Attachment: $159, available January 2024
M18 Fuel Blower: $179, available March 2024
M18 Fuel Dual Battery Backpack Blower: $499 – $1499, available January 2024
MX Fuel 14-inch Cut-Off Saw with RapidStop: $2999, available September 2024
MX Fuel Plate Compactor: $5499, available September 2024
Roll-On 7200/3600W 2.4KwH Power Supply: $4500, available February 2024
Milwaukee Pipeline 2023 – Packout Modular Storage System
Packout 10-inch Structured Tote: $219, available September 2023
Packout 15-inch Structured Tool Bag: $267, available September 2023
Packout Rolling Tool Box: $159, available 2024
Low Profile Handle for Packout Rolling Tool Box: $59.97, available September 2023
Packout Insulated Bottle with Chug Lid: $34.97 – $49.97, available January 2024
Packout Twist to Lock Mount: $9.97, available January 2024
Packout Multi-Depth 3-Drawer Tool Box: $199, available August 2023
Packout 4-Drawer Tool Box: $179, available August 2023
Milwaukee Pipeline 2023 – Personal Protective Equipment
Bolt Safety Helmet with Impact Armor Liner: Price TBA, available January 2024
Milwaukee Pipeline 2023 – Vacuums and Accessories
Milwaukee Pipeline 2023 – Workwear and Lifestyle
M18 Bluetooth Radio: $179, available October 2023
Gridiron Pocket T-Shirt: $22.97 – $27.97, available August 2023
Freeflex Insulated Bib Overall: $149, available August 2023
Freeflex Insulated Jacket: $149, available August 2023
Freeflex Softshell Hooded Jacket: $99, available August 2023
Workskin Crew Neck BaseLayer: $44.97, available August 2023
Workskin BaseLayer Pant: $44.97, available August 2023