Higher Output and Faster Charging Define Milwaukee Forge Battery Packs
All the secrets of Pipeline 2023 are now out, and one of the most anticipated products was an update to Milwaukee's battery system. The newest generation is the Milwaukee Forge battery. Should you run out and pre-order yours now? Take a closer look and see if they're right for the way you work.
Is the Milwaukee Forge Battery a Stacked Pouch Cell Pack?
With DeWalt and Flex both enjoying success with their pouch cell power tool batteries, there have been a lot of question wondering if Milwaukee was going to develop their own version. However, Milwaukee is not using pouch cells for all of their newest batteries. Instead, some are the first tabless cylindrical cell batteries.
The exception is the M18 Forge 6.0Ah battery—that one is a pouch style pack. So we have the best of both worlds—the very first tabless cylindrical cell batteries and Milwaukee first pouch cell battery.
One of the reasons stacked pouch cells have gained so much enthusiasm is that connection design helps reduce resistance and allows for higher current in both charging and discharging without building up dangerous levels of heat.
Keeping in mind that it's the connection that provides the benefit rather than the shape alone, Milwaukee's development of a tabless connection evens the playing field between the two styles. It may even have an advantage in its ability to use spacing and material to draw heat away from the cells.
Milwaukee M18 Forge Battery
Out of the gate, there's one Milwaukee M18 Forge battery on the roll call and it's a 6.0Ah pack that uses a pouch cell design. From a power delivery standpoint, it's capable of providing the same watts as the 12.0Ah High Output battery. That's a big deal. It means that each cell has to deliver twice the current of the cells in that larger pack.
Additionally, the battery is capable of an 80% super charge is just 15 minutes. From there, it slows down to top itself off.
Even though there's more current running through it, Milwaukee promises the M18 Forge battery has the longest life, most recharges, and best performance available compared to the standard and High Output RedLithium packs.
As a bonus, these packs are also designed to have better protection against common oils, grease, and solvents.
Finally, as we expect, RedLlink intelligence monitors against overload and the battery is fully compatible with all M18 and M18 Fuel products.
Price and Availability
Look for the Milwaukee M18 Forge 6.0Ah battery to be available beginning in September 2023 with a retail price of $199.
There will also be a dual-port simultaneous Super Charger that pairs perfectly with these batteries for $249.
Look for a 12.0Ah M18 Forge battery coming in the second half of 2024.
Milwaukee MX Fuel Forge Battery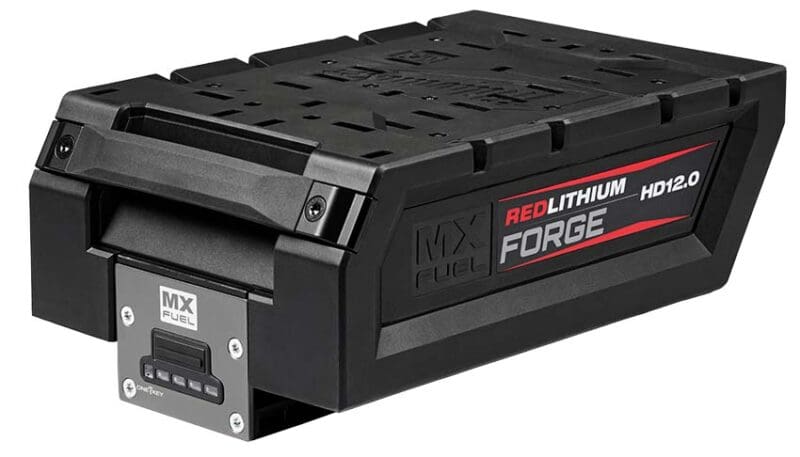 For those of you replacing your gas equipment with Milwaukee MX Fuel products, you have two Forge batteries to look forward to. A new 8.0Ah MX Fuel Forge battery offers 33% more runtime than the current 6.0Ah pack. There's also a 12.0Ah MX Fuel Forge battery for the highest runtime.
Like the M18 version, these packs offer higher performance, service life, and faster charging than their standard counterparts. The 8.0Ah battery gets back to a full charge in just 45 minutes. The 12.0Ah pack takes 65 minutes. Those are lightning-fast charge times compared to what we're used to seeing.
One of the technologies that helps drive such fast charging is what Milwaukee calls its "Cool-Cycle" active cooling system. It's not just a fan in the charger, though. It combines a design in both the charger and the battery to drive high-speed cooling across the battery components.
The MX Fuel packs are also One-Key enabled.
Price and Availability
Look for the 8.0Ah battery in October 2023 for $849. The 12.0Ah battery runs $1149 and will be available in November 2023.
The MX Fuel Super Charger comes online in October 2023 for $549.