Up to this point, Milwaukee's Quik-Lok system has been your only option if you wanted a pole saw that works on the M18 battery platform. That's changing with the announcement of the Milwaukee M18 Fuel Telescoping Pole Saw (model 3013), and there are some compelling reasons to get your hands on it.
Milwaukee M18 Fuel Telescoping Pole Saw Performance
We don't have a much to go on at the moment when it comes to performance. What we do know is that Milwaukee's PowerState brushless motor uses a single M18 High Output battery to produce 2.4 horsepower worth of peak power and claims to outperform competing gas models. According to Milwaukee's data, you can cut up to 50% faster than you can with leading gas models.
Like all tools on the M18 and M18 Fuel lines, you can use any M18 RedLithium battery for power. However, the pole saw is designed to work best with High Output packs, and the 12.0Ah battery is the best bet for heavy cutting jobs.
Milwaukee M18 Fuel Telescoping Pole Saw Design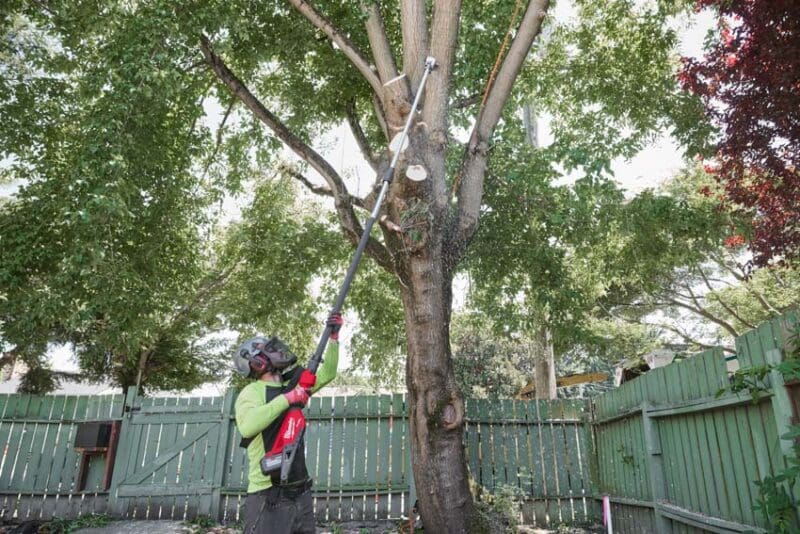 With some of Milwaukee's new lawn care and landscaping tools coming out in a dual-battery design, there was some question as to what the pole saw would use. It's a single battery, which saves some weight.
That said, it's still a pole saw with a fully-extended reach of 13 feet, so it's not the easiest of tools to manage. Be sure to take advantage of the shoulder strap to help manage the additional strain of working with a long tool.
There's a protective extension under the battery port. Even with a 12.0Ah battery, it's extends beyond the pack's housing, offering some additional durability if you set the pole saw down or happen to drop it.
Milwaukee M18 Fuel Telescoping Pole Saw Price
You can get the Milwaukee 3013 as a kit with a 12.0Ah battery and charger for $799. Look for it at your favorite Milwaukee retailer beginning in December 2023.
The Bottom Line
Prior to this model, your only option for cutting at height with a Milwaukee pole saw was to use the Quik-Lok model with an extension or two. That's fine for folks who only have occasional pole sawing jobs to take care of. For those of you who use them more frequently, the Milwaukee M18 Fuel Telescoping Pole Saw's ability to quickly adjust lengths to fit the job makes owning the dedicated model a better option to keep your productivity high and frustration low.