In the construction industry, there are a ton of lighting options ranging from personal lighting to site lights with more than 100,000 lumens of output. Today, we're focusing on the best flashlight options currently available. While most people rightly consider traditional outdoor brands such as LEDLenser, Maglight, and Fenix, several power tool brands such as Milwaukee and Ryobi also make legitimate options.
Our Top Picks
Ever thought of using a night vision camera? Check out our thoughts on the Sionyx Aurora Pro!
Best Flashlight Overall
Fenix PD36R Pro Rechargeable Flashlight
The best flashlight overall has to have everything. We're looking for a combination of output, quality, size, rechargeable battery, and durability. Fenix earned our pick as the best flashlight overall with its PD36R. It balances a strong output and mid-range throw with excellent runtime, an IP68 ingress rating, excellent durability, and it comes in under 6 inches. There's a lot to love about this model and unless your budget is under $100, there's not much to complain about.
Output: 30/150/350/1000/2800 lumens
Runtime: 42.0/19.0/8.3/3.9 hours
Max Throw: 380 meters
Power Source: Lithium-ion battery
IP Rating: IP68
Length: 5.7 inches
Strobe: Yes
Drop Rating: 1 meter
Price: $119.95
Best Rechargeable Flashlight
Milwaukee's 2162 RedLithium USB flashlight is a fantastic option overall and easily earns our pick as the best small flashlight. At just 6.6 inches long, it can fit in a glove box, tackle box, or tool box easily yet still has a solid 2000-lumen output with a max throw of 200 meters and a slide focus to adjust your beam style. It avoids overcomplicating matters while remaining solidly built and including meaningful features. Plus, the battery works with all other Milwaukee RedLithium USB products.
Output: 100/800/1300/2000 lumens
Runtime: 24.0/8.0/4.0 hours (2000-lumen mode unspecified)
Max Throw: 200 meters
Power Source: Lithium-ion battery
IP Rating: IP66
Length: 6.6 inches
Strobe: No
Drop Rating: 2 meters
Price: $99.00
Best Hybrid Flashlight
Infinity X1 Highland Series 4000-Lumen Flashlight
Hybrid flashlights are an excellent choice because they can use either a rechargeable battery or alkalines. You can run on the lithium-ion battery most of the time and have a backup set of alkaline batteries just in case. It also has your back as the rechargeable battery gets to the end of its life and you're waiting on a replacement.
Looking at the range of options, Infinity X1 offers excellent output with its 4000-lumen model. It's a larger flashlight, measuring 12.6 inches long and doesn't have as high an IP rating as some of your options. However, it comes with both the rechargeable battery, adapter with alkaline batteries, and is a surprisingly affordable $79.00.
Output: 100/2500/4000 lumens
Runtime: 2.5/4.0/6.5 hours (with rechargeable battery)
Max Throw: 180 meters
Power Source: Lithium-ion battery or 6 x AA batteries
IP Rating: IPX4
Length: 12.6 inches
Strobe: No
Drop Rating: 1 meter
Price: $79.00
Best EDC Flashlight
5.11 Rapid L1 Flashlight
When you think about an EDC flashlight, it has to be something you're willing to carry every day, and that means going compact. You don't have to give up quality, though, and 5.11's Rapid L1 is the best EDC flashlight in our opinion. Measuring just 3.6 inches long, it fits easily in your pocket, purse, or bag. At the same time, it tops out at 290 lumens to help you find your way in unfamiliar territory and has a strobe to use for self-defense. Fully submersible with an IPX7 and a 2-meter drop rating makes it an incredibly durable little flashlight as well.
Output: 419/290 lumens
Runtime: 28.2/2.1 hours
Max Throw: 75 meters
Power Source: 1 x CR123 battery
IP Rating: IPX7
Length: 3.6 inches
Strobe: Yes
Drop Rating: 2 meter
Price: $54.00
Best Tactical Flashlight
Acebeam Defender P17
Acebeam makes high-quality flashlights, and the Defender P17 tops our list as the best tactical flashlight. In a class that has stiff competition, the P17 fills your hand without making the mistake of being too large or heavy. It has multiple output modes up to a blinding 4900 lumens with a strobe function to disorient attackers. Thanks to its 445-meter max throw, it has the range to handle just about any tactical situation you find yourself in. Plus, nubs on the stainless steel strike bezel enhance glass-breaking.
The mode and power are on separate switches, and you always return to the last mode you used. If you need a red filter, Acebeam has one that screws onto the lens.
Runtime is as long as 20 days in the lowest. Higher power levels vary based on what mode you're in. The three highest modes run until the flashlight gets too hot and then automatically step down until the battery drains. It's a smart feature that most flashlights don't have and that allows the Defender P17 to have such a high output.
Runtime Estimates
3 lumens: 20 days
90 lumens: 1.5 days
580 lumens: 5 hrs 30 min, then 20 min @ 90 lumens
2200 lumens: 6 min, then 1 hr 50 min @ 1250 lumens, then 1 hr @ 90 lumens
4900 lumens: 40 sec, then 1 hr 55 min @ 1250 lumens, then 1 hr @ 90 lumens
2000 lumens (strobe): 2 hr 30 min
Output: 3/90/580/2200/4900 lumens
Runtime: See above
Max Throw: 445 meters
Power Source: Lithium-Ion battery (5100 mAh)
IP Rating: IP68
Length: 5.8 inches
Strobe: Yes
Drop Rating: Unspecified
Price: $119.99
Best Small Keychain Flashlight
Maglight Solitaire LED Keychain Flashlight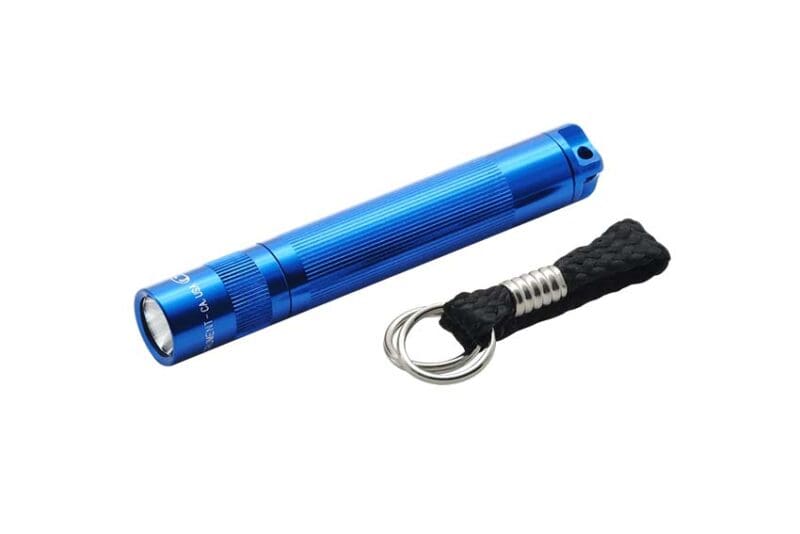 Keychain flashlights are popular thanks to their diminutive size and super-easy carry. The best keychain flashlight we've found is Maglight's Solitaire. Small in both length and diameter, its 47 lumens offer help service in finding your Airpod that dropped to the floor of your car, lighting up the keyhole on your front door when you left the lights off, and a host of other day-to-day things. What we really like about the Solitaire is its IPX7 rating—you don't have to worry about getting caught in the rain or snow and ruining your flashlight.
Output: 47 lumens
Runtime: 1.75 hours
Throw: 46 meters
Power Source: 1 x AAA battery
IP Rating: IPX7
Length: 3.2 inches
Strobe: No
Drop Rating: Unspecified
Price: $15.95
Brightest Flashlight
If you run around on Amazon looking for a high-power flashlight, you're going to see some pretty crazy claims. One we have confidence in is Acebeam's 80,000-lumen X75. It's a well-built, fan-cooled, submersible, and incredibly intelligent design that genuinely impressed us in our testing.
Protecting the light and its battery, there are automatic step-downs to lower output levels when the light gets too hot. Those steps have a big effect on the runtime estimates and you can see that full list in our review. To give you a rough idea, the runtime ranges from 5 hours, 30 minutes to about 30 minutes.
As an added bonus, the X75's beefy battery also has a USB-C port to double as a power supply.
Output: 900/2000/5000/11000/23000/80000 lumens
Runtime: See review
Max Throw: 1150 meters
Power Source: Lithium-Ion battery
IP Rating: IP68
Length: 6.9 inches
Strobe: Yes
Drop Rating: Unspecified
Price: $419.99
Best Flashlight for Camping
Streamlight ProTac 2.0
Nailing down the best flashlight for camping is tough because there are so many ways to camp. Are you hiking? Driving? Boating? RVing? Each style is very different. For this category, we're assuming you're driving to a tent-camping site. Realistically, a small area light is the way to go as your primary light, but for a flashlight to take on those late-night hikes or out to sneak out to spot to hit the bathroom, we like a medium-range model on the smaller side.
Meeting those requirements, check out the Streamlight ProTac 2.0. Just over 6 inches long with a 2000-lumen max output, it has the durability we're looking for on outdoor adventures and a strobe in case you run into trouble. Plus, it has a rechargeable battery, so just plug it into your power supply during the day and you're ready to rule the night.
Output: 100/570/2000 lumens
Runtime: 25.0/4.5/2.5 hours
Max Throw: 262 meters
Power Source: Lithium-ion battery
IP Rating: IP67
Length: 6.1 inches
Strobe: Yes
Drop Rating: 2 meters
Price: $114.99
Best Flashlight for Hunting
LEDLenser P6R Core QC Flashlight
When we set out to find the best flashlight for hunting, two requirements are that it needs a filter or light to help you follow a blood trail and it has to stand up to the elements. LEDLenser's P6R Core QC is our favorite that fits the bill. Following in the footsteps of the P 7.2, it has white, blue, green, and red lights but is powered by a lithium-ion battery instead of alkalines.
At the top end, its 270 lumens and 335-meter throw are enough to find your way around after dark and the blue light takes care of your tracking needs. Unlike others options that require filters, the P6R Core QC actually changes the color of the LED, so there are no extra parts to keep track of.
Output: 15/120/270 lumens
Runtime: 110.0/14.0/5.0 hours
Max Throw: 335 meters
Power Source: Lithium-ion battery
IP Rating: IP54
Length: 6.2 inches
Strobe: Yes
Drop Rating: 1.5 meters
Price: $89.95
Best Flashlight on Amazon
Energizer Weatheready Rechargeable Compact Handheld Light
Amazon is the wild west and there are a lot of cheap flashlights that we'd rather not spend our money on. For a flashlight that we want to depend on when things get dicey, we're going with field-proven names that have high-quality builds. But if your needs are more in line with a kitchen drawer or bedroom model, the best flashlight we found on Amazon is Energizer's LED Plug-In Light.
For less than $25, you get a 3-pack of flashlights that plug directly into a wall outlet so they're ready for use as soon as the power goes out. They have a low output and limited range, but they're inexpensive and can run up to 3 hours. As far as cheap flashlights to have around your home or shop go, these are the ones we'd get.
Output: 40 lumens
Runtime: 3.0 hours
Max Throw: 30 meters
Power Source: Lithium-ion battery
IP Rating: IP54
Length: 6.5 inches
Strobe: No
Drop Rating: 1 meter
Price: $28.99 for a 3-pack
Best Flashlight for the Money
Ryobi USB Lithium Flashlight with Laser FVL54K
Ryobi packs more into its FVL54K flashlight than the other models that made our list. Sporting a pivoting head and a magnetic base, it easily doubles as a work light in a variety of scenarios. There's even a laser that tradesmen (or anyone else) can use to point out objects and issues on building walkthroughs.
On the basic side, the output tops out at 625 lumens with a tight throw that makes for a fantastic traditional flashlight with some extra bells and whistles. Plus, this rechargeable model is less than $50 at Home Depot and the battery works with other Ryobi USB Lithium products.
Output: 75/225/625 lumens
Runtime: Up to 16 hours
Max Throw: Unspecified
Power Source: Lithium-ion battery
IP Rating: IP54
Length: 7.5 inches
Strobe: No
Drop Rating: Unspecified
Price: $49.97
Best Flashlight — What We Look For
Output and Throw
Output is the number one priority on our list, but more isn't always better. If you're running security on a jobsite, a long throw and a tight beam with a lot of lumens is great. If you're working under a cabinet, the same light can blind you. Finding the best flashlight for the application is all about balancing how much light you want, how far it goes, and how wide the beam is.
Size
Size is a big deal. The best flashlight size for you depends on how you're going to carry it. If you're carrying in your pocket or purse, you need something less than 4 inches long. On the other hand, a site security guard can use a much larger flashlight and get much higher output and/or runtime for it. In general, we prefer having the smallest model we can get away with that still has the output and runtime we need.
Power Source
Rechargeable lithium-ion flashlights are widespread and have come down in price significantly. However, they still command a premium over alkaline-powered models. If you're looking to spend the least amount of money for a flashlight you're going to use occasionally, one that uses alkaline batteries is still a great choice.
If you use your flashlight more frequently, a lithium-ion model will likely pay for itself. Basic lithium-ion batteries can easily go 300 full charge cycles and the best ones can hit 500 or even 1000 before needing replacement. Consider the cost of 300 – 1000 sets of AA batteries against the premium for a lithium-ion battery and you'll typically come out way ahead.
There are also some flashlights that are capable of running on either alkaline or rechargeable lithium-ion packs, and those are big winners in our book.
IP Rating
Flashlights are outdoor tools. As such, they need to be able to stand up to the elements. In general, we prefer flashlights that have at least an IP56 rating. This ensures your light can stand up to dust, dirt, rain, and snow. IP67-rated flashlights can even be submerged for 30 minutes without an issue.
Output Quality
When you shine your flashlight at a white wall, you can see the quality of the output. It helps you see if the light is more on the warm (yellow) or cool (blue) side of the spectrum. You can also see the characteristics of the throw. The hot spot is the bright center followed by the side spill that is lighter in intensity surrounding it. The outside edge is called the corona.
Imperfections in the lens are called artifacts. The throw can also take on a less-than-perfect circle shape because of the light source shape.
The best flashlights will have an output that's artifact-free and perfectly circular. Longer throws typically have a more defined hot spot, while broader throws spread the light out more evenly. Both are acceptable in high-quality flashlights and it's primarily up to you to decide the best characteristics.
Features
Flashlights aren't particularly feature-rich in the classic sense, but there are several things we like to have.
For smaller lights, having a belt clip can be very handy, especially if you're using the light for work.
Multiple light modes are a near must-have option. They allow you to balance your output and runtime needs and models that include a strobe mode are helpful for defense and signalling emergency crews.
Another handy feature is a momentary on button. Many multi-mode flashlights have it. You give the power button a half-press instead of a full click and the light is on until you release it. It's particularly helpful when you want to quickly inspect something or signal in Morse code.
Price and Value
You can buy a flashlight for just a few dollars or spend several hundred if you want the best of the best. Our recommendation is to start with how much you want to spend and then get the best combination of output, runtime, features, and quality you can find for that price. Also, think outside the box—there are some power tool brand flashlights that outshine outdoor brands for the price when it comes to a side-by-side comparison.
Why You Can Trust Pro Tool Reviews
Ever check out a "review" site and you can't tell if they actually tested the tools or if they're just "recommending" the Amazon top sellers? That's not us. We won't recommend anything unless we'd actually use it ourselves, and we don't really care who the primary retailer is. It's all about giving you a legitimate recommendation and our honest opinion of each product.
We've been in business since 2008 covering tools, writing reviews, and reporting on industry news in the construction and lawn care industries. Our Pro reviewers work in the trades and have the skills and experience to know whether tools can perform well in the field.
Each year, we bring in and review more than 250 individual products. Our team will put our hands on hundreds of additional tools at media events and trade shows throughout the year.
Pro Tool Reviews consults with innovators in the technology and design of tools to gain a broader grasp of where these products fit and how they work.
We work with more than two dozen professional contractors around the United States who review products for us on real job sites. We consult with them extensively on testing methods, categories, and practical applications.
Our site will provide more than 500 pieces of new content this year absolutely free for our readers. That includes objective evaluations of individual tools and products.
The end result is information you can trust because of the editorial, scientific, and real-world professional experience we collectively utilize each and every time we pick up and test a tool.