Around here, we do a lot of grilling and smoking (hey, even tool guys and gals have to eat). As our summer reached its peak, we spotted the Oklahoma Joe's Firecraft charcoal grill and had to give it a shot.
Want more grilling action? Check out our best grill and smoker recommendations!
Oklahoma Joe's Firecraft Charcoal Grill Design
Oklahoma Joe's starts with an open half-barrel design. Set on an adjustable (but non-wheeled) frame, it has two posts that stick straight up and hold 17.5-inch grates. Each of the two grates covers 240 square inches for 480 square inches of total cooking space.
One cool thing is that the grates lift out of the frames. This makes cleanup easier and as a bonus, you can also lift the entire grate out and serve your food directly on it. There's a tool that comes with the grill to help you out.
Adjusting the height of each grate is simple. There's a hole for the post and once you get the height you want, twist the handle to hold the position. You can leave it slightly loose and turn the grate off of the heat if you need to. It's super-helpful when you need to season or sauce mid-cook, or for flipping food without having your arms directly over the fire. Just be sure not to put the handle over direct heat.
If you're like us and like to actively adjust the heat, make sure you have a pair of grill gloves. The inside handle on the grate is going to get hot, even over indirect heat, and you need two hands to make the adjustment.
While the adjustable height grates are the key feature, there are also side tables on the left and right, a lower storage rack under the grill, and rails for the front and back. To help manage the heat, there are dampers on either side. There's also an ash box at the base to help clear the ashes out. All of these tie in and make the grilling experience more convenient.
While we're calling the Oklahoma Joe's Firecraft a charcoal grill, that's not the only fuel you can use. In addition to lump or briquette charcoal, you can also use wood and have a true campfire cooking experience. By using quality hardwood, you can even get a true smoked flavor in your food.
Using the Oklahoma Joe's Firecraft Charcoal Grill
For our first cook, we had bacon cheeseburgers and grilled corn on the menu. There was also fruit salad and chips, but we didn't need the grill for those.
We started up some hardwood charcoal in our charcoal chimney and were able to get cooking in about 15 minutes. A full chimney load gave us direct heat over one side while leaving the other for indirect heat. Because we were going to be cooking in several stages, we added a little more charcoal about 30 minutes in to keep the heat up.
Rather than cooking at two levels, we used the second grate for keeping the cooked food warm. To make that more efficient, we set Oklahoma Joe's Smoking Lid over the top to trap the heat and set it a few inches from the top of its post.
With the fire hot, we started by cooking up thick-sliced bacon that I'd already cut into half strips. To avoid burning, we set the grate a few inches above its lowest position and the bacon cooked up beautifully (not mention much faster than pan frying it). Once it was finished, we wrapped it in foil and set it under the smoking lid to stay warm.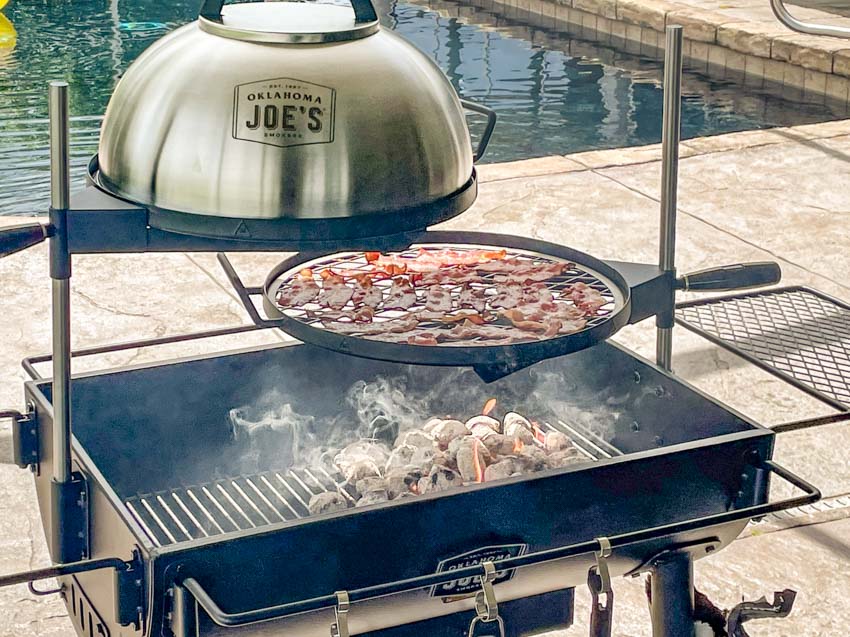 Next up was the corn that had been sitting under the smoking lid waiting for its turn. Spread with Smart Balance (there's a dairy allergy on our crew) and seasoned with Potato Slayer, we wrapped each ear in foil and set them on the direct heat grate for 10 minutes on each side. Then, they joined the bacon on the indirect heat grate to stay warm.
For the burgers, we made 1/2-pound patties seasoned liberally with Bad Byron's Butt Rub. We needed more heat for these, so we set our direct heat grate all the way down. Keeping a close eye on them and shooting for a medium-well temp, they came off absolutely perfect!
The look is only one part, and it was the flavor that sealed the deal with two thumbs up from our entire crew.
Accessories
We already mentioned the smoking lid and after using it, we highly recommend you get one to go with your Firecraft grill. The aforementioned grill gloves are a must-have for this model.
Oklahoma Joe's has a wind guard that can be helpful for cooking at the lower levels along with a cover specifically for the Firecraft.
There are also a ton of other grilling accessories to make your cookout more convenient and safe. From grilling tools and butcher paper to aprons and meat shredders, there are a wide range of choices.
Oklahoma Joe's Firecraft Charcoal Grill Price
You can get the grill conveniently from several retailers for $399.99 with free Prime shipping. However, if you order directly from Oklahoma Joe's, there are several bundles available to consider.
The Bottom Line
The Oklahoma Joe's Firecraft charcoal grill didn't just give us outstanding cooking results, it was a lot of fun to use as well. If your idea of grilling out is an active process and you love open-pit cooking, we heartily recommend adding the Firecraft to your outdoor living space.