Greenworks 60V Battery-Powered Edger Gives Your Lawn A Manicured Edge
While many people prefer the interchangeability of a string trimmer attachment system, others prefer dedicated tools for each job. If you're on the hunt for an edger, Greenworks has both styles. We put the dedicated Greenworks 60V battery-powered edger to work to see how we like it compared to the attachment version.
Greenworks 60V Battery-Powered Edger Performance
Like the majority of Greenworks' 60V lineup, this edger uses a brushless motor powered by a 60V max battery. The combination turns a standard 8-inch blade up to 7000 RPM that's easy to find replacements for at your local hardware or lawn care store.
As you expect with an edger, the wheel on the back is adjustable, giving you a cutting depth as high as 1.75 inches.
In actual use, it cuts confidently and its vibration is low. We were even able to redefine the edge on some pretty neglected driveway sections. If you're looking for a gas equivalency, Greenworks is putting out similar performance to edgers in the 30cc range.
The tool is remarkably quiet. With the blade at full speed, we measured just 74 decibels.
Runtime depends on how hard you're working the motor. In general, expect up to 60 minutes in light, dry conditions with that tapering back when you're defining a new edge.
Greenworks 60V Battery-Powered Edger Design Notes
Size and Weight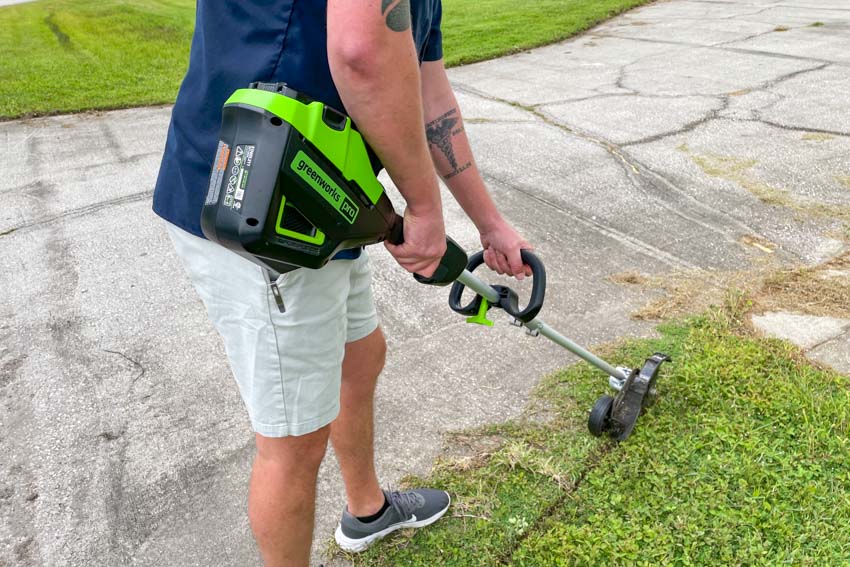 Length is more of a storage issue than a use issue for this edger. From tip to tail, it measures 68 inches (5-foot, 8 inches). While the depth adjustment is primarily about cutting depth, it's also helpful to adjust for your height. At 6-foot, 2 inches tall, I crank the adjustment all the way down so the motor housing doesn't scrape the ground.
Bare, the tool weighs 10.5 pounds. If you get the kit, it comes with a 2.0Ah battery and that brings the total weight to 13.4 pounds. While we prefer string trimmers to be closer to 10 pounds fully loaded (that's rare, by the way), edgers rest their weight on the wheel, so using this model doesn't feel like you're toting around a 13-pound string trimmer.
Controls
Simple yet safe is the name of the game with the control design on this edger. On the simple side, it has just one speed with a variable speed trigger if you want to feather it down some.
On the safe side, it has a 2-stage trigger to prevent accidental activation. As you grab hold of the handle, push your finger forward on the trigger to move the safety and then squeeze the trigger in to turn the edger on.
Additional Highlights
Blade guard
Rear debris guard with blade position indicator
8-inch curb wheel
No gas fumes, emissions, noise, or maintenance
Greenworks 60V Battery-Powered Edger Price
Tractor Supply carries the edger with a 2.0Ah battery and charger for $299.99, but they're out of stock at the time we're writing. You can also order direct from Greenworks where they have the kit for the same price or the bare tool for $179.99.
The Bottom Line
Greenworks designed their 60V battery-powered edger to be exactly what it needs to be without overcomplicating matters. It looks and operates similarly to a gas edger without the gas engine hassles. If you prefer a dedicated edger over an attachment system, get your hands on this one from Greenworks and give your lawn the finished look it deserves.
Specifications
Model: Greenworks 2700103VT
Power Source: Greenworks 60V battery
Blade Size: 8 inches
No-Load Speed: 7000 RPM
Length: 68 inches
Weight: 13.4 pounds with battery, blade, and handle