The Milwaukee Brushless String Trimmer Showcases Improved Speed and Balance
Milwaukee is continuing to extend its growing line of outdoor power equipment adding new competent tools to the mix every year. Today, we're taking a closer look at the Milwaukee brushless string trimmer (2828-20). While it's not hot off the press, it is a big player in Milwaukee's growing lineup and deserves a spot in the limelight. Later, we'll compare it to the M18 Fuel 2725 string trimmer and highlight some of the most noteworthy features and specs.
Author's Note: Summer is almost here! Be sure to check out our top picks of the Best Battery-Powered String Trimmers so you can keep your lawn looking sharp all season long!
Milwaukee M18 Brushless String Trimmer Performance
No Load Speed: 0-4600/6200 RPM
Cutting Swath: 14/16 in.
Motor Type: Brushless
Feed Type: Bump
Line Diameter: 0.080/0.095 in.
The Milwaukee 2828 is the next generation of brushless string trimmers powered by their M18 battery platform. While it's not a member of Milwaukee's Fuel lineup, it still produces some pretty impressive numbers.
As we mentioned before, this string trimmer features a brushless motor that produces 6,200 RPMs on the top end. For added convenience, the Milwaukee 2828 has a High/Low selector on the top of the main handle that allows you to either prioritize maximum power or longer runtime. The Easy Load trimmer head accepts both 0.080 and 0.095-inch trimmer lines to suit a variety of trimming tasks.
The cutting diameter is set to either 14 or 16 inches. A metal line cutter on the guard can be adjusted to the inside or outside to give you your desired length. Milwaukee has the cutter screws going into metal anchor points, so you won't start your relationship by ruining the guard thanks to overtightened or stripped screws.
Milwaukee M18 Brushless String Trimmer Design Notes
Model: Milwaukee 2828
Power Source: Milwaukee M18 battery
Shaft Length: 73.6 in.
Shaft Type: Straight
Line Load: Easy load
Weight: 11.5 lbs.
The Milwaukee 2828 weighs 11.5 pounds and measures 73.6 inches from end to end. One big change from the Fuel model is that Milwaukee moved the motor to the trimmer head rather than having it mounted in the battery housing. This shift helps to distribute the weight more evenly for added comfort, especially if you plan on using larger batteries, like the kitted 6.0Ah battery.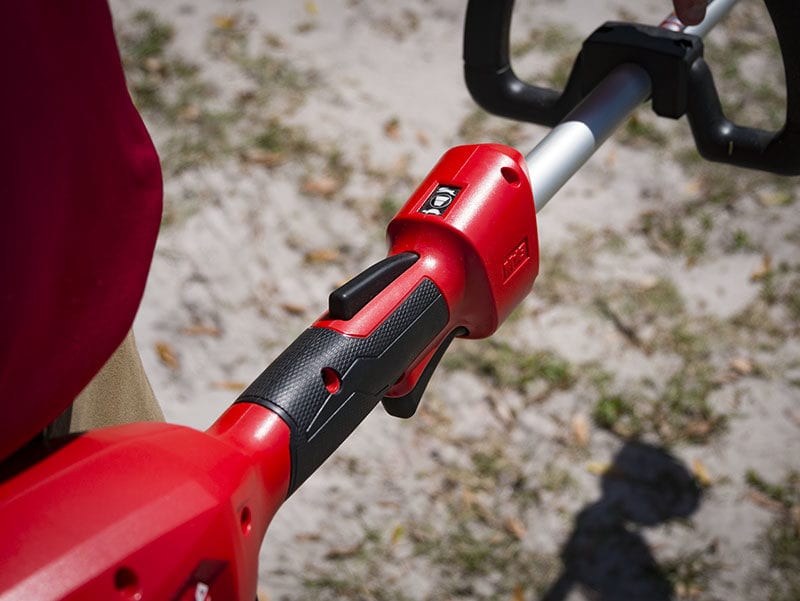 As you would expect, this trimmer features a two-finger variable speed trigger and a palm safety to prevent accidental trigger pulls. Milwaukee uses a standard rubber overmold to provide excellent grip and feel, especially during extended use.
Milwaukee 2828-20 vs 2725-20 String Trimmer
The Milwaukee 2828-20 improves upon the older 2725-20 in several ways. First and foremost, it increases the maximum speed from 5,800 RPM to 6,200 RPM. All things considered, that equates to a greater ability to clear stubborn brush and tougher areas with damp grass. The new string trimmer also moves the brushless motor up front, positioning it directly over the cutting head.
| | 2828-20 | 2725-20 |
| --- | --- | --- |
| Cutting swath | 14–16 in. | 14–16 in. |
| Speed | 0-4,600/6,200 RPM | 0-4,600/5,800 RPM |
| Variable-speed Trigger | Yes | Yes |
| Motor | Brushless head-mount | Brushless rear-mount |
| Supported line | 0.080/0.095 in. | 0.080/0.095 in. |
| Weight | 9.1 lbs | 9.9 lbs. |
| Kit Price | $199 | $229 |
Milwaukee M18 Brushless String Trimmer Price
Milwaukee packs the kit with a 6.0Ah High Output battery and the price is actually lower than it was at launch, dropping to $199.00 for the kit. Considering the 6.0Ah battery by itself is $179, that's a pretty sweet deal.
If you want the bare tool, it's $179.00. We recommend spending the extra $20 to get the battery and charger, though.
The Bottom Line
The Milwaukee M18 Brushless String Trimmer (2828-20) combines a large cutting swath with confident cutting power, line speed, and torque. This provides plenty of clearing power for the folks who want to get Pro-level performance from their equipment. If you're thinking of making the switch to battery-powered OPE this season, the Milwaukee 2828 is a great place to start!
Click here to check out the latest Milwaukee Tools!