Eliminate Ice Runs With The Anker EverFrost Powered Cooler
The old saying, "If it ain't broke, don't fix it," can be good advice to follow, but it also leaves out any room for improvement. In the case of portable coolers, there's quite a bit of opportunity to improve upon the formula, which is where the Anker EverFrost comes in. We're looking at how it takes the existing portable cooler blueprint and turns it on its head with a convenient, ice-free design.
Anker EverFrost Cooler Performance
Set temperatures from -4°F to 68°F
299Wh battery included
Four ways to recharge
Cools for up to 42 hours
Reaches temperature in as little as 30 minutes
Smart app control
The Anker EverFrost portable cooler is powered by a 299Wh detachable battery that eliminates the need for ice. You can set your desired temperature from -4°F to 68°F, letting you either freeze or chill your contents.
This cooler comes in three sizes: there's a 33L model, a 43L model, and a 53L model (aptly named, the EverFrost 30, 40, and 50, respectively).
Anker tells us you can expect the 33L model to keep your contents at your desired temperature for up to 42 hours. With the larger 43L and 53L models, you can expect runtimes of up to 35.8 hours and 27 hours, respectively.
Battery and Charging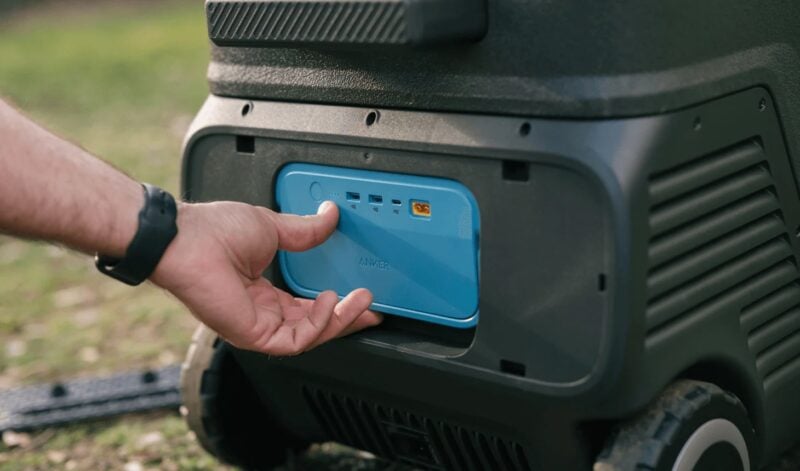 There are four charging methods for the battery, and it can fully recharge in as little as 3.6 hours. You can use a 100W solar panel, a wall outlet, a 12V car socket, or a 60W USB-C cable. The battery can also detach from the housing to power devices like phones and laptops with its built-in USB-C and USB-A ports.
Anker EverFrost Cooler Design
Three models: 33L, 43L, and 53 L
Dimensions (LxWxH):

EverFrost 30: 25.2 x 16.9 x 19.1 inches
EverFrost 40: 28.8 x 16.9 x 19.1 inches
EverFrost 50: 33.5 x 16.9 x 19.1 inches

6-inch wheels
Handle doubles as a table
Dual-zone cooling in 53L cooler
When it comes to capacity, you're probably thinking, "Ok, but how many soda/beer cans can I fit inside?" Luckily for you, Anker provides those numbers. You can store up to 38 12-ounce cans in the EverFrost 30, 54 cans in the EverFrost 40, and 62 cans in the EverFrost 50.
Anker also designed this cooler with 6-inch wheels to help you transport it over any terrain. Plus, when you need on-the-go table space, the carrying handle swings out and locks horizontally in place to give you room to chop or set down extra ingredients.
Additionally, the EverFrost 50, which is the largest of the three available models, features dual-zone cooling, allowing you to set different temperatures in each compartment. This enables you to chill and freeze your contents at the same time.
Anker EverFrost Cooler Price
This cooler is set to start distributing units in June 2023 starting at $799 MSRP. At the time of writing, there are no concrete prices for each individual model. Be sure to look out for more information as it becomes available.