I'm constantly on the hunt for the best gear to fuel work days on jobsites and outdoor adventures. In my search for hydration options, I came across the Klean Kanteen TKWide Twist Cap Insulated Water Bottle and decided to give it a shot.
Klean Kanteen TKWide Twist Cap Insulated Water Bottle Design
Design Concept
The draw for this water bottle combines three important concepts: insulation, a wide opening, and a Twist Cap. Insulation is nothing new, but it's critical if you plan to keep coffee hot or sweet tea cold. That said, the Twist Cap design isn't suitable for hot beverages because of its steel straw, but the insulation can keep your cold beverages chilled for up to 59 hours.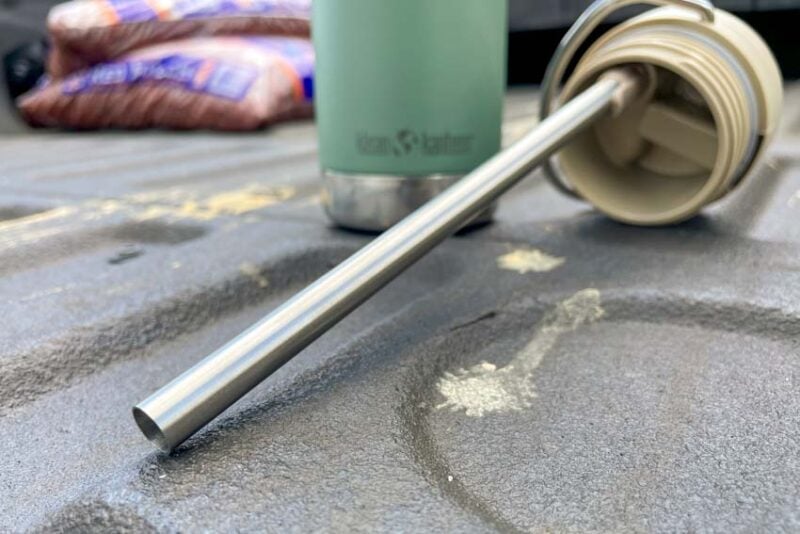 If the hot drink disclaimer sounds like a deal-breaker, don't lose hope. All TKWide caps are interchangeable, so grab a Loop Cap or Chug Cap for the days you want hot and enjoy the Twist Cap when you want room temperature or colder beverages.
Getting back on track, the TKWide opening is a little over 2 1/2 inches wide. That makes it easier to clean than some designs, and also easy to chug when the need hits.
Turning the Twist Cap reveals a flexible straw upper. The lower majority of the straw is steel. The great thing is that the whole bottle is dishwasher-safe. Just be sure to keep the cap section on the top rack. The exception is the bottles with print on them (non-solid color). You should handwash those canisters.
Materials
The TKWide Twist Cap main canister section is made from 18/8 stainless steel. In addition to its corrosion resistance, it's also 90% post-consumer recycled steel from a certified source. Other than the brushed steel color, the canister gets a tough powder coating to give it a color that can stand up to the environment you're in.
The Twist Cap is primarily BPA-free plastic along with the aforementioned steel straw along with a steel carry loop.
Size and Color Options
You can get these in 12, 16, 20, and 32-ounce canister sizes. As we mentioned, the caps are interchangeable, so if you have other TKWide bottles with internal threading, the Twist Cap will fit on those. You can also buy just the cap if you want.
The three larger sizes all have the same four color options: Black, Blue Tint, Tiger Lily, or Sea Spray (pictured). The 12-ounce model has Black and Blue Tint options along with several patterns: Astronauts, Navy Hearts, Strawberries, or Surfer.
Klean Kanteen TKWide Twist Cap Insulated Water Bottle Price
The price is dependent on which size you want:
12-ounce: $29.95
16-ounce: $32.95
20-ounce: $34.95
32-ounce: $44.95
The Bottom Line
The big questions are… do I like it and who is it for? Owning other TKWide bottles, the insulation and durability of these are fantastic, so I have no complaints there. I like that how easy it is to clean and that I can carry or clip it on my backpack. The one thing that gives me pause is not carrying hot beverages, however, I have other caps I can use on those days. So, problem solved. Overall, the TKWide Twist Cap is an excellent bottle for anyone who likes to sip throughout the day and avoid going through throwaway bottles.