There was a time when choosing the best circular saw simply meant picking your favorite or most-trusted brand. Now there are so many choices it can make your head spin. Corded or cordless? Sidewinder or worm drive? Left blade or right blade?
Whether you're looking for the best professional circular saw or budget-friendly options, we have your back!
Before we dive in too far, let's talk about power sources. Years ago, cordless circular saws struggled in performance and it took them a while before they were effective with a 7 1/4-inch blade. Now, cordless models are capable of outperforming their corded counterparts. Between that and the convenience of not having a cord, they really are the best circular saws you can get. However, corded models are still far less expensive and are most definitely effective. The point is since we're talking about the best, we're leaning heavily on cordless power sources.
Table of Contents
Best Cordless Circular Saw Overall
The Metabo HPT MultiVolt circular saw rises above the rest of the competition as our pick for the best cordless circular saw, finishing just ahead of Milwaukee's M18 Fuel 2732. It has remarkable power and accuracy, even compared to DeWalt, Makita, and Milwaukee.
It's also lightweight compared to its closest competition. Using a 4.0Ah battery, the total working weight is just 9.7 pounds. Plus, it's the only cordless sidewinder-style saw that has an AC adapter to give you the unlimited runtime of a cord.
If there's a downside, it's that the main and front handles are a little too close for some of our crew's taste.
Price: $189.00 bare
Want more cordless options? Check out our Best Cordless Circular Saw recommendations!
Best Corded Circular Saw Overall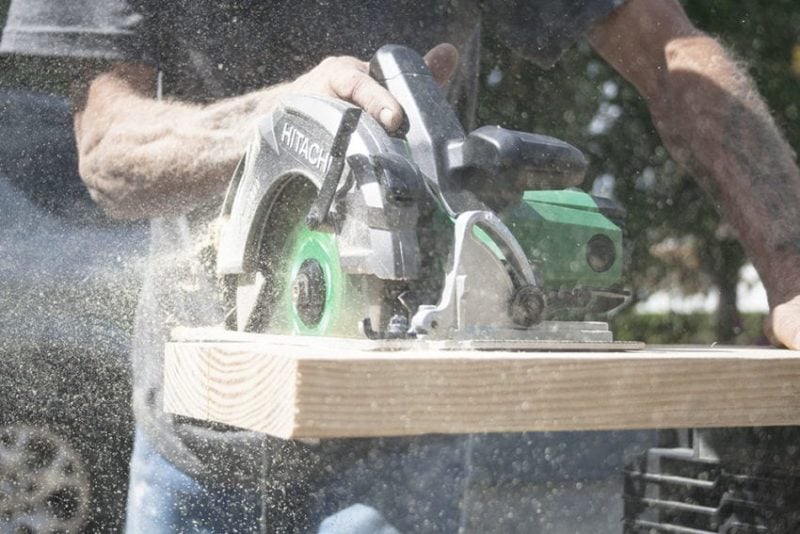 The RipMax line of circular saws launched before Hitachi rebranded to Metabo HPT. The C7UR and C7URM hit the market hard, bringing some of the best cutting speeds our Pros have seen in the field. At 6800 RPM, it passed our field testing with flying colors and our framing crew raved about how much faster it could cut.
Metabo HPT brackets your needs well with the RipMax line. The C7UR is the base model and is a little tougher to find. Amazon usually has some in stock, though. The CR7URM drops the weight a bit with magnesium in the build. The CR7BUR is the top of the line, adding an electric brake and making it the top choice for Pros.
Best Worm Drive/Rear-Handle Circular Saw
Flex and Milwaukee went toe-to-toe in a fight for the best worm drive/rear handle circular saw title and they are very close in the end. What pushed Flex over the top was its superior power. Both easily outstrip our top 15-amp corded model with impressive performance.
From a design standpoint, Flex put together a complete package. The ergonomics are right, the shoe glides across material easily, it tracks well, and it has a solid build. Toss in a lifetime warranty if you register your purchase by 12/31/2023, and Flex makes for a very compelling option.
Price: $249.00 bare, $399.00 kit with a 10.0Ah Stacked Lithium battery and a charger
Want a corded model instead? We recommend the Skilsaw SPT77WML Lightweight Magnesium Worm Drive ($199.00 – $219.00).
Discover more cordless options in our Best Cordless Worm Drive and Rear Handle Circular Saw article!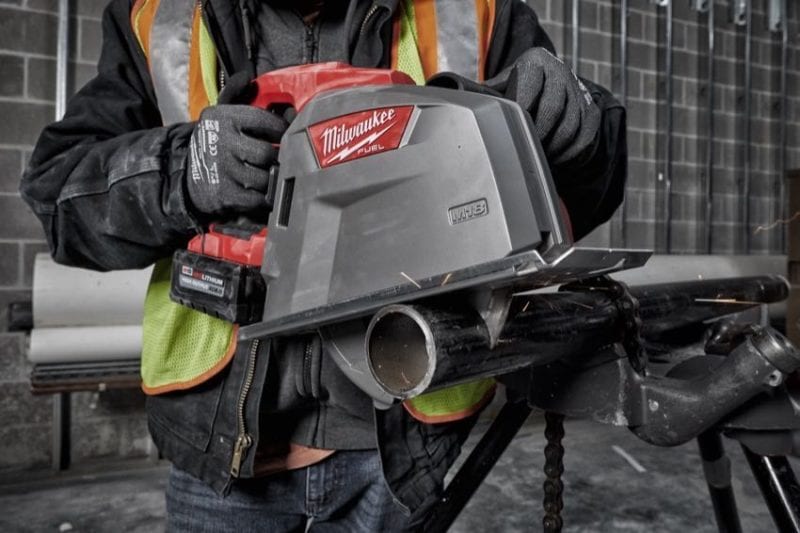 There are very few tools that earn a perfect score from our reverie team, but Milwaukee's corded 8-inch metal cutting was one that did. So when Milwaukee launched an M18 Fuel version, we had high expectations and the saw delivered. The performance is smooth and powerful, and the design was already field-proven in the corded version. If you're on the hunt for the best circular saw for cutting metal, look no further than Milwaukee.
Price: $429.00 bare, $549.00 with an 8.0Ah High Output battery and charger
Want the corded version instead? It's $399 at Acme Tools.
Best Compact Circular Saw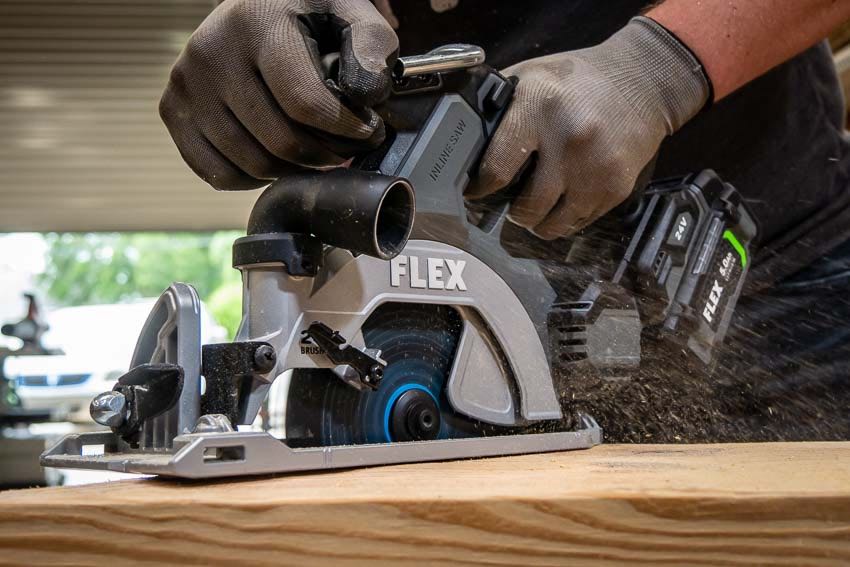 It was going to take something special to displace Makita's XSH03 as our favorite in the compact category. Taking over as the best compact circular saw, the Flex 6 1/2-inch inline model most certainly is.
Underneath the inline handle design, there's a belt drive connecting the brushless motor to the blade, giving it the cutting depth of a 7 1/4-inch saw even though it uses a 6 1/2-inch blade. Beyond that, this model does the best job of satisfying the blade viewing preferences of both blade-left and blade-right saws.
If you still need a nudge to pull the trigger, this saw has a lifetime warranty if you register your purchase by 12/31/2023.
Price: $249.00 with a 5.0Ah battery and a charger
Need a corded recommendation? For under $50.00, it's tough to beat Ridgid's 6 1/2-inch compact magnesium circular saw!
Best Mini Circular Saw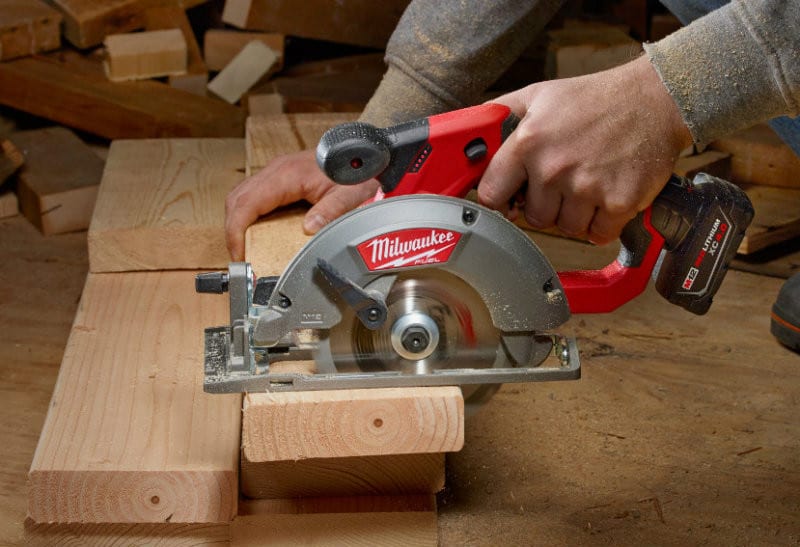 When it comes to getting even more compact than the 6 1/2-inch class, there are two distinct designs. One is to downsize a standard circular saw form factor. The other opts for an even smaller blade and an extended inline design. Between the two, we prefer the ergonomics and control of the traditional form.
The Milwaukee M12 Fuel 2530 earns our pick as the best mini circular saw thanks to its physical form, light weight (6.3 pounds with the battery), and of course, performance. Using an M12 battery for a power source, it's significantly lighter than anything you'll find on the M18 system and still has the capacity to cut through 2x material in a single pass.
Price: $159.00 bare, $249.00 kit with a 4.0Ah battery and charger
Want one of the inline mini circular saws instead? Skil's PWRCore 20 4 1/2-inch model offers a lot of bang for your buck with a $129.00 price tag that includes the saw, battery, and charger.
Best Circular Saw for the Money
Skilsaw SPT67WL/SPT67WM 15-Amp Lightweight Circular Saw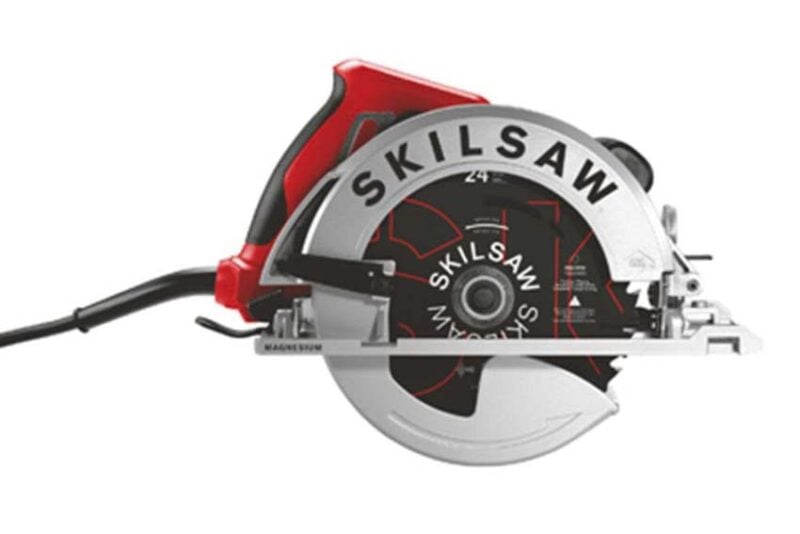 To get the best circular saw for the money, we're leaning on corded models and looking for a legit Pro-grade option that's less than $100. Fitting the bill is Skilsaw's SPT67WL/SPT67WM. Available with either a Skilsaw or Diablo blade, these saws use magnesium to bring the overall weight down without sacrificing strength. They have the power of a 15-amp motor turning their blades at 5300 RPM. They're not as strong as the 77-series models and they don't include a blade brake, but for less than $100, you'll have a hard time finding anything better for the price.
Price: $99.99
Want a cordless model instead? Grab Skil's PWRCore 20 XP circular saw—the kit is $169.00 and includes everything you need to get started!
Best Circular Saw for Beginners
Skilsaw SPT67WE-01 15-Amp Circular Saw
Just because you're a beginner doesn't mean you have to settle for a circular that's cheaply built. You also don't have to spend a ton to get a quality model. Sure, you may give up some top-end power and a few features, but starting with something that you think you might only need a couple of times a year may turn into a weekly passion for projects.
The Skilsaw SPT67WE-01 is a 15-amp circular saw featuring the same motor and performance as our Best for the Money pick. The big difference is that this model doesn't use magnesium in the construction, so it's not as light. At 10.3 pounds, it's not exactly heavy, though.
There are less expensive circular saws you can get your hands on and they'll cut just fine. However, it's our opinion that beginners will get off to a better experience by bumping up the budget a little.
Price: $79.00
Best Circular Saw Blades
Crescent NailSlicer Framing Blades
There's a lot of competition for circular saw blades with plenty of genuinely great options. Diablo, Makita, and Milwaukee all make blades we use consistently. Our favorite right now is Crescent's NailSlicer. These circular saw blades have incredibly durable teeth that can withstand hitting any nails you might come across on your job. We even cut through #5 rebar multiple times in a torture test (yes, there's a video). The best part is that you don't have to pay a big premium—the 7 1/4-inch framing blade is just $10.
Price: $9.99
Best Circular Saw Buying Guide – What We Look For
Cutting Power
RPMs are helpful but they aren't everything when you're making a cut. You need torque to help the blade keep its speed up in tough cuts. On the corded side, look for 15-amp motors to get the best performance. Cordless isn't as easy to gauge, though. In general, look for a brushless motor to get the highest performance.
Either way, moving into the middle and high sections of the price range usually gets you into higher performance levels
Tracking
Some saws tend to have a slight turn to the left or right as you make long cuts. This could be from a damaged arbor, but most of the time we find it's the handle design encouraging it. Even with saws that do, once you realize it's a characteristic, you can usually slow down a bit and keep the blade right on your cutline.
Guard Action
Some guard designs can hang up on the edge of your material or on shave cuts where the waste material pushes inside the guard. The best circular saw guards glide up easily over every type of cut you make.
Dust and Chip Removal
Circular saws create a lot of sawdust and chips. Look for models that clear them well (higher RPMs help) through the dust port in the cover. If you do a lot of your work inside, look for a model that includes a dust port adapter so you can easily hook up your shop vac to it.
Handle Ergonomics
As you're trying different circular saws, consider how your grip feels on both the main and front handles. Overmold can help with comfort and security, and shape plays a big part. Also, consider how the handles feel together when you have both hands on the saw. Some may be too close or too far from each other for your comfort.
Weight
Weight isn't a big consideration on circular saws. Because you cut with the weight on the saw on top of your material, it bears the brunt of it. However, lighter saws can be beneficial as you're carrying them back and forth to where you're cutting and as you transfer the weight to your arms at the end of each cut.
Price and Value
Once you know what your circular saw budget is, take a look at what is available at that price point. To get the best value, we recommend going with the best performance as the highest priority. Ergonomics and features still come into play, as does the warranty. If you're shopping for a cordless model, consider what other tool work with the same battery.
Corded or Cordless?
15-amp corded circular saws have outstanding power and you can get a trusted professional brand name for $100 or less. Many of these saws can last a decade or more.
The major trade-off is that you're going to need an extension cord and access to power.
There's no denying the convenience of cordless circular as an easier way to make the cut. Most of the major brands now have cordless options that can meet or exceed the performance of a 15-amp corded model.
That only goes for the best cordless circular saws, though. Some compact and 12V saws are well under the 15-amp performance level. There are also DIY-focused brands that don't have that strong of a saw in their portfolios yet.
There's also cost to consider. Cordless tools are more expensive by the time you add the cost of a battery and charger. The batteries need to be replaced every 3 – 5 years and they're not cheap. Corded models tend to be far less expensive, and a high-end one can cost less than a mediocre cordless saw.
Blade Left or Blade Right?
Whether you prefer the blade on the left side of the motor or the right boils down to more than just being left or right-handed. There's what feels the most natural to you as well. See if you can give both styles a shot in the store and decide which one works best for you. Read more about those considerations here.
The circular saw design preference is surprisingly regional with the West Coast trending towards rear-handle worm drives and the East Coast primarily using sidewinder direct drives.
Worm drives tend to have a more inline handle design and weigh more. The worm drive gearing that gives the saw its name produces more torque than the same motor in a direct drive. It's enough extra power that these saws almost always require you to punch out the diamond knockout on your blade to use its more secure arbor.
Sidewinders are usually lighter than worm drives with a more compact design. The handles can be inline but are frequently offset somewhat. With less torque than worm drives, you don't remove the knockout for their round arbors.
Blade Size
The most common blade sizes for circular saws are 6 1/2 inches and 7 1/4 inches. These are both capable of cutting 2x material in a single pass and are appropriate for everyday use.
Bigger blades require more power to keep RPMs high enough, so 6 1/2-inch saws nearly always have less power than a 7 1/4-inch model.
However, there are also several models that take 10 1/4-inch blades and can cut 4x material in one pass. There are even saws that take a blade over 16 inches that timber framers use!
Moving smaller and more compact, you can find models that take 5 3/8-inch blades and even 4 1/2-inch blades like the DeWalt Atomic.
The trick to finding the best circular saw blade size for you is to check the maximum depth of cut at 90º and 45º. You can find that in the specifications online or in the manual. As long as it can cut the depth you need, you're good to go.
If you're not sure where to start, look for something that can cut through 2x material. 2x dimensional lumber is 1 1/2 inches thick. The majority of circular saw cuts our team makes are on 2x and sheet goods. However, keep in mind that smaller saws have less power.
Why You Can Trust Pro Tool Reviews
Ever check out a "review" site and you can't tell if they actually tested the tools or if they're just "recommending" the Amazon top sellers?
That's not us. We only recommend what we'd actually use, even if we don't earn a commission from it. It's all about giving you a legitimate recommendation and our honest opinion of each product.
We've been in business since 2008 covering tools, writing reviews, and reporting on industry news in the construction, automotive, and lawn care industries. Our Pro reviewers work in the trades and have the skills and experience to know whether tools can perform well in the field.
Each year, we bring in and review more than 250 individual products. Our team will put our hands on hundreds of additional tools at media events and trade shows throughout the year.
We consult with innovators in the technology and design of tools to gain a broader grasp of where these products fit and how they work.
We've worked with more than two dozen professional contractors around the United States who review products for us on real job sites and consult with us on testing methods, categories, and weighting.