Quickly Remove Up To 6 Inches Of Snowfall With The Skil 40V Snow Shovel
If you are like many others that break out a stiff bristle push broom or shovel to clear away light snowfalls, we have some news for you! For those times when you simply need to clear a sidewalk or give your driveway a once-over, Skil's 40V Snow Shovel is here to lighten your load. However, we think there's more here than meets the eye.
Skil 40V Snow Shovel Performance
Clearing Width: 12 in.
Max Clearing Depth: 6 in.
Max Throw Distance: 20 ft.
Motor: Brushless
Skil's 40V snow shovel features a 2-speed brushless motor that lets you prioritize between maximum power and longer runtime. The intake spans 12 inches and the 6-inch paddle is capable of throwing snow up to 20 feet, depending on the conditions. Its rear plastic scraper helps loosen any remaining hard packed snow, but may not be as effective on underlying ice.
Its nimble design makes this an ideal choice for clearing snowfall from sidewalks, small driveways, and even decks or patios. Moreover, it gives you greater access in tight spaces where a full-size snow blower isn't feasible. When you're finished, you can store it upright or break it down into two pieces when space is limited.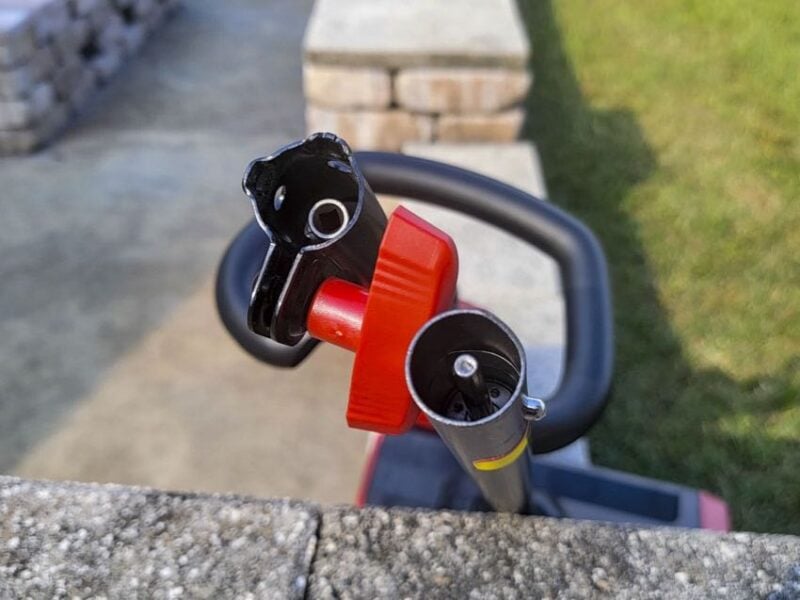 This snow shovel's is part of Skil's 40V multi-head attachment system. It's designed for use with Skil's OEM implements, as well as any other universal-compatible attachments you may have lying around.
Skil 40V Snow Shovel Design Notes
Model: Skil PSS1200C
Power Source: Skil 40V battery
Auger Diameter: 6 in.
Auger Material: Plastic
Weather Rating: IPX4
Weight: 13.9 lbs. (bare), 17.7 lbs. (with 4.0Ah battery)
Length: 69 in.
As we mentioned before, this snow shovel is part of Skil's 40V multi-head attachment system and has a string trimmer type feel. With the snow shovel attachment, it measures 69 inches long and weighs 17.7 pounds with the kitted 4.0Ah battery. I'm 6 feet tall, and for me, the working angle is very comfortable
The controls are pretty straight forward, especially if you're already familiar with the Skil 40V String Trimmer. The main grip features a textured rubber overmold, a two-finger trigger, and ambidextrous thumb safeties to prevent accidental trigger pulls. On top, you have the speed selector switch for easy access, even while wearing gloves.
Since we are dealing with moisture, Skil gave this snow shovel an IPX4 rating. This gives you an extra level of durability and protection, even during inclement weather.
Additional Features
Compatible with all Skil 40V batteries
Skil 40V Snow Shovel Price
You can find this cordless snow shovel at Acme Tools for $199 as a bare tool and $279 as a kit. The kit includes a 4.0Ah battery and a single-port charger. Skil backs it up with a 5-year warranty, so be sure to register within 30 days of purchase.
The Bottom Line
The Skil 40V snow shovel is a great choice for supplementing a full-sized snow blower for light snowfall or even clearing smaller areas. We really love the familiar controls, plus it's very nimble and easy to maneuver. One of the biggest benefits to this system is its universal attachment compatibility, so it's an excellent starting point if you're new to the Skil PWRCore 40 lineup.