Whether you're vertically challenged, a professional arborist, or simply need a little more sunlight for that backyard veggie garden, you might need a pole saw. These handled tools have blades or chains attached to the end of a long pole that allow the user to reach up and remove branches that might otherwise require a ladder or bucket. Neither of those options is as safe as working from the ground, and a pole saw can prove to be indispensable. 
But when it comes to choosing a pole saw, there are options from every brand, at every price point, and in multiple styles. This guide will break down our picks for the best pole saws in 2023 so you can make an informed decision and quickly (and safely) cut those limbs off your to-do list. 
Our Best Pole Saw Picks
How We Picked the Best Pole Saws
Choosing the best pole saws wasn't something we took lightly. In fact, we've personally used pole saws that were borderline dangerous and would never recommend them. While all saws can be dangerous, we wanted to ensure that we were suggesting products that would serve readers' purposes and also operate safely. To do so, we had to call upon all of our experience using pole saws and removing limbs. 
First, we made sure to find pole saws that would meet anyone's needs. We looked for gas-powered models, those powered by batteries and cords, as well as manual pole saws. Then we started to narrow that pool down by drawing on our first-hand experience with certain models, the value each product provided, as well as the special features we thought were necessary in a pole saw. We also compared pricing to ensure that each product was a good deal at its price point.
The pole saws that we felt passed our tests were then analyzed for their strengths and given awards for them. Those we didn't think offered enough value or simply wouldn't cut it (pun somewhat intended) were removed from the list altogether. The result of all this hard work is this list of the best pole saws for 2023.
Best Overall Pole Saw
Key Features:
The extendable pole allows users to reach up to 16 feet while remaining lightweight
Powerful 36.3 cc engine can cut through dense hardwoods quickly
Proprietary chain reduces vibration while cutting quickly and smoothly
Specifications
Type: Gas
Length: 11.5 feet
Working Height: 16 feet
Pricing: $769.99
Our pick for the best overall pole saw is the Stihl HT 135. This gas-powered pole saw has all the power that a professional would need but is flexible enough for a homeowner with occasional heavy-duty pruning.
The HT 135 has a 14-inch bar as well as an extendable pole that brings its overall length to 11.5 feet and its working height to 16 inches. The shaft features a square design to increase rigidity and control and the bar features Stihl's proprietary PICCO Micro Mini saw chain. This chain allows it to cut quickly and smoothly while also reducing vibration. It also has a 36.3 cc engine that produces plenty of power while also producing low exhaust emissions. It also features a carburetor that automatically adjusts the air/fuel ratio to maintain the correct RPM when the air filter becomes partially clogged.
Best Cordless Pole Saw
Key Features:
Lightweight design and rubber grip allow users to cut longer with less discomfort
Cuts up to 96 times per charge with a 4.0Ah battery
Compatible with the popular Dewalt 20V battery lineup
Specifications
Type: Battery powered
Length: 10 feet
Working Height: 15 feet
Pricing: $179.00
Our top pick for the best battery-powered pole saw is the Dewalt 20V Max pole saw. This model is compatible with the brand's popular 20V Max lineup, allowing DIYers invested in Dewalt tools to swap batteries at will. It's capable of making 96 cuts on 4×4 pressure-treated wood with a 4.0-ah battery, as well.
The Dewalt 20V Max Pole Saw focuses on comfort. This battery pole saw features a lightweight design that weighs just 8.4 pounds (without a battery) and features a comfortable rubber grip to increase comfort and reduce vibration. The saw's extension pole extends up to 10 feet, allowing users to cut branches up to 15 feet from the ground. It also has an angled head, making it easier to cut high limbs with the 8-inch bar. The only real downside is that despite being the best battery pole saw, it doesn't come with a battery, so shoppers might have to buy their own separately.
Best Gas Pole Saw
Echo PPT-2620 X Series 25.4cc Tree Pruner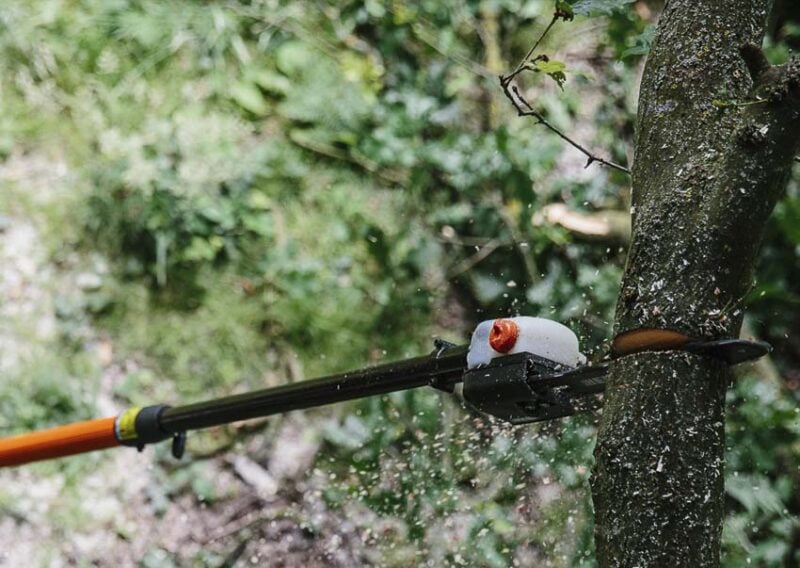 Key Features:
Pole extends to over 12 feet for plenty of reach
Loop handle improves comfort and reduces vibration
Specifications
Type: Gas
Length: Over 12 feet
Working Height: Not listed
Pricing: $599.00
Homeowners, pros, and DIYers looking for the best gas-powered pole saw might consider the Echo PPT-2620. This model features a 25.4 cc gas engine that produces enough power to quickly and efficiently handle pruning duty. This engine powers the 12-inch straight bar, which has an auto-adjust oiler to keep the chain lubricated. There is also a large 20.6-ounce fuel tank to keep the saw running for longer between fill-ups. 
The Echo PPT-2620 features a pole that extends from 107 inches to 146 inches, allowing for plenty of reach (though working height is not available). The shaft also features a ribbed fiberglass outer shaft for strength and control. This all combines to weigh a total of 17.4 pounds, making it lightweight for a gas-powered pole saw, and a rubber loop handle improves comfort, reduces vibration, and allows for plenty of control.
Best Electric Pole Saw
Worx WG309 10 in. Electric
Key Features:
Operates as a standard chainsaw or a pole saw
Features an 8-amp motor for heavy-duty cutting
Weighs just 10 pounds in total (though it does get a bit end-heavy)
Specifications
Type: Corded
Length: 8 feet
Working Height: Not listed
Pricing: $69.00
The Worx WG309 isn't your typical pole saw. This 2-in-1 saw features the ability to switch from a standard chainsaw to a pole saw that extends up to 10 feet long. The handle attaches without tools, allowing users to quickly swap back and forth as needed. The saw itself features a 10-inch straight bar and the pole extends up to 8 feet long.
The WG309 has some other features that make it desirable, as well. It has an 8-amp motor which allows it to cut through dense wood without overheating or giving up. It also features a lightweight design, weighing just 10 pounds (though the entire saw being on the end of the pole can be a little challenging at times). As a standard chainsaw, it comes with a chain brake that will stop the chain if the saw experiences kickback, and it has an auto-tensioning chain system to ensure the chain doesn't jump the bar.
Best Manual Pole Saw
Notch Pole Saw Set
Key Features:
Interlocking fiberglass poles allow users to customize the length of the pole easily
Teeth are designed for fast cutting on the pull stroke
Options for poles that reach up to 18-24 feet when fully assembled 
Specifications
Type: Manual
Pole Length: 18 feet
Working Height: Not listed
Pricing: $165.32
Manual pole saws can be extremely effective at removing limbs and branches, and this pole saw set from Notch proves it. It features three 6-foot fiberglass poles that quickly interlock or disassemble, allowing users to customize the length of their pole saw in 6-foot increments. Combined, this set reaches 18 feet long and the 15-inch blade increases the reach even further. The entire set weighs just 8.4 pounds. 
This Notch saw features a blade with teeth designed to cut quickly on the pull stroke. The teeth are also hardened to help them remain sharp and durable longer and the blade features a chrome-plated finish to prevent corrosion. The only real complaint about this set is that the head can't be used as a hand-pruning saw as it doesn't feature a handle or a grip.
Best Commercial Pole Saw
Key Features:
Designed to be used by professional arborists and utility workers working around power lines
LowVib grip minimizes vibrations transferred to the operator
Tool-less couplers to quickly connect the individual sections of pole
Specifications
Type: Gas 
Length: 150 inches 
Working Height: Not listed
Pricing: $1,359.99
The Husqvarna 525DEPS is our top pick for the best commercial pole saw. This gas-powered pole saw features a dielectric design that allows utility workers and professional arborists to work safely in close proximity to utility lines. In the past, only manual pole saws were approved for this line of work but this model from Husqvarna is faster and just as safe.
This pole saw from Husqvarna features two pole extensions that allow this saw to measure up to 150 inches, including the 12-inch bar. Each section is fiberglass and OSHA 1910.269-approved, allowing line workers and arborists to use them around power lines. These poles also install quickly without tools for easy adjustments. The motor's displacement is 25 cc, and when combined with the cutting equipment and both poles, the set weighs 16.4 pounds.
Best Pole Saw for the Money
Sun Joe SWJ803E
Key Features:
Adjustable angle head for cutting low and high limbs easily
Reaches up to 15 feet for cutting hard-to-reach limbs
Lightweight, balanced design is easy to use for long periods
An affordable price point allows users to cut limbs without breaking the bank
Specifications
Type: Corded
Pole Length: 8.8 feet
Working Height: 15 feet
Pricing: $94.99
Folks with some tree-trimming to do but who would also prefer not to break the bank should consider the Sun Joe SWJ800E. The corded electric pole saw features an affordable price tag that allows users to remove limbs without a large investment, and it's easy to use.
This model from Sun Joe features a 3-position, adjustable-angle head with a 10-inch bar. It has an automatic self-oiler to reduce friction and extend the life of the chain. The head sits atop an extendable pole that stretches up to 8.8 feet, providing a total reach of 15 feet. It's powered by a corded 6.5-amp motor, which isn't overly powerful but will allow most homeowners to trim their trees with relative ease. Its relatively light-duty design does allow it to weigh in at 7.9 pounds for easy handling.
Things to Consider When Buying a Pole Saw
With so many pole saw options available on the market, you shouldn't just run out and buy the first one you find on sale. Pole saws are tools that can be extremely useful when chosen correctly and extremely frustrating when not. The following are some of the most important considerations to keep in mind when choosing a pole saw.
Gas, Electric, or Manual
The first thing to consider is the pole saw's power source; gas, battery, or manual. Each has its pros and cons, so deciding which type of saw to choose is the best first step.
Gas pole saws are great for pros and heavy-duty tasks. They're powerful and fast, and since the majority of the weight is on the back end of the saw, they're fairly easy to use despite their weight. However, they're expensive, loud, require maintenance, consume fossil fuels, and expel harmful exhaust fumes. But in terms of speed and power, they're hard to match.
Electric pole saws come in two categories: corded and cordless. Both are easy to use and low maintenance. A corded saw requires an extension cord long enough to reach the work area, which limits portability. However, they're affordable. A cordless or battery-powered saw is more expensive but portable, though they may only cut 50 or 60 times on a fully-charged battery. Also, these saws are powerful but not nearly a match for gas-powered saws in most cases.
Manual pole saws feature long, thin blades with sharp teeth. They're light and easy to maneuver, though they can be difficult to use for inexperienced arborists. Their blades can become stuck between the falling limb and a tree, and they have to be very sharp to work quickly. They're typically affordable, though pro-grade models can cost almost as much as battery-powered pole saws. 
Cutting Bar and Blade Length
Another point worth considering is the length of the cutting bar or blade. Choosing too small a cutting surface can be frustrating or even unsafe conditions. 
Powered saws are just small chain saws, and the bar is the rigid, metal guide that the chain runs around. For around-the-house trimming, a saw with a bar between 8 inches and 12 inches will usually do the trick. However, if you're using your powered pole saw on thicker limbs, it's best to avoid shorter bars. A shorter bar can allow the nose of the bar to sink into the limb and cause contact between the chain on the top of the bar and the limb, causing an unsafe condition called kickback. While any chainsaw can be susceptible to kickback, short bars increase the likelihood.
For manual saws, the longer the saw blade, the heavier the saw but also the fewer full-length strokes will be needed to cut through the limb. Twelve-inch saw blades are lighter and more nimble, but 16-inch blades can make reaching and cutting higher limbs faster, easier, and safer. 
Weight
Weight should be a significant factor when choosing a pole saw, whether it's powered or manual. These saws often have mechanisms at the ends of the poles, and this is an instance where leverage does not work in the user's favor. Just a few pounds on the end of a 12-foot pole can be too heavy for some folks.
While they're usually well-balanced, gas-powered models are heavy. They often weigh 20 to 25 pounds with fuel and lubricant. Cordless saws are relatively light but do get a little heavier with a battery installed. Corded models are sometimes lighter, but the weight savings over a cordless model usually aren't worth it when you consider the extension cord and the fact that cordless models are overall easier to use. Manual pole saws are the lightest and easiest to maneuver, but the back-and-forth motion required to cut the limb can still tire out the user.
A general rule would be to choose an electric or cordless saw between 8 and 12 pounds for the best power-to-weight ratio.
Pole Length and Working Height
Manufacturers will sometimes list two measurements: the pole length and the working height. The pole length takes into consideration the length from tip to tip of the pole, which simply tells the user how far they can extend the pole. It doesn't explain, necessarily, how high or far the saw can reach.
Working height is a more helpful rule, as this explains the height that an average person can reach when cutting with a pole saw. Working height takes a few things into consideration. First, it accounts for an average height and arm span. Second, it also accounts for the blade length. With these two measurements in mind, homeowners can decide if a particular saw is long enough to reach that limb in their backyard before buying.
Unfortunately, it's worth noting that some pole saw manufacturers aren't entirely clear about their pole lengths and working heights. Some may provide one measurement or the other. It's important that homeowners choose wisely and consider their own height when choosing a new pole saw.  
Head Type
Another decision-making factor is the type of head that a pole saw might have. There are several head types to choose from: straight blade, angled, adjustable, and detachable. 
Straight heads are easy to use and stable. They're best for cutting branches at lower heights as the blade or chain will easily sit on top of the branch, preventing it from getting pinched during cuts. However, for high branches, pinching is very common for straight blades. 
Angled heads make cutting higher branches easier, as the blade registers across the top of the branch rather than the side like a straight blade would. 
Adjustable heads allow users to choose between straight and angled blades, but they may not be as durable or stable during use. Some power saws have adjustable heads, and some manual saws feature blades with multiple attachment patterns to allow the user to change the angle of their blade. 
Detachable heads can disconnect from the pole and be used as a hand saw. This adds more versatility to the saw, but might not be as durable and long-lasting as a fixed blade. Some electric models can even attach to a chainsaw handle and turn into a relatively powerful electric chainsaw. 
Safety When Using a Pole Saw
Before thinning out those limbs on that maple in the backyard, take a few minutes to familiarize yourself with pole saw safety. The following are some helpful tips when using a pole saw.
Avoid a Use Injury
Using a pole saw can put a lot of strain on your lower back, neck, arms, and shoulders. Make sure to perform some stretches first to avoid an injury. Also, if you become tired while using a pole saw, it's better to stop than to become injured. Come back to the project later if you're tired or sore—just make sure not to leave any branches hanging behind. 
Wear Safety Gear
A pole saw might not seem like the most dangerous tool in the shed, but there are still a few personal protective equipment pieces that you should wear. Safety glasses will help deflect any falling chips, dirt, and debris falling into your eyes. Also, a full-brim hard hat that can protect your head and neck from any branches or twigs that might fall is also a very good idea.
Last, choose the right footwear. Sturdy, proper-fitting work boots can help avoid trips and falls and allow you to get away from a branch as it's cut loose and dropping.
Clear the Work Area
Clear the area under the tree you're cutting. This includes any outdoor furniture and obstacles that may get in the way. While a pole saw is only meant to remove limbs, they can be heavy as they fall. Make sure to clear the space and give yourself an escape route for getting out of the way when the branch falls.
Never Cut Overhead
While pole saws are designed to reach up into trees, you should never cut a branch directly above your head. Always cut at an angle that allows you to stand to the side of the branch's path as it falls.
Keep Firm Footing and Safe Balance
While pole saws are convenient, they can be a lot to handle until you're used to them. Be sure to maintain firm footing when using a pole saw. This means ensuring that you're on flat, stable ground and that you're not leaning unsafely. You should not stand on logs, stones, or other items in the area, and working from a ladder can be extremely dangerous.  
Beware of Kickback
Kickback occurs when the nose of a chainsaw bar comes in contact with a piece of wood. The force of the chain striking the surface kicks the front of the blade upward and back at the user. This can bounce a pole saw backward and into other branches, near power lines, and other objects. If the chain brake is working properly, the chain will stop once kickback occurs, but the long, awkward pole saw can still be dangerous. Also, not all pole saws have chain brakes—most of these pole saws mentioned above do not 
Avoid kickback by only cutting with the bottom part of the pole saw. Don't use the end of the saw, and cutting with the top of a bar can be too difficult to control safely, potentially resulting in kickback. 
Keep the Blade Sharp
It might seem counterintuitive to mention keeping the blade sharp in the safety section, but the truth is that a sharp blade is a safe blade. Dull blades require too much effort to cut with, which means that they can become dangerous if the user were to slip or if the branch gives away. Blades should be sharp enough to cut effectively and cleanly with very little effort from the user. 
Frequently Asked Questions About Pole Saws
When it comes to quickly and safely removing a limb, there's often no better tool than a pole saw. But, some users might have questions that need answering first. The following are some of the most frequently asked questions about these tools. 
How far can a pole saw reach?
It depends on the model. Some pole saws might only reach heights of 12 or so feet, while others can safely reach 18 feet or higher. Extendable manual saws usually have the longest reach, as they're still light enough to manage at longer lengths. 
Is a pole saw worth it?
Pole saws can be worth it if used correctly. They allow DIYers to quickly and safely remove limbs from trees without climbing them or setting up ladders. There are affordable options for folks who don't want to spend a lot of money, as well as pro-grade tools that will pay for themselves in just a few days of hired work. 
How thick of a branch can a pole saw cut?
It depends on the saw's blade or bar length, but pole saws can cut limbs between 3 and 8 inches thick. While they're not useful for cutting down trees, an 8-inch limb is quite thick and heavy, making a pole saw the perfect tool for the job. 
Is a gas pole saw better than an electric pole saw?
While battery technology is getting better, and electric chainsaws are quite powerful, gas chainsaws are still the most powerful pole saw option. However, smaller gas engines might not be as powerful as large battery-powered models, so power is relative.
The other consideration that might make an electric pole saw the better choice is that electric and battery-powered saws require far less maintenance. They don't have spark plugs, fuel filters, or fuel/air ratios to fiddle with, which makes them ideal for a homeowner's occasional use.
Why You Can Trust Pro Tool Reviews
Ever check out a "review" site and you can't tell if they actually tested anything or if they're just "recommending" the Amazon top sellers? That's not us. We won't recommend anything unless we'd actually use it ourselves, and we don't really care who the primary retailer is. It's all about giving you a legitimate recommendation and our honest opinion of each product.
We've been in business since 2008 covering tools, writing reviews, and reporting on industry news in the construction and lawn care industries. Our Pro reviewers work in the trades and have the skills and experience to know whether tools can perform well in the field.
Each year, we bring in and review more than 350 individual products. Our team will put our hands on hundreds of additional tools at media events and trade shows throughout the year.
Pro Tool Reviews consults with innovators in the technology and design of tools to gain a broader grasp of where these products fit and how they work.
We work with more than two dozen professional contractors around the United States who review products for us on real job sites. We consult with them extensively on testing methods, categories, and practical applications.
Our site will provide more than 500 pieces of new content this year absolutely free for our readers. That includes objective evaluations of individual tools and products.
The end result is information you can trust because of the editorial, scientific, and real-world professional experience we collectively utilize each and every time we pick up and test a tool.