Getting More for Your Money is the Name of the Game for Magellan's Marine Cooler
When it comes to premium coolers, you have a lot of choices, and digging in to find what's actually different can be tough. If you're considering the Magellan Outdoor Pro Explore 75-liter Icebox Marine Cooler, you're in luck. We got our hands on one and are digging deeper so you can decide if it's worth heading over to Academy Sports and picking one up.
Note: This cooler's capacity is measured in liters rather than quarts. For comparison, 75 liters is a little over 79 quarts.
Magellan Outdoors Pro Explore 75L Icebox Marine Cooler – It's About Value
When you consider Yeti's 75-quart cooler runs $450, it's easy to see why Magellan's $249 price got our attention. It's actually better than you might think at first glance, though. The integrated bottle opener and top pad are features you normally have to pay extra for. Plus, there's a divider and sliding box that come inside.
Those are really nice additions, especially for the price, but it's the lid that popped our eyes open. Push button latches on the front make opening easy and closure secure. There's a second set on the back, meaning you can open the cooler from either side, or completely remove the lid. Think about that the next time you load your cooler full of ice into the boat the wrong direction.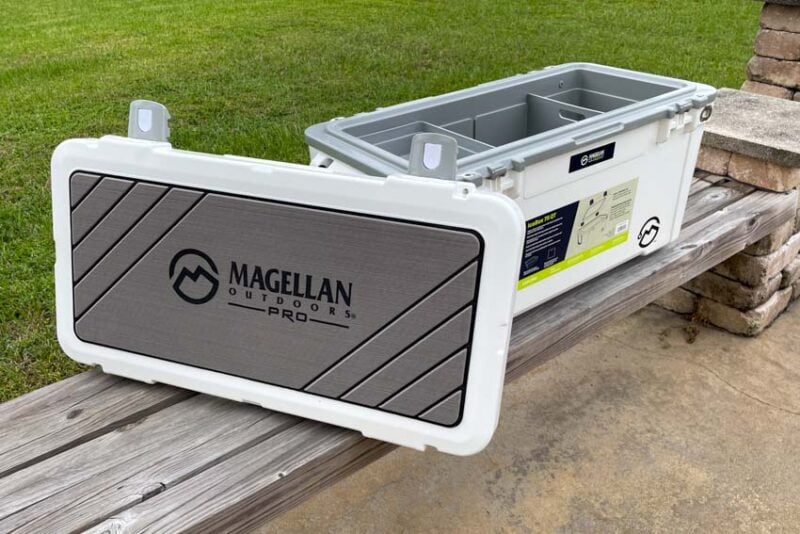 Obviously, the 75-liter capacity is generous, and can hold a lot of ice. How much ice you put in determines how long you'll be able to keep things cold. Toss in 20 pounds with warm drinks and a warm cooler, and you might only get 12 hours. Pre chill it and fill it with cold drinks or frozen meat along with ice to the brim, and it will last for several days, even in the heat. It all depends on how much ice you put in, what the outside temps are, and how often you're getting into it.
Magellan Outdoors Pro Explore 75L Icebox Marine Cooler Key Features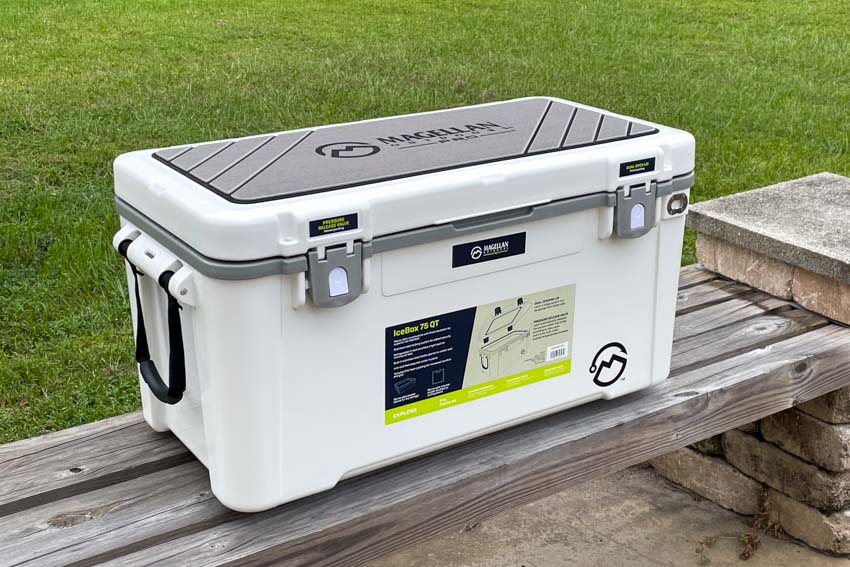 Molded plastic walls lend rugged durability
Removable lid opens from either side
Vacuum insulation keeps food and beverages cold
Heavy-duty latches ensure a tight closure
75 liter capacity
Textured EVA Foam Lid Pad
Captured drain plug
Sliding bucket and divider included
Specifications
Product weight (lb.): 39.4
Exterior height (in.): 18.1
Interior height (in.): 13
Exterior depth (in.): 18
Complete your perfect BBQ by adding one of our best grill and smoker recommendations to go with the drinks you're serving from this cooler!
The Bottom Line
When you look at everything Magellan packed into the Pro Explore 75L Icebox Marine Cooler and weigh it against the price, you're going to have a hard time finding a better value from any other brand. As a marine cooler, it's a solid bet for overnight trips and makes for a nice ice chest to take on long weekend camping trips. On construction sites, it has the capacity to keep your entire crew hydrated with the ice retention to deal with them being in and out of it all day.
Grab yours at Academy Sports!