By day, we're all about tools, but when the workday is over, there's a good chance we're grilling supper. Our team has several accomplished cooks who got together to write a guide on how to use a Big Green Egg by answering the very same questions we had for ourselves when we first started using one.
Check out our thoughts on BGE's design by reading our Big Green Egg review!
What Charcoal Do You Use In A Big Green Egg?
When it comes to fuel sources, stick with 100% natural hardwood lump charcoal. When you're smoking, you can add chunks of the wood of your choice.
Other types of charcoal, including briquettes, contain extra additives that can affect the cooking characteristics and flavor. Additionally, this type of grill is not designed to use pellets or propane.
How Do You Start/Light A Big Green Egg?
Rule #1 of lighting your Big Green Egg: DON'T USE LIGHTER FLUID!
Now that we got that out of the way, let's get to what you should do. Start by filling the charcoal all the way to the line. Even if you're not going to be cooking that long, fill it all the way. You won't waste it, we promise.
We use a natural charcoal starter. We usually light one for low temps (centered) and two or three for high temps (spread out). In about 10 minutes, the surrounding coals will be lit and you can close the lid. You can also use an electric charcoal starter or butane charcoal lighter.
Open the lower damper fully
Open the frill and fill lump charcoal to the top line
Light the charcoal with natural charcoal starter, or an electric/butane starter (do not use lighter fluid)
Wait ~ 10 minutes until the surrounding coals are lit
Close the lid and adjust the dampers to dial in your target temperature
Considering more types of grills? Check out our best grill and smoker recommendations!
How Do You Control The Temperature On A Big Green Egg?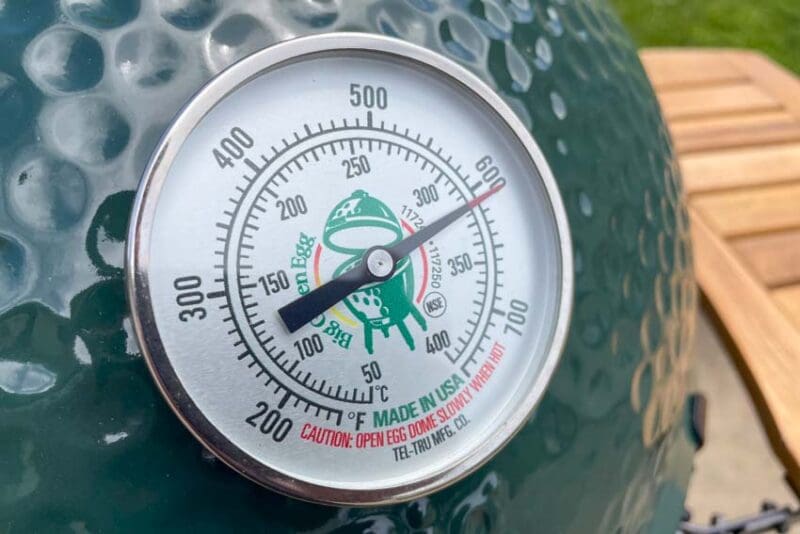 As you're learning how to use your Big Green Egg, it's important to understand the relationship between airflow and temperature. More airflow generates more heat and uses fuel faster. Less airflow reduces the temperature and uses fuel slower.
One damper on the bottom and another on the top adjust to control your airflow and temperature. They don't have to be at the same opening level.
When you start the grill, you'll have both ports wide open. Once the fire is going, you can start adjusting to close them off, and it's possible to get within a few degrees of your target temperature. You get the biggest changes by adjusting the damper at the bottom, and more precise adjustments with the one on the top.
Make sure the temperature stabilizes before you put your food on to start cooking.
As you use the grill more, you'll get used to good starting points for various temperatures and be able to dial it in more quickly.
How Do You Use A Big Green Egg As A Smoker?
Using the Big Green Egg as a smoker isn't too complicated. As you get the temperature in the neighborhood of your target (we cook at 225° F a lot), add a few chunks of smoking wood, close the lid and let the temperature stabilize. The bottom damper at ~90% closed and the top damper open the width of a dime is just right on ours.
We like bigger chunks of wood over the smaller chips you can buy. These will keep the smoke rolling longer and you won't be interrupting the cooking process by opening the lid as often to add more.
How To Use A Big Green Egg — Our Top 5 Recipes
Part of the beauty of a Big Green Egg is the ability to cook at a stable low and slow temperature or all the way up to 700° F. Compared to other types of grills, it's a much wider range. We're going to assume you know how to cook burgers and steaks on a hot grill and focus on some of our favorite Big Green Egg recipes.
While some of these may sound intimidating, take a chance and try it. Thanks to BGE's temperature stability and the ConvEGGtor delivering indirect heat, they're actually pretty easy, and the results are amazing.
Be sure you have an instant-read thermometer, or better yet, a wireless model you can leave in the meat during the entire cooking process.
How To Use A Big Green Egg To Smoke A Turkey
The key to a perfect smoked turkey is brining it overnight. It'll come out juicy and flavorful all the way through. Aromatics add a subtle complexity to the flavor and will leave your guests saying "wow!"
Brine your turkey overnight (24 hours is perfect)
Season the turkey (you can be pretty generous unless it's an extremely salt heavy mix)
Set your grill to 225° F
Add chunks of applewood for smoke
Smoke the turkey for two hours
Adjust the grill to 350° F (usually 2 – 3 hours more)
Continue cooking until the temperature in the thickest part of the breast reaches 155° F
Set in a tray and cover with foil
Rest the turkey for 30 minutes (the temperature will continue to rise to 160° F)
Carve and serve
For the brine:
1 1/2 cups salt
1 cup sugar
1/2 cup apple cider vinegar
1 gallon water (or try 1/2 gallon of water and a 1/2 gallon of apple cider!)
Add garlic, rosemary, thyme, and/or sage if you like
Heat the brine up on medium low and stir until all the salt and sugar dissolve. Let it cool for about an hour, place the turkey in the brine, and let it soak for 24 hours in the fridge.
If you use aromatics in the brine, be sure to choose a seasoning that complements them, such as Big Green Egg's Savory Pecan. If you go with the basic salt/sugar/vinegar, then you have a wide-open flavor canvas to work with. BGE's Citrus and Herb is a good choice.
How To Use A Big Green Egg To Smoke A Brisket
Don't let brisket intimidate you. It's all about maintaining a stable cooking temperature and pulling the meat when it hits 195° F. The magic number is 203° F, but you pull it early, it will continue rising during the rest period.
We prefer to separate a whole packer brisket into the point and flat so we can pull each section at exactly the right temp. The generous rest time means you can still serve both at the same time.
Be sure to trim the excess fat off. We try to leave 1/4-inch of the cap and cut out the rest of what we can see.
Season liberally on all sides with Bad Byron's Butt Rub (or your favorite BBQ rub)
Set the grill to 225° F
Add hickory chunks for smoke
Smoke until the internal temperature reaches 160° F
Wrap in pink butcher paper
Continue smoking until the internal temperature reaches 195° F
Wrap in foil and place in a cooler for at least 1 hour and up to 4 hours
Slice and immediately serve
How To Use A Big Green Egg To Smoke Ribs
There are a lot of rib recipes out there and some can get pretty complex. We prefer to keep it simple with a dry rub.
Start by removing the silvery membrane on the bottom of the rack. Use a butter knife to lift it up, then grab it with a paper towel to help your grip, and pull it away.
Season ribs on both sides liberally with Bad Byron's Butt Rub (or your favorite BBQ rub)
Set the grill to 225° F
Add applewood chinks for smoke
Smoke ribs for 3 hours, spritzing with apple juice every 30 minutes
Wrap in pink butcher paper
Continue smoking until internal temperature reaches 195° F (usually 2 – 3 more hours)
Slice into individual ribs, 1/4 racks, or 1/2 racks for serving
How To Use A Big Green Egg To Smoke A Pork Butt/Shoulder
Pork butts and shoulders are great for feeding a crowd on a low budget and low effort but with high flavor. The rich meat is filling, so your guests tend not to eat as much. Leftover pulled pork is great on its own, over nachos, and even on pizza.
Before you get started, trim off the fat cap. Some people like to leave a 1/4-inch or so, but these cuts are fatty enough that you can take it all off if you like.
Season pork on all sides liberally with Bad Byron's Butt Rub (or your favorite BBQ rub)
Set grill to 225° F
Add applewood chips for smoke
Smoke until the internal temperature reaches 195° F in the thickest part (usually 8 – 10 hours)
Rest for 30 – 60 minutes (the temperature will rise to ~200° F)
Pull using a pair of serving forks or meat pullers (don't chop or slice)
Optional: Drizzle a little BBQ sauce over the pulled meat (don't overdo it)
How To Use A Big Green Egg To Cook Pizza
Thanks to airflow and stable temperatures, a Big Green Egg can act like a convection oven and it makes amazing pizza! The key here is to use a pizza stone to get the perfect balance of a crispy outside crust with a soft inside. Also, if you're using a premade dough (we LOVE the dough from the Publix deli), let it sit out for an hour. It's much easier and faster to work with at that point.
There are a lot of pizza recipes out there, and some may use a different temperature. Our recommendation is to start with what the recipe calls for the first time, and then adjust as you become more comfortable with it.
Set your grill to 400° F
Add a light coating of olive oil to the pizza stone
Gently press the dough out to cover the stone, leaving the crust section thicker
Add sauce, cheese, and toppings
Set the pizza stone on the grates
Cook for 20 – 30 minutes (it will vary based on the dough thickness you use)
Slice and serve
How Do You Clean A Big Green Egg?
Cleaning a big green egg is relatively simple.
Clean out ashes before every cook
Use a wire brush to clean the cooking grates after every cook
Wipe the outside of the grill down with a mild detergent (like Dawn) and a soft, damp cloth (don't use abrasives!) as needed
Check the nuts and bolts for tightness and alignment at least annually
If you see excessive wear or smoke coming from around the gasket, replace it
The Bottom Line
If you're ready for a premium grill but figuring out how to use a Big Green Egg seems intimidating, we get it. After going through the learning curve ourselves, we're confident that with just a little practice and a good meat thermometer, you can achieve competition-quality results that your family will love.