Paint sprayers provide better coverage and more even texture without brush or roller marks. You'll spend less time and money while getting superior results. They also serve as excellent applicators when you do choose to use a roller to paint surfaces like siding or porch railing. Find the best paint sprayer and learn how to use it for a guaranteed professional job.
What to Use Paint Sprayers On?
Paint sprayers can be used on just about any surface that needs painting, and they spread paint faster than brushes or rollers. They also provide greater consistency, and a smooth, even finish.
On the downside, paint sprayers require a little more prep work. However, with the right equipment and paint, you'll love the results and spend less time painting overall.
Interior Walls and Ceilings
Paint sprayers make quick work of interior walls and ceilings, offering the best coverage without using a lot of excess paint. High volume low, pressure (HVLP) paint sprayers are the best type for interior walls and ceilings because they will cover them smoothly and evenly. 
Exterior Siding and Trim
Many professional painters use airless paint sprayers for exterior siding and trim because it goes on extremely fast, which saves labor costs, and it uses a lot less paint, which saves money on materials. You can achieve the same effect with your DIY home improvement projects using an airless sprayer for outdoor painting.
Furniture and Cabinets
The best paint sprayers for furniture and cabinets are either HVLP sprayers, which deliver paint slowly to get even coverage, or pneumatic paint sprayers, which have a lot more versatility when it comes to nozzle styles and sizes.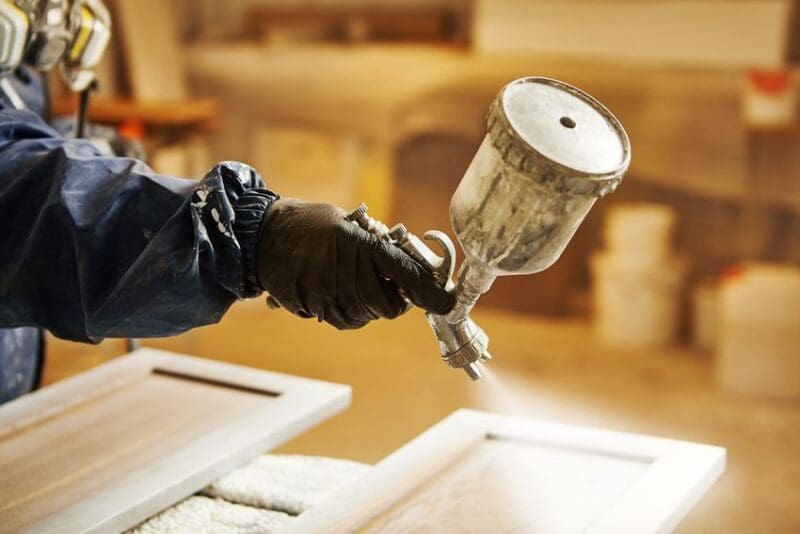 Doors and Windows
The best paint sprayer for doors and windows is one that provides superior control for precision painting. Paint dries quickly when sprayed on, reducing your typical problems with brush and roller painting.
Fences and Decks
The best paint sprayers for home use make light work of fences and decks, making it easier to keep up with the maintenance on all your outdoor wood surfaces.
Automobile Repair, Renovation, and Restoration
We don't recommend a DIY approach to autobody painting. Still, when painting a quarter panel, you can do no better than a good quality HVLP sprayer. These sprayers lay down a lot of material without a ton of overspray. With how expensive automotive is, you want to get that job done properly and without wasting material. Add to that a variety of portable paint booths available, and some have made auto restoration a legitimate hobby.
Which Paint Sprayer is the Best Type to Use?
Every good tool choice starts with choosing the right type—in this case, the best type of paint sprayer. The two main types of sprayers include airless, which uses a piston to push paint through the spray gun, and pneumatic which require some sort of air compressor. HVLP and LVLP paint sprayers fall under the latter category. We won't separate battery-powered paint sprayers here as these simply remove the cord from one of these two types.
A third type of sprayer also exists for commercial and industrial applications—an electrostatic paint sprayer. These tools may utilize airless or pneumatic technology, and typically appear in factories. While you can buy them online and at local dealers, they see much less usage than the other types of paint sprayers.
Airless Sprayers
Airless paint sprayers work best for large surfaces like walls, fences, and siding. They deliver from ½ to 2 gallons per minute, so they get big jobs done quickly. They aren't great for detailed projects due to their potential for lots of overspray. However, they can handle thicker paint than other types of sprayers. You can also use these effectively with stains.
Airless sprayers use differing spray tip (or nozzle) sizes to apply more or less paint and to vary the spray width and pattern.
Pneumatic Sprayers (Compressed Air)
Pneumatic paint sprayers (also called compressed air sprayers) work really well on metal, furniture, cabinets, and vehicles. They use compressed air and apply more and thicker paint than airless sprayers. While less expensive than other paint sprayers, you need an air compressor to go with them.
Pneumatic sprayers come in two basic forms: HVLP and LVLP (sometimes called LVMP). These use a combination of needles, fluid nozzles, and air caps to produce the desired amount of atomized paint and the spray pattern.
HVLP Sprayers (High Volume Low Pressure)
Best for detailed and accurate work on vehicles, trim, doors, and cabinets. The paint is delivered slowly with a lot of air. They typically cost more than other types of sprayers and work best with thinner paints. They also do a great job of controlling and minimizing overspray. The downside? HVLP sprayers often require larger air compressors to operate properly.
HVLP puts out more paint—so you can paint more quickly. It doesn't differ enough, however to really make a huge difference. For that reason, you typically match the gun to the compressor size.
A neat exception to the rule of HVLP and compressor size includes the innovative Graco FinishPro line. The integrated TurboForce technology supplies a variable amount of air to meet the needs of various fine-finish or medium-sized jobs.
LVLP Sprayers (Low Volume Low Pressure) or LVMP
LVLP spray guns, which stands for "low volume low pressure," use less air volume than HVLP paint guns. These guns can be used with smaller air compressors (like a pancake compressor). Overall, they have fewer air requirements than HVLP spray guns. Perfect for DIY use, they work really well with clear and final coats, delivering a concentrated central spray.
These types of paint sprayers deliver a lot of material, but with a tiny bit more overspray vs a HVLP sprayer. Plan to use a 1.3 or 1.4 tip size for most basecoat or clearcoat applications if you don't know where to start. Use a larger tip size (1.8 or 2.0) if you want to lay down enamel or any other thicker type of paint. With both HVLP and LVLP, you often need to thin the paint to avoid clogging the needle fluid nozzle.
Electrostatic Sprayers
Typically not used by DIYers or even pros working on automotive or residential applications, electrostatic sprayer have lots of commercial and industrial applications. They work by negatively charging the object to be painted and then spraying that object with positively charged atomized paint. The sprayers typically use a revolving nozzle and the paint is attracted to the surface like a magnet.
Now that you know the different types of paint sprayers, consider these top models to find the best one for your project.
Best Entry Level Paint Sprayer
Graco Magnum X5 Electric TrueAirless Sprayer
One of the best paint sprayers on the market for ease-of-use and value, the Graco Magnum X5 offers DIYers an affordable option for an airless sprayer. It works well on interior and exterior projects, and because it has a hardened stainless steel pump, it has enough power to spray unthinned paints.
The Graco Magnum X5 has a durable frame that's compact and easy to carry. With the heavy-duty pump, this model works with up to 75 feet of hose, so you don't have to worry about reach. In fact, with the 12-inch extension, you can easily reach the gable corners on the second story of your home.
Best Professional Paint Sprayer
Titan Impact 640 Airless
The Titan Impact 640 is simply a reliable and feature-rich piece of equipment. Made for serious Pros, you can get it in high rider, low rider, or skid configurations. It delivers precise and reliable paint flow from its 1.55 hp brushless motor and comes rated to deliver up to 100 gallons of paint per week.  
With up to 3300 psi, you have plenty of painting power to get any size job done quickly. The Impact 640 comes with 50 feet of hose and a RX-Pro spray gun. It has convenient features like their DigiTrac display that make it easy to avoid overspray.
The AutoOiler lets you push a button to deliver oil from the reservoir directly to the packings. For cleanup, an electronic pressure control facilitates rapid cleanup and flushing. Lastly, the Titan Impact 640 is backed by a four-year limited warranty on the sprayer and lifetime warranty on the brushless HE motor.
Best Paint Sprayer for DIY
Wagner Control Pro 130 Power Tank Sprayer
The Wagner Control Pro 130 is an airless paint sprayer that uses gravity feed for quick, efficient, no-mess painting. The spray gun emits paint in a soft fan pattern, so even novice DIYers can easily achieve a flawless finish.
Another great feature of the Wagner Control Pro 130 is that it produces 55% less overspray, reducing paint waste and providing better coverage where needed. With this model, you can paint an 8' x 10' wall in under two minutes, so it's the perfect choice for large outdoor projects like exterior siding, fences, and decks.
One thing to consider is that the hose is only 25 feet long, so it isn't the best choice for second-story applications.
Best HVLP Sprayer for DIY
Fuji Spray Semi-PRO 2 HVLP Paint Sprayer
If you're an avid DIYer or handyman looking for professional results, the Fuji Spray Semi-PRO is a top-of-the-line HVLP paint sprayer.  The powerful 2-stage motor is housed in a durable metal case with a handy spray gun holder. With 1400 watts of power, it provides more airflow and pressure for the thinnest finishes possible.
This model has a 1.3 mm spray cap, but you can purchase additional sizes, from 0.8 mm to 2.0mm. The nozzle is stainless steel with a patented Dedicated Fan Pattern Control that offers better application with less waste. 
The Fuji Spray Semi-PRO works great for circular, horizontal, and vertical applications, and you can adjust the spray pattern from a 1-inch circular pattern to a 12-inch oval pattern. 
Best HVLP Sprayer for Pros
Graco FinishPro HVLP 9.0 Paint Sprayer
The Graco FinishPro HVLP 9.0 Paint Sprayer features the company's innovative TurboForce technology. This HVLP spray system lets you generate more air flow and pressure with less heat. The FinishPro gives you an exceptional amount of control for applying lots of paint with very little overspray.
With 85-95% transfer efficiency, you get automotive quality paint coverage for smaller jobs under 3 gallons. The sprayer can deliver a pattern anywhere from 1/8-inch to an 8-inch fan width. This makes it perfect for anything from small, detailed work to cabinets, furniture, or automotive applications.
This premium paint sprayer is one of the best solutions on the market for the money—but expect to pay more than for solutions oriented toward homeowners and the DIY crowd. 
Best Corded Electric Sprayers for Homeowners
HomeRight Super Finish Max HVLP Paint Sprayer
The HomeRight Super Finish Max HVLP paint sprayer is an economical choice. It is the best paint sprayer for furniture and can handle any paint, including polyurethane, stain, and varnish.
Priced lower than many other HVLP paint sprayers, it includes multiple spray tips for greater versatility. It also has two air caps that help you control the paint flow, and you can adjust the volume control for spray patterns from one to 12 inches. 
This purchase involves little risk, thanks to a low price and a quality product backed by a 2-year warranty. Getting your money's worth with the HomeRight Super Finish Max will be easy.
Wagner Control Spray Max Sprayer
The Wagner Control Spray Max delivers solid results, and the manufacturer earns high marks for paying attention to details. 
The Control Spray Max comes with a professional-grade metal cup for small projects and an additional 1.5-quart cup for larger projects. It has an adjustable spray width from ½ inch for the finest details without worrying about overspray. When you need to work on larger projects, adjust the spray pattern up to 12 inches.
There are three spray patterns with the Wagner Spraytech Control Spray Max, and it can handle everything from stains to interior latex paints. With 20 feet of hose and an ergonomic design, this is the best choice when working on small projects like furniture and cabinets, and it's available at an affordable price.
How to Use a Paint Sprayer Effectively
Learning how to use a paint sprayer isn't difficult, and it will shorten the time to finish your projects. With a little practice, you can achieve professional results in no time. Follow this step-by-step guide to learn the best methods for using a paint sprayer.
Preparing the Workspace and Surface
Any paint project goes more smoothly with proper preparation. Make sure you're working in a well-ventilated area, and gather the required tools and safety gear, then prepare the work surfaces.
Tools and Materials Required
Paint sprayer
Paint buckets
Paint paddle and stir sticks
Extension cord
Buckets of water
Painter's tape
Drop cloths
Paint rags
Safety goggles
Gloves
Paint respirator
Be sure to use a paint respirator rated for the specific type of paint you are using.
Prepare the Painting Surface
Any surface you do not want to be painted must be covered with drop cloths, tarps, or plastic to protect it from overspray and paint spatter. Use painter's tape to cover baseboards, outlets, windows, and doors. 
Setting Up and Adjusting the Paint Sprayer
Once you have the right paint and sprayer and your work area is properly prepared, you can start mixing the paint. Paint sprayers work best with low-viscosity paints. The thinner your paint, the better it will go on the surface.
Practice painting so you can get comfortable with your paint sprayer. Use a large piece of cardboard to practice and try different movements to see what works best. Try horizontal and vertical movements, moving closer or further away and adjusting the sprayer tip to find out what method provides the best coverage.
Applying Paint with the Sprayer
When using your paint sprayer, maintain a consistent distance from the surface. You can speed up and slow down, but keep your spray aimed directly at the surface rather than facing down or away. Keep the sprayer tip wiped regularly to avoid drips and keep the paint from drying. 
Cleaning and Maintenance of the Paint Sprayer
Clean your paint sprayer after every use to keep it in good working condition. Since various types of paint sprayers require different cleaning methods, follow the instructions that came with yours.
Start by releasing the pressure.
Flush the sprayer with water.
Clean all components, including the paint spray gun, hose, pump, filters, and spray tip/nozzle/needle.
Wipe everything down with a dry rag.
Store your paint sprayer in a safe, dry place so it will be ready the next time you need it.
Follow Best Practices for Safe Painting
Always follow the safety recommendations in the owner's manual that came with your paint sprayer. Here are a few more safety tips:
Never point the paint sprayer at an animal or another person.
Always paint in a well-ventilated area.
Wear glasses and a respirator when painting.
Wear protective clothing, as paint from a high-pressure sprayer can be hazardous.
Frequently Asked Questions About Paint Sprayers
Can I use a paint sprayer for all types of paint?
Most sprayers work with any type of paint, including acrylics, water-based stains, oil-based paints, lacquer, and enamel. However, the paint may need to be thinned, especially when using an HVLP sprayer.
Do I need to thin the paint before using a sprayer?
Most paint sprayers will need thinner paint, especially hobby paint sprayers that don't have as much power. When your paint is thick, it will clog your sprayer, and the results will be bumpy and uneven. To thin paint for a spray gun, mix it with about 10% water or use the viscosity guide that comes with your paint sprayer.
Can paint sprayers be used for detailed or intricate work?
The best paint sprayer for detailed or intricate work is an HVLP paint sprayer. When your project has a lot of texture, such as intricate scrollwork or designs, a paint sprayer achieves a better result and gets the job done in much less time. However, not all paint projects are well-suited to spraying. 
Are paint sprayers suitable for outdoor use?
Painting outside provides better ventilation, and paint sprayers are often used outdoors. Airless paint sprayers are used for exterior siding, fences, walls, decks, and more. When using a paint sprayer outside, you should pay attention to the weather, but that's true when using any painting method.
How do I clean a paint sprayer after use?
Paint sprayers must be cleaned after every use to stay in good working condition. Follow the instructions that came with your sprayer to clean it to ensure the best results, as various types of sprayers require different cleaning methods. Start by releasing the pressure, then flush the sprayer with water. Clean the pump, hose, gun, filters, and spray tip, and store it in a safe, dry place.