Say Goodbye to the Gas Can with Toro's 60V Max Flex Force Blower
As we see battery-powered technology improve more and more each year, many brands are pushing their own limits to try to outperform their previous cordless models. Such is the case for the Toro 60V Max Flex Force Leaf Blower, which steps up in performance over the brand's past 60V blower iteration. So, what else does the 51822 improve upon? Let's check it out.
Note: Looking for more of our favorite picks? Check out our list for the Best Leaf Blower Reviews!
Toro 60V Leaf Blower Overview
Model: Toro 51822
Max speeds: 157 MPH
Max air volume: 605 CFM
Brushless motor
Cruise control
Turbo mode
Up to 140 minutes of runtime on low
The Toro 51822 leaf blower features a brushless motor that delivers air speeds up to 157 MPH and a max air volume of up to 605 CFM. Toro's last 60V blower topped out at 120 MPH with the same 605 CFM. Both models reach their maximum speeds in just 1.3 seconds.
Some of the features brought over from the previous model to the 51822 include cruise control, which reduces hand fatigue, and turbo mode, which gives you some extra "oomph" when you need it.
This leaf blower achieves up to 140 minutes of runtime on the lowest setting, up to 40 minutes on high, and up to 11 minutes on turbo mode.
Toro 60V Leaf Blower Design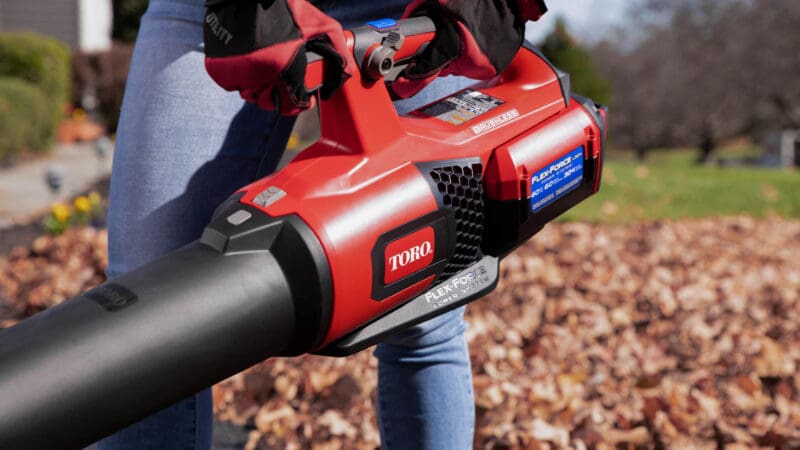 Front handle enables two-handed use
Variable speed trigger
Larger air vents maximize air intake
This leaf blower features a unique auxiliary handle that lets you reduce fatigue by enabling two-handed use. Toro's previous 60V leaf blower has a similar handle design, so we're glad to see that feature brought into the current gen model.
Additionally, Toro tells us the 51822 blower features larger vents to maximize air intake, resulting in its faster maximum speed.
Toro 60V Leaf Blower Price
This leaf blower retails for $299.99 as a kit, including a 60V 4.0Ah battery and charger. Toro backs your purchase with a 3-year warranty on both the tool and the battery.