You've probably noticed that the multi-tool space has a massive number of options in it. On our hunt for the best multi-tool, we eliminated a vast number of them to focus on the most useful and unique models available.
Most people are familiar with the butterfly opening pliers style of multi-tool. But that's not the only form they can take. Unique and fun shapes are fine. After all, who wouldn't love a shark, bear, or eagle-shaped multi-tool to show off?
Well, us, frankly. Those make great stocking-stuffers, but we need the tools we carry to function well, and there's no room for dead weight in our tool boxes and tool belts. The non-traditional forms we're recommending are models you can rely on to do what they say they can and not just look interesting. We have our traditional favorites as well, and we'll let you know what those are, too.
Looking for the best oscillating multi-tools? Check out our recommendations!
Our Top Picks
Best Multitool Brands
You'll notice that two brands dominate our recommendation list: Gerber and Leatherman. When it comes to blending form, function, and quality, these are the best two multitool brands our crew rely on day in and day out.
Gerber and Leatherman tend to be more expensive than some of the models you can find on Amazon. However, the higher quality materials and build make them worth it over cheap multi-tools that don't work when you need them to. It's enough of a difference that you'll see both brands all over Amazon's top 100 list.
We'd be remiss if we didn't also mention Victorinox—makers of the legendary Swiss Army Knife. These are technically multi-tools as well. While the pocket knife style isn't what many people think of in a multi-tool conversation, they are a very relevant option for a lot of people.
Best Multi-Tool Overall
It's amazing how many genuinely useful and well-built multi-tools are out there, but which one is the best of the best? We asked our team what their highest-priority tools are that not only need to be on the tool, but also have to work well. There were some interesting opinions that we finally culled down to these:
Multi-bit screwdriver
Knife
Pliers
Scissors
Saw
Bottle/Can Opener
Obviously, these are not the only tools, but they are the highest priority in our team's opinion. The multi-tool that executed all of these items the best is the Leatherman Wave+. Gerber's Center-Drive Plus was in a close second with a better multi-bit screwdriver, but no can opener. Learn more about both of these tools below.
Best Gerber Multi-Tool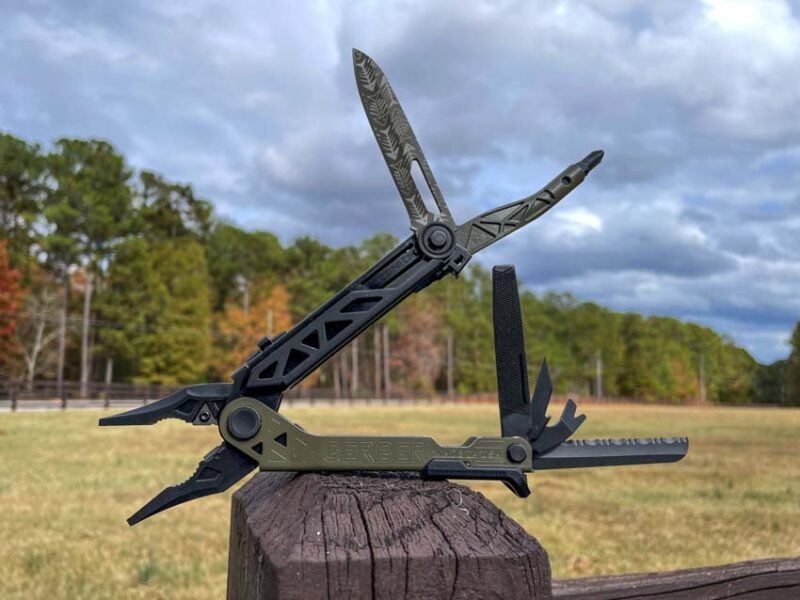 Gerber changed the multi-tool screwdriving game with the introduction of the Center Drive design. By offsetting the screwdriver to the center of the handles, it's far easier to keep the bit engaged with the fastener head. Gerber made another smart call by making the screwdriver a magnetic 1/4-inch bit holder. You can go with the bit set Gerber includes or customize it to suit your exact needs across any trade.
The Center-Drive comes in a standard or Plus configuration with several sheath options. There's also an option to customize your model. The pliers open with a slide action, and it's a Made in the USA tool with a lifetime warranty.
Included Tools
Spring-Loaded Needlenose Pliers with X-Channel Rail System
Standard Pliers
Rotatable Carbide Wire Cutters & Strippers
3.25-Inch Partially Serrated Blade (plain edge on the standard model)
Magnetic 3.2-Inch Center-Axis Bit Driver
Spare Bit Holder
Ruler
Pry Bar
Nail Puller
Bottle Opener
Serrated Blade
Awl
File
Spring-Loaded Scissors
$130.00 – $170.00
Best Leatherman Multi-Tool
It's no surprise that Leatherman's Wave+ is one of the iconic brand's top-selling multi-tools every year. It has all the tools of the original mode and adds wire cutters to the mix. Despite housing 18 different tools, the size is still very manageable for nearly every adult hand size and rounded handle edges make the grip much more comfortable.
There's a bit holder on this model, but it takes Leatherman's flat shank bits, so you can't customize your bit set as easily as you can with a 1/4-inch hex design. Still, look through Leatherman's accessories to see if the available options meet your needs.
Leatherman backs its multi-tools with a 25-year warranty, this model is customizable, and it is a Made in the USA tool.
Included Tools
Needlenose Pliers
Regular Pliers
Premium Replaceable Wire Cutters
Premium Replaceable Hard-wire Cutters
Electrical Crimper
Wire Stripper
420HC Plain Edge Knife
420HC Serrated Knife
Saw
Spring-action Scissors
Ruler (8 in | 19 cm)
Can Opener
Bottle Opener
Wood/Metal File
Diamond-Coated File
Large Bit Driver
Small Bit Driver
Medium Screwdriver
Price: $119.95
Best Swiss Army Knife
Victorinox Classic SD7 Pocket Knife
When I first started getting into Swiss Army Knives as a young outdoor enthusiast, I immediately jumped on the "more is better" bandwagon. But decades later, it's the classic and inexpensive SD7 from Victorinox that's the best in my opinion. Housing just 6 highly practical tools plus a key ring, its small form is easy to carry and has a much broader relevant user base than many other multi-tools. Of course, you can always look to the bigger Swiss Army Knives if you are going to use the additional tools.
The SD7 comes out of Switzerland and has a lifetime warranty.
Included Tools
Toothpick
Scissors
Tweezers
Nail File
2.5 mm Screwdriver
Plain Edge Knife
Price: $21.99
Best Multi-Tool Knife Blade
Leatherman Charge + TTI
If you're looking for the best multi-tool blade, there's a good chance the popular 420HC blade steel isn't holding an edge as well as you'd prefer. To improve, you need better materials and can find that on the Leatherman Charge + TTI. With several premium material upgrades from the original Charge, the highlights are the titanium handles and S30V plain edge knife. One of the popular "super steels", S30V is on the more affordable side of high-end blends with a boost in edge retention and overall quality.
Leatherman backs its multi-tools with a 25-year warranty, this model is customizable, and it is a Made in the USA tool.
Included Tools
Needlenose Pliers
Regular Pliers
Premium Replaceable Wire Cutters
Premium Replaceable Hard-Wire Cutters
Electrical Crimper
Wire Stripper
S30V Knife
420HC Serrated Knife
Saw
Spring-action Scissors
Cutting Hook
Ruler (8 in | 19 cm)
Can Opener
Bottle Opener
Wood/Metal File
Diamond-Coated File
Large Bit Driver
Small Bit Driver
Medium Screwdriver
Price: $189.95
Best Multi-Tool for Mechanics
One of our major complaints about multi-tools over the has been how difficult it is to get a good grip on nuts and bolts with the pliers. If you're a mechanic, that's likely the most critical function for day-to-day tasks. Gerber's Dual Force addressed this beautifully with a slip-joint design that offers legitimately solid grip with sections for both small and regular size fasteners. In torsion tests, its layered construction delivered twice the jaw strength and twice the force of other multi-tool pliers.
Available in Silver/Black and Black color schemes, the Dual Force is backed with a lifetime warranty.
Included Tools
Adjustable, two-size slip joint pliers with blunt nose
Small fastener pliers
Regular pliers
Wire cutter
Wire stripper
3.25-inch plain edge blade
3.35-inch center-drive axis driver
2x magnetic bit holders
Saw
Fine/coarse file
Chisel edge
#1 and #2 cross drive
Medium flathead driver
8in/20cm ruler
Price: $110.00
Best Multi-Tools for Tradesmen
As we searched for the best multi-tools for contractors, two models stood out with very different designs and target end users. Notably, both come from Gerber.
Gerber's Cable Dawg is specifically designed for cable/wire stripping and cutting, honing in on the needs of installers working on cable, IT, and fiber optic systems. In fact, the US military's communications teams were at the heart of the tool selection. One of its unique characteristics is that one of the handles separates to be used on their own, making the tools on it much more manageable in tight spaces.
This is a USA made tool backed by a lifetime warranty.
Included Tools
Wire/Cable Cutter
CAT5 Jacket Cutter
Spring-Loaded Jaw
RJ45 Crimper Head
Wire Strippers
Partially Serrated Knife with Jacket Cutter
Magnetic Driver Extension
Multiple Driver Storage Compartment
Price: $468.00 – $515.00
The Gerber Prybrid is a handy take on a utility knife that expands it to include eight total tools. Importantly, it uses standard utility knife blades that are easily replaceable. At the same time, it maintains a flat, compact shape that easily fits in your pocket or tool box.
Gerber backs the Prybrid with a lifetime warranty.
Included Tools
Pry bar​
Nail puller​
Wire stripper​
Small flathead driver​
Large flathead driver​
Bottle opener
Standard utility blade​
Cord cut notch
Price: $30.00
Best Multi-Tools for EMTs and First Responders
While Gerber got our attention on the contractor side, the best multi-tools for EMTs and first responders both come from Leatherman.
Leatherman's Raptor Rescue has been around for a while and it's extremely popular. Starting with high-quality medical shears, it adds five other tools critical to the work of first responders. It improves its versatility even more with a foldable design. Even better, it includes a holster that can hold the tool in its opened or closed configuration with a rotating clip that allows you to clip it to your belt, pocket, harness, or wherever it's the most convenient when you're on shift.
There are 8 handle colors to choose from, and it's customizable when you order from Leatherman. The tool is Made in the USA and has a 25-year warranty.
Included Tools
420HC Stainless Steel Folding Shears
Strap Cutter
Ring Cutter
Ruler (5 cm)
Oxygen Tank Wrench
Carbide Glass Breaker
Price: $99.95
Leatherman Skeletool RX
The Skeletool is one of Leatherman's most popular multi-tools, and there's an RX version designed to aid EMTs and other first responders. Like its standard counterpart, the Skeletool RX features a sleek, curved handle that's easier to grip. The first of the big difference between the two is that the Skeletool's 420HC partially serrated knife swaps out for a 154CM fully serrated blade to aid in strap and rope cutting on the RX model. A more subtle, but important change is that the bit driver includes a carbide glass breaker bit instead of a Phillips bit.
With a red color to indicate it's the Skeletool RX, it's Made in the USA and has a 25-year warranty.
Included Tools
Needlenose Pliers
Regular Pliers
Hard-wire Cutters
Wire Cutters
154CM Serrated Knife Blade
Carabiner/Bottle Opener
Large Bit Driver with Carbide Glass Breaker Bit
Price: $89.95
Best EDC (Everyday Carry) Multi-Tool
Gerber's Armbar is more along the lines of a Swiss Army Knife-style of multi-tool. Its small design fits easily into your pocket and forgoes pliers altogether. When you're shopping the different Armbar options, keep in mind that it's a minimalist multi-tool designed to give you the tools you use most often without increasing its size with additional tools you don't need.
Of the six different tool configurations, our favorite is the Armbar Trade. Look through them all, though. You're sure to find one that fits your everyday needs.
Gerber backs the Armbar with a lifetime warranty.
Included Tools (Trade Model)
2 1/2-inch plain edge blade
2 1/2-inch extension magnetic bit driver
Pry bar
Bottle opener
Hammer
Awl
Saw
Price: $40 – $50
Best Multi-Tool For Survival, Hiking, and Backpacking
Ask 10 different people what the must-have tools are on the best multi-tool for survival, and you'll likely get 10 different answers. Chances are, most of them will agree that you need a way to start a fire, and that's exactly what the Leatherman Signal offers. In addition to the knife, saw, can/bottle openers, awl, and other tools, it includes a ferrocerium fire starter, a safety whistle, and a diamond-coated sharpener that you won't find on most standard multi-tools.
The Signal is packed with 19 total tools while maintaining a very reasonable medium size. Keeping outdoor enthusiasts in mind, there's a carabiner clip to keep it close at hand on your belt loop or attached to your backpack. In addition to our pick as the top survival model, it's a solid pick for camping, hiking, and backpacking as well.
This is a customizable tool that's Made in the USA and has a 25-year warranty.
Included Tools
Needlenose Pliers
Regular Pliers
Premium Replaceable Wire Cutters
Premium Replaceable Hard-wire Cutters
Wire Stripper
420HC Partially Serrated Knife
Saw
Hammer
Awl w/ Thread Loop
Can Opener
Bottle Opener
1/4" Hex Bit Drive
Bit Driver
1/4″ Box Wrench
Carabiner
3/16″ Box Wrench
Safety Whistle
Ferrocerium Rod
Diamond-coated Sharpener
Price: $139.95
Best Multi-Tool For Camping
Gerber Stake Out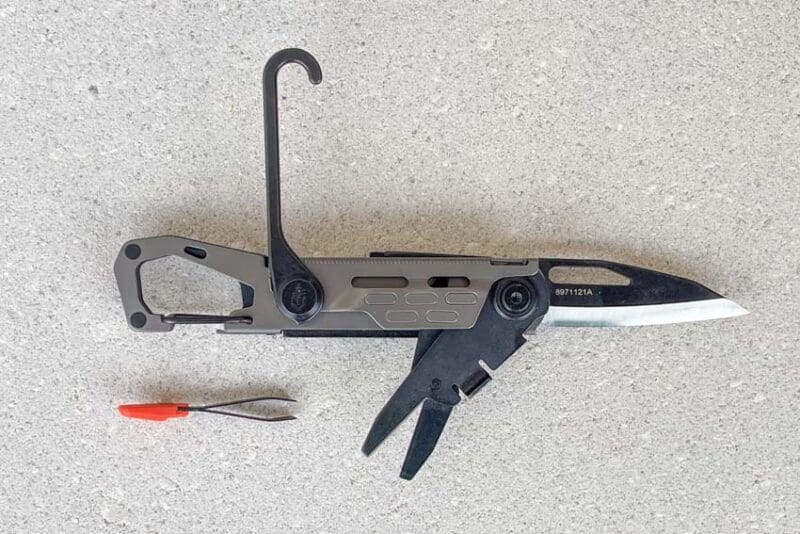 Gerber's Stake Out is a fun little multi-tool that's dialed in for tent campers, backpackers, and hikers. Small and lightweight compared to traditional multi-tools, its tent stake puller sets it apart as unique from other models. A solid piercing blade, tweezers, and scissors are other welcome inclusions.
One thing to note is that while the Stake Out includes a striker, it does not hold a ferro rod, so you'll need to buy that separately.
Gerber backs the Stake Out with a lifetime warranty.
Included Tools
2.2-inch plain edge Scandi grind blade
Scissors
Saw
Awl
Stake puller
File
Tweezer
Bottle opener
Ruler
Ferro rod striker
Price: $55.00
Best Multi-Tool for Fishing
Van Staal Fishing Pliers
When it comes to the best multi-tool for fishing, I primarily need three tools: long-nose pliers, scissors for cutting braid/mono/flouro, and a knife. Since I fish saltwater most of the time, I also need additional corrosion resistance. None of the brands we trust put all of those things together in one package, but you can easily find a good combination of pliers and line cutters.
The best of the best is Van Staal pliers. The titanium construction is happy in both fresh and saltwater, and they're remarkably lightweight. We prefer the 7-inch length for a little more reach.
Not everyone has a $400 budget for fishing pliers, though. If you're looking for something a bit more budget-friendly, try Gerber's Saltwater Magnipliers to keep it around $100 or Danco's Admiral Series 7.5-inch pliers to get closer to $50.
Price: $329.00 – $379.00
Best Multi-Tool for Military
Leatherman Super Tool 300M
At first glance, the Leatherman Super Tool 300M doesn't look much different than other butterfly-style multi-tools. However, what makes it a fantastic option for general military use are the tools to help you maintain your firearms. A few things that you won't find on other models include a threaded carbon rod/brush adapter, a carbon scraper, and front sight adjuster. Plus, it's wrapped up in Cerakote handles.
This is a tool that's Made in the USA and has a 25-year warranty.
Needlenose Pliers
Regular Pliers
Premium Replaceable Wire Cutters
Premium Replaceable Hard-wire Cutters
Stranded-wire Cutters
Electrical Crimper
420HC Blade
420HC Serrated Knife
#8-32 Cleaning Rod/Brush Adapter
Awl w/ Thread Loop
Ruler (9 in | 22 cm)
Can Opener
Wood/Metal File
Front Sight Adjuster w/ Bit Driver
Small Screwdriver
Pry Tool
Carbon Scraper
Nail Puller
Price: $129.95
Best Small Pocket Multi-Tool
What Gerber packs into its pint-sized Dime is impressive with genuinely useful tools you can use every day. While not full-size, the spring-loaded pliers have an excellent grip for their size and can grip objects an in areas that larger models won't fit. But the game-changer is what Gerber calls the "retail package opener". It's really for getting revenge on that $#@%! 🤬 clamshell packaging. Just pierce the plastic with the tip and trace around the edge. It's easier and safer than using a knife.
Gerber backs the Dime with a lifetime warranty.
Included Tools
Needle nose spring-loaded pliers
Wire cutter
Plain edge blade
Retail package opener
Scissors
Medium flat driver
Small flat driver
Bottle opener
Tweezers
File
Price: $29.00
Why Buy a Multi-Tool?
The entire purpose of a multi-tool is to put multiple tools into one form. It reduces the number of individual tools you have to carry. They also expand the number of tools that you're carrying but otherwise wouldn't think to bring along. It's all about having the tool you need, when you need it.
That's why we're so big on making sure the tools on the models we recommend actually function. It's no good to have a manatee-shaped multi-tool if you can't rely on it to work when you need it to.
Best Multi-Tool – What We Look For
Tools
Picking the best multi-tool for you starts with understanding what tools you're actually going to use. More tools aren't always better. If all you really need is the knife, then go buy a quality pocket knife. If you need a knife, scissors, and a file, look for a model that prioritizes those features.
In general, we like to carry multi-tools that have all the tools we need without going crazy and carrying something too bulky just for the sake of having a higher number of tools.
Build Quality
The quality of the materials going into the tool and how they're put together separate bad multi-tool from the best multi-tools. Look for stainless steel materials, particularly the popular 420HC. Some components or even entire tools can use upgraded steel, such as S30V.
Blade HQ has a great resource if you're looking for more information on blade steel.
Also, feel how the tools are put together. There should be resistance with a smooth opening/closing action. Tools that are too loose or wobble are a sign of poor build quality. The exception is the pliers. They should have an easier movement than the handle-mounted tools that's both smooth and tight with zero wobble.
Size and Weight
Think about where you're going to store your multi-tool. Is it going in your tool box? Tackle box? Pocket? Purse? Where it spends most of its time has the biggest effect on the size you should be looking for. It doesn't do you much good if you're trying to fit a 6-inch x 2-inch tool into a 3-inch x 1.5-inch slot in your tackle tray.
We don't worry much about the weight of these tools. The quality models are typically all metal and perhaps have a G10 overlay. However, they primarily avoid plastic and tend to be heavier than the cheap models.
Ergonomics
Check how the multi-tool feels in your hand. Especially when you're using the pliers and squeezing hard on the handles, sharp corners can dig into your hands and make it an uncomfortable experience. A good pair of work gloves can mitigate that if you have access to them.
Price and Value
When you're shopping, start with what you're willing to spend. Then decide out what the must-have tools are on your list, followed by the nice-to-have tools. Figure out which models fit those needs and wants from quality brands.
This is a tool you don't want to go cheap on if you're going to use it on a regular basis. In the long run, you'll have a much better experience if you get a quality build and have the tools you need. With a little bit of maintenance (oil and sharpening), the best multi-tools can literally last decades.
Why You Can Trust Pro Tool Reviews
Ever check out a "review" site and you can't tell if they actually use and test tools or if they're just "recommending" the Amazon top sellers?
That's not us. We only recommend what we'd actually use, even if we don't earn a commission from it. It's all about giving you a legitimate recommendation and our honest opinion of each product.
We've been in business since 2008 covering tools, writing reviews, and reporting on industry news in the construction, automotive, and lawn care industries. Our Pro reviewers work in the trades and have the skills and experience to know whether tools can perform well in the field.
Each year, we bring in and review more than 250 individual products. Our team will put our hands on hundreds of additional tools at media events and trade shows throughout the year.
We consult with innovators in the technology and design of tools to gain a broader grasp of where these products fit and how they work.
We work with more than two dozen professional contractors around the United States who review products for us on real job sites and consult with us on testing methods, categories, and weighting.
We'll provide more than 500 pieces of new content this year absolutely free for our readers—including objective evaluations of individual tools and products.
The end result is information you can trust because of the editorial, scientific, and real-world professional experience we collectively utilize each and every time we pick up and test a tool.