A beautifully lush and healthy lawn is the pride of any homeowner. Achieving that vibrant green space requires proper irrigation. Enter the world of lawn sprinklers. These innovative devices quench the thirst of your grass and plants, ensuring they flourish under the scorching sun and during dry spells. The best lawn sprinklers do this job really well and provide even and consistent coverage.
With an array of options available, finding the perfect lawn sprinkler that suits your unique needs and budget is essential. In this guide, we will explore the best lawn sprinklers on the market. We provide essential insights into how they work and help you choose ideal solutions for your new or established garden or lawn.
What are Lawn Sprinklers, and Why are They Important?
Lawn sprinklers imitate rainfall and are essential to providing efficient and controlled watering for your lawn or garden. They come in various types, each with specific water distribution patterns to suit different lawn sizes and shapes. Before diving into our list of the best lawn sprinklers available, let's explore how they maintain healthy and beautiful lawns.
Keep in mind that you can approach sprinklers from two main directions. First, you can look at permanently installed ground sprinkler systems. These use PVC piping to route water to various sprinkler heads around your lawn and landscaping features. Typically, you see this in new construction. However, you can certainly add these to your home after the fact to ensure you schedule and water your landscaping appropriately.
The second type of lawn sprinklers take the form of portable solutions that use a hose supply. You can typically move these where needed. Useful for newly-planted hedges, lawns, and flowers, portable sprinklers can take many forms which we cover below.
The Crucial Role of Lawn Sprinklers in Maintaining Healthy Lawns
A beautiful, inviting lawn can be perfect for outdoor fun and relaxation. But achieving that lush and vibrant look requires more than just mowing and occasional watering. Consistent and proper irrigation is the secret to nurturing your lawn's roots and making it resilient against different environmental challenges. That's where lawn sprinklers become your best friends in maintaining a healthy and happy lawn!
Let's explore lawn sprinklers' essential functions and benefits in achieving a flourishing green space.
You Get Precise and Even Water Distribution
The best lawn sprinklers deliver precise and uniform water distribution, preventing dry patches or over-saturation. Unlike manual watering methods, sprinklers ensure every blade of grass receives the hydration it needs. This results in a consistent and vibrant lawn.
Sprinklers Help with Water Conservation and Efficiency
Many lawn sprinklers are eco-friendly, optimized for water usage with adjustable features to control spray area and duration. Customizing the watering schedule and targeting specific areas minimizes water wastage, benefiting the environment and keeping water bills in check.
They Provide Automated and Convenient Watering
The best lawn sprinklers provide the convenience of automation, saving time and effort compared to hand-watering large lawns. With programmable timers and adjustable settings, you can water your lawn at specific times. This also includes times when you're away. It ensures consistent care and a healthy, thriving lawn.
Most systems even include rain sensors so that your sprinkler system doesn't run (and waste water) when it doesn't need to.
Sprinklers Help with Lawn Resilience and Overall Health
Proper watering fosters robust and resilient grass roots, preventing stress during hot and dry periods. The best lawn sprinklers help you reduce wilting and browning risks. They also encourage dense turf growth and enhance weed and disease resistance. A well-hydrated lawn should remain green and vibrant all year round except for periods of winter dormancy.
Most Offer Lots of Customization and Options
Customization is the key to lawn sprinklers. With various options available, you can find the perfect fit for your lawn's size, shape, and watering preferences. Oscillating sprinklers deliver adjustable range and width. Rotary sprinklers typically include customizable spray distance and coverage areas. These versatile choices ensure a personalized watering experience for your garden.
Types of Lawn Sprinklers
When choosing the best watering method for your garden or yard, you first need to ask: How do lawn sprinklers work? Lawn sprinklers come in various designs. Each meets specific watering needs and addresses various lawn sizes. Understanding the different models available can help you choose the best lawn sprinklers for your garden. More importantly, it can help you not choose the wrong one.
Let's start by exploring the main types of water sprinklers for your lawn:
Fixed and Pop-up Sprinklers
For lawns with irrigation systems, fixed and pop-up sprinklers tackle the larger areas. They have the ability to swing left and right and throw long distances to cover whole portions of grass. With irrigation systems, you can really optimize zones and water flow to deliver plenty of pressure to these sprinkler heads. That's what gives them the ability to cover so much ground (literally) with so few heads.
Shrub or Multi-stream Sprinklers
When it comes to areas against your home, porch, garage, or other areas, shrub sprinklers or multi-head (multiple stream) sprinkler heads give you 90- or 180-degree coverage to ensure everything receives plenty of water to thrive. These heads typically put out quite a bit of water, but in much thinner streams—and all at once. It lets them provide wide coverage without having to pivot or rotate.
Impact Sprinklers
Impact sprinklers simulate fixed sprinklers in that they provide long throws of water across your lawn. Designed for use with water hoses, you can find impact sprinklers with plastic or metal stakes or even mounted to tripod mounts for up-high positioning.
Oscillating Sprinklers
To picture an oscillating sprinkler, just remember back to when you were a kid running through the sprinkler at home. Yeah, that one. Oscillating sprinklers—when not providing entertainment—deliver very even coverage. You can adjust them to service medium to large rectangular lawns (or areas of lawn). They feature a long arched tube with holes or nozzles that moves back and forth. It creates a rectangular spray pattern that lets you really target specific, but large, areas.
Rotating (Rotary) Sprinklers
Rotating or rotary sprinklers use 2-4 rotating arms to distribute water in a circular or semicircular pattern. They efficiently cover large areas and can often serve as the best sprinklers for large lawns. The adjustable features give you control over both the spray distance and coverage area. This really makes them versatile for different lawn sizes and shapes.
Stationary Sprinklers
Stationary sprinklers have no moving parts and create a fixed coverage pattern. They work best for smaller lawns or specific areas like flower beds and vegetable gardens. While these can be the best lawn sprinklers for small lawn watering, they also work great for spot irrigation. They can really help prevent water waste when used in targeted zones.
Traveling Sprinklers
Traveling sprinklers are unique because they move on their own, powered by the water pressure from the hose. They are designed to cover large areas and provide even water distribution. They are perfect for expansive lawns or gardens and particularly useful for people with difficulty moving heavy sprinklers around. 
Choosing the Best Lawn Sprinklers: Factors to Consider
Choosing the best lawn sprinkler is vital for maintaining a healthy and beautiful lawn. With a wide range of sprinkler types and models available, it can be overwhelming to make the right choice. This section will guide you through essential factors to consider when selecting the best sprinklers for your lawn.
Consideration Based on Lawn Size
When it comes to choosing the best lawn sprinkler, the size of your lawn plays a crucial role in determining the most suitable option. Different sprinkler types are designed to cover varying areas effectively, so it's essential to consider your lawn's size before making a decision. 
Here are some considerations based on lawn size:
Sprinklers for Small Lawns
Choose water sprinklers for your lawn that efficiently cover the limited area with precise watering for small lawns. Stationary sprinklers are perfect for spot watering or targeting specific areas, while certain adjustable oscillating sprinklers work well for small rectangular spaces, ensuring even water distribution. If you go with a hose-based solution, consider using an automatic sprinkler timer to help reduce hands-on time.
Though a portable sprinkler provides a simple solution for small lawns, installing a PVC irrigation system may be a simple enough job to undertake.
Sprinklers for Medium-sized Lawns
For medium-sized lawns, the best lawn sprinklers balance coverage and efficiency. Adjustable rotary and oscillating sprinklers are excellent choices. Rotary sprinklers efficiently cover larger areas, while certain oscillating sprinklers can be customized to fit your lawn's size and shape.
When installing an irrigation system, you can often utilize just one or two zones, making it a much less expensive job overall. You can purchase a smaller, less expensive 4- or 6-zone sprinkler controller and you have fewer solenoids and far less PVC to run throughout the yard for adequate coverage.
Sprinklers for Large Lawns
Large lawns require sprinklers that efficiently handle substantial watering needs and cover extensive areas. Traveling sprinklers move automatically across the lawn, providing even coverage for large uniform spaces. High-capacity rotary sprinklers can also ensure broad and efficient watering, however those typically require special installation parameters and methods to garner enough water flow.
Providing irrigation for large lawns requires more extensive irrigation and a greater number of zones and PVC. The good news is that the basic components stay the same, simply scaling with the size of your lawn.
Sprinklers for Flat Lawns
For flat lawns, most sprinkler types will work effectively. Oscillating, rotary, and stationary sprinklers can evenly distribute water on a level surface. Consider factors such as water pressure, coverage area, and adjustability to find the best combination of lawn sprinklers for your property.
Sprinklers for Sloped Lawns
Sloped lawns require special consideration to prevent water runoff and ensure even coverage. Oscillating sprinklers with adjustable range and width can be useful on gently sloping lawns. However, it might be best to opt for rotary sprinklers with low trajectory angles for steeper slopes, preventing water waste and ensuring efficient irrigation.
If your slope has ground cover, however, consider using a series of smaller multi-stream sprinklers. These can provide coverage efficiently, and you can control the timing to ensure the proper amount of water gets to the plants.
Sprinklers for Irregular-shaped Lawns
If your lawn has an irregular shape, you can definitely customize portable sprinklers to fill in the gaps. Oscillating sprinklers, for example, can adapt to contours well, providing customizable coverage. Rotary sprinklers can also adjust their throw to handle various spray distances.
When addressing these issues with irrigation systems, opt for corner-positioned sprinkler heads and fill in the gaps by slightly overlapping where necessary.
Selecting the appropriate sprinkler based on your lawn type ensures optimal water distribution, promotes lawn health, and helps you make the most of your irrigation efforts.
Top 5 Best Affordable Lawn Sprinklers for the Budget-Minded
Choosing the perfect lawn sprinkler is crucial for maintaining a flourishing green oasis, but it can be daunting with numerous types and models available. In this section, we curated a selection of the best lawn sprinklers tailored to suit various lawn sizes, shapes, and watering needs. 
Melnor XT Turbo Oscillating Sprinkler (XT45200)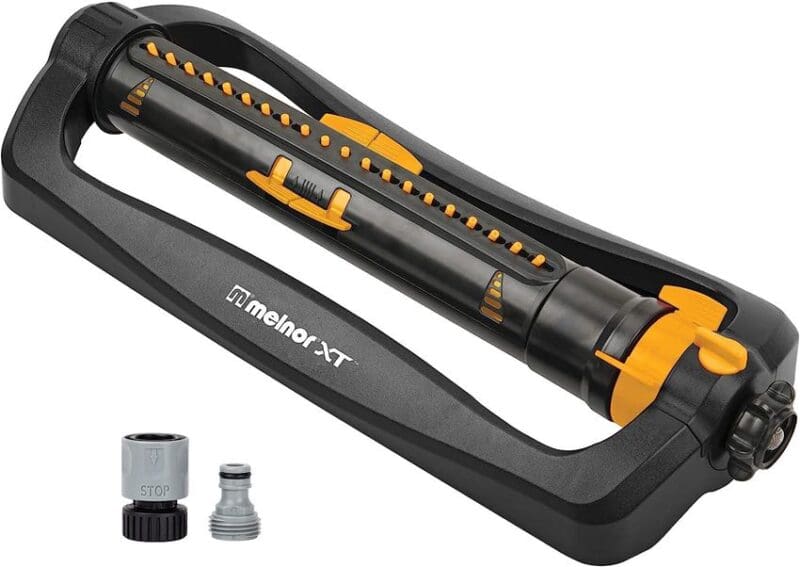 The Melnor XT Turbo Oscillating Sprinkler with flow control offers excellent value for its price. For less than $35 you get twenty precision nozzles and a "turbo-drive" motor for even water distribution. This oscillating sprinkler features adjustable coverage for up to 4,500 square feet of yard. That equates to a yard measuring 65 feet by 70 feet. If you're on a budget, this is one of the best lawn sprinklers to consider for effectiveness and price point.
Pros
Adjustable flow rate
Width adjustment
Zoom control for adjusting overall width/depth of coverage
Limited lifetime warranty
Cons
Largely made of ABS plastic (aluminum base model available)
Gilmour Adjustable Spot Sprinkler
Ideal for small lawns or targeting specific areas, the Gilmour Adjustable Spot Sprinkler covers any angle you want, regardless of yard shape. With an adjustable head that can pivot 180° and rotates 360°, you can provide precise watering for spot irrigation and irregularly shaped lawns. Plus, for less than $18, you can afford to pick up more than one and daisy-chain them together as-needed.
Pros
Inexpensive
Easily moved and positioned via metal spike
1,250 sq. ft. of coverage (about a 40-foot diameter circle)
Lifetime warranty
Cons
Orbit 58308 Tripod Base with Brass Impact
This tripod sprinkler boasts a sturdy design and a brass impact head, allowing for customizable coverage and providing efficient watering for medium to large lawns. You can soak hard-to-reach areas with its 90-foot spray diameter. The adjustable height ranges from 22 up to 48-inches. We love the durable brass construction which lets it handle high pressures and endure rough weather.
Pros
Brass fittings, all-metal construction
Packs up/stores easily
Integrated diffuser
Cons
Can be difficult to adjust
Several weak points on tripod that can easily break if mishandled
GrowGreen Rotating Lawn Sprinkler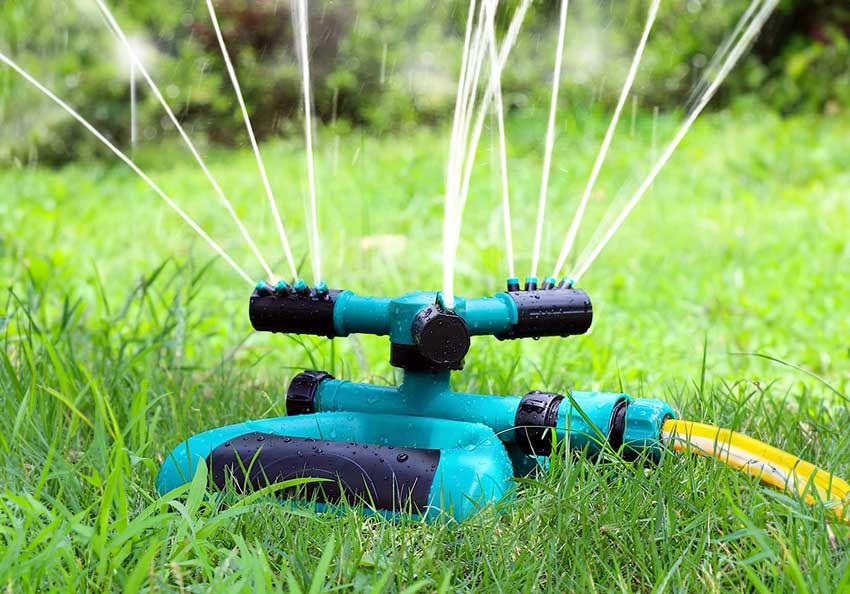 The GrowGreen Rotating Lawn Sprinkler offers versatility with its adjustable spray distance and angle, making it suitable for medium-sized lawns and irregular shapes. Because it has fully adjustable nozzles, you can water from any direction with up to 80 PSI of water pressure and 360-degree rotation. At under $25, we think it's one of the best rotating lawn sprinklers for the money.
Pros
Excellent coverage
Lightweight, easy to store
Pass-through for hose
Cons
Orbit 58573 H2O-6 Gear Drive Sprinkler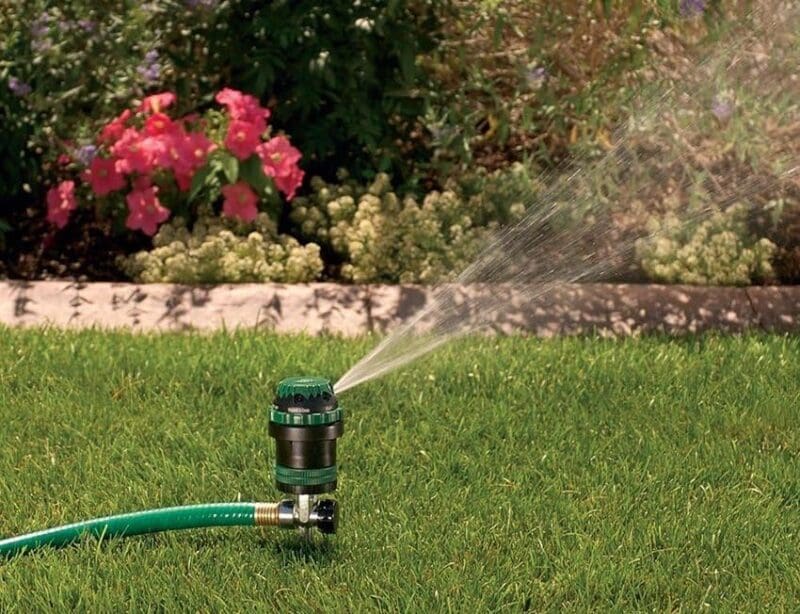 Designed to stay in place and provide consistent watering, the Orbit 58573 H2O-6 Gear Drive Sprinkler is a great option for medium-size lawns. It features 6 different spray patterns (small, medium, large, shower, vertical, and flat). This gear-drive sprinkler covers up to 5000 square feet of lawn (around a 40-foot throw). You can control the angle from a narrow spot to a full 360-degrees of coverage.
For less than $15, this might be the easiest way to spot-water an area of your lawn or garden as-needed.
Pros
Easy tool-free adjustments
Large coverage area possible
Easy to place and move
Pass-through hose connections
Cons
Best Premium-Quality Lawn Sprinklers
For those seeking top-tier lawn sprinklers that offer premium features and exceptional performance, this section highlights the best options for high-end buyers. From durable construction to precise water distribution, these sprinklers are designed to meet the demands of large and luxurious lawns, providing efficient and sophisticated irrigation solutions.
Rain Bird 25PJDAC Brass Impact Sprinkler
If you want one of the best lawn sprinklers on the market, you can't beat a Rain Bird. Enjoy durability and efficient coverage with its brass construction and wide-ranging adjustable distance of 20 – 41 feet. This ~$20 brass impact sprinkler makes for a smart choice when watering large lawns and green areas.
With its 20° – 360° pattern, every corner of your yard can stay hydrated this summer, ensuring lush greenery all around. Affix it to a sprinkler ring base, step spike, or tripod to get the coverage you want.
Gardena Aquazoom Oscillating Sprinkler
The Gardena Aquazoom Oscillating Sprinkler is a premium choice with adjustable width and range, providing precise irrigation for medium to large lawns. This ~$70 sprinkler features a removable metal filter that traps rust particles that slowly break down sprinkler efficiency over time. With the ability to water over 3700 square feet of lawn, you can adjust it to a preferred spray width of 13 and 55 feet with its convenient slider. It also adjusts the throw distance from 23-69 feet.
Hunter PGP-ADJ-B Pop-up Rotor Sprinkler
For irrigation, you really need solid components when covering larger properties. Built for durability and performance, the Hunter PGP-ADJ-B Pop-up Rotor Sprinkler is perfect for large lawns with its adjustable arc and radius settings. Its 27 nozzles do the job quickly by watering 22′ – 52′ radiuses at adjustable arcs ranging between 40° to 360°, providing precise irrigation where your lawn needs it most. It's no surprise this made our list of best lawn sprinklers.
Another favorite irrigation solution we love is the K-Rain RPS75i Rotary Sprinkler. It delivers precise and consistent watering with a gear-driven design. This makes it an excellent choice for medium to large lawns. This type of sprinkler can really save water usage by simultaneously reducing distance and flow rate to fit nearly any space.
Similar to the Hunter PGP, the RPS75i boasts a highly adjustable watering range of 40° to 360° and offers a universal assembly that can fit in competitor brand cans. Plus, if you really want a premium solution, you can get the RPS75i with a stainless steel riser. The series also includes options for integrated check valves, shrub heads, and extra-long 6-inch risers.
Frequently Asked Questions About the Best Lawn Sprinklers
From understanding sprinkler types to exploring their features, we answer your most common questions about choosing the best lawn sprinklers below. 
Q1: What are the main factors to consider when choosing the best lawn sprinkler?
When selecting the best lawn sprinkler, consider factors such as lawn size and shape, watering needs, water pressure, sprinkler type, adjustability, durability, and budget to ensure efficient and tailored irrigation for your garden.
Q2: Can I use a lawn sprinkler system if my water pressure is low?
Yes, you can use a lawn sprinkler system with low water pressure, but it may affect the sprinkler's performance and coverage. To ensure effective irrigation, choose water sprinklers for your lawn specifically designed for low water pressure, or consider adding a booster pump to increase water flow.
Q3: How often should I replace my lawn sprinkler system?
The lifespan of a well-maintained lawn sprinkler system is typically 5 to 15 years. If you notice water leaks, reduced coverage, or signs of wear, consider replacing the system. The best lawn sprinklers require regular maintenance to extend their life and ensure optimal performance.