For years, we've been watching the robotic lawn mower sector develop and there's been some genuinely impressive innovation. One of the models that made a splash at CES this year was the EcoFlow Blade and we've been using it to see what it's capable of.
Pros
Fresh-cut look for your lawn every day
Better traction than other robotic mowers we've tested
Ability to handle rough terrain
No boundary or guide wires required
GPS/RTK/LIDAR-guided mowing
Cellular and GPS-guided security tracking
Available lawn sweeper kit
Solar charging capable
Cons
A few quirks to work out through firmware updates
Needs to cut closer to boundary edges
Narrow corridors and obstacles in small areas can create issues
EcoFlow Blade Robotic Lawn Mower Design
At first glance, it's clear that this robotic lawn mower is different. A lot of the conversation is about the large front wheels. Sitting at an odd angle, the tread portion spins independently and perpendicularly to the wheels. This combination allows the mower to climb over objects up to 1.5 inches that would typically thwart other mowers, and it helps create a tight zero-turning radius.
The rear wheels have aggressive tread and the 36-pound weight of the mower helps them get serious traction. I made the mistake of having a coil of cable where I shouldn't have and one of the rear wheels grabbed it and wrapped itself up.
The mower deck is 10 inches and uses a series of razor blades for cutting. If you're new to robotic mowers, they're designed to cut every day so your lawn always has that just-cut look. Since the mower needs to take off so little grass on each cut, it doesn't need a higher-mass blade the way other mowers do.
Using the app, you can set the deck from 0.8 to 3.1 inches high. I'm establishing St. Augustine grass in my lawn right now, and the top height is a little low for that species. I'd love to have a 3.5 or even 4-inch height option, but the range is fine for most other grass species.
The power source is a 21.6V lithium-ion battery that recharges on a charging station pad that the mower automatically returns to.
The leaf sweeper is one thing that set the Blade apart. It attaches to the back of the mower and can pick up leaves and small twigs, making it a viable multi-season product. It's the world's first robotic mower to include this feature.
Getting Started With the EcoFlow Blade Robotic Lawn Mower
Installation
One of the main benefits that caught my attention was the wire-free installation. Well, almost wire-free. There's a power cord that runs to the charging pad and a second cord that goes from there to the positional GNSS antenna. Most importantly, there are no guide or boundary wires to install.
When you're ready to install the mower, make sure your grass has been recently cut. I recommend cutting, trimming, and edging the day before so everything is in good shape.
The charging pad and antenna need to be at least 6.6 feet (2 meters) away from your house and other overhead obstructions. You can place them in different areas of the yard or even a few feet away from each other.
Using the pegs that come in the box, secure the wires every couple of feet to the ground. The grass will grow over them in a week or two, but you don't want the mower's tread to pick them up in the meantime.
If you haven't already, download the app onto your phone. Before you do anything, it's going to force you to update the firmware. If for some reason it doesn't, run the update anyway. The improvements have been coming at regular intervals and have made a positive difference in our unit with each one.
Pro Tip: If your firmware update doesn't complete, unplug the both wires at the charging startion, turn the mower off, then reconnect and power back up. My mower ran into this with the initial update and that process immediately let it finish.
Creating Zones
By using the antenna and GPS for positioning information, you avoid the wires that other mowers need. However, you need to teach the mower where to go. That's one of the first things you do in the app. You'll manually control the mower on your phone to mark out the working areas, exclusion zones, and pathways.
Narrow corridors and frequent obstacles are a challenge. I have one section of my lawn that has two utility boxes and a narrow entrance that the mower wasn't able to navigate in and out of. I ended up excluding that section and cut it myself.
It was a little challenging to keep the mower in a perfectly straight line, and I ended up running through the process three times until I was satisfied with the accuracy around several obstacles. Before you get to the actual marking, it's worth it to spend a little time manually controlling the mower.
Once you're happy with your zones, you're all set.
EcoFlow Blade Robotic Lawn Mower Performance
Thanks to the positioning systems and LIDAR, the mower is able to create efficient mowing paths There's no random bouncing around and using an algorithm to change the angle. Inside each working area, every part gets cut each time.
There are stripes that the mower leaves on your lawn. Although they're not as distinct as an actual striping kit, it would be nice to see an update for the mower to change cutting angles between left/right, up/back, and the two diagonals.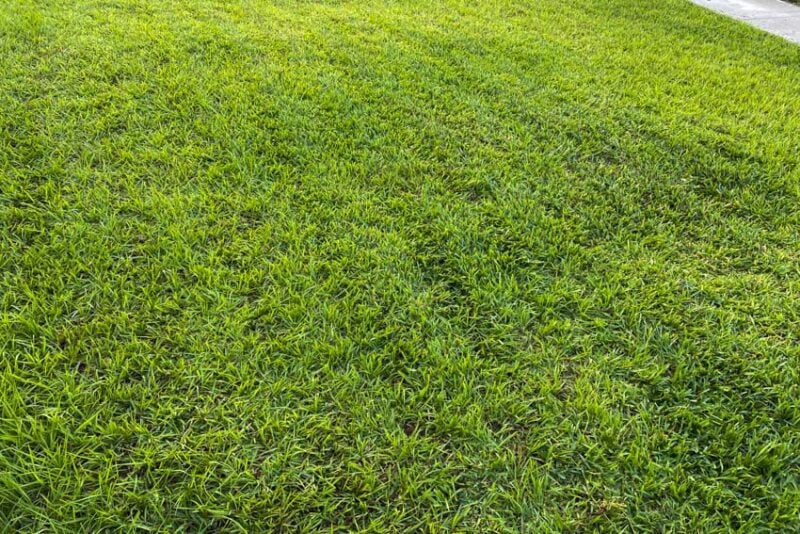 Especially when you hit peak growing season, you need to stay on top of your trimming. The EcoFlow Blade won't cut right up against walls or other barriers. It seems to give obstacles about 18 – 24 inches of room and about 12 inches around low boundaries. When the grass gets tall enough, the mower can't tell the difference between it and other obstacle types, so it starts giving it a wider berth and you end up with a wider boundary.
The mower sees obstacles with X-Vision—a combination of LIDAR and visual sensors. When it comes across something in its path, the system will automatically route around it and then return to its original path. It's a pretty sensitive system. It can even sense objects such as a single strand of Confederate Jasmine hanging down from our pergola and go around it.
One thing I'd like to see in a future firmware update is tighter tolerances when the mower has more precise location information. Ideally, I'd like about 6 to 8 inches max from the walls and landscaping to make trimming a one-pass operation.
Pro Tip: Once in a while, the mower app gives you an error that the mower can't start and needs to go back to the charging station when it's already on it. This is less frequent with the latest firmware update However, if that happens, cycle the power on the mower body and it should be good to go.
The battery has a total capacity of 296Wh, giving the Blade enough energy to consistently cover about 3/4s of an acre.
Lawn Sweeper
When you're ready to sweep the lawn instead of cutting it, installing the lawn sweeper is simple—just screw it down and connect the cable. Let the mower know it's sweeping in the app and let it do its thing.
The sweeper bristles aren't super-stiff, so they'll pick up leaves sitting on top of the grass and small twigs or other debris easily. Items such as oak leaves, heavier sticks, and small stones that work into the grass won't budge, so you may still have some manual work to do.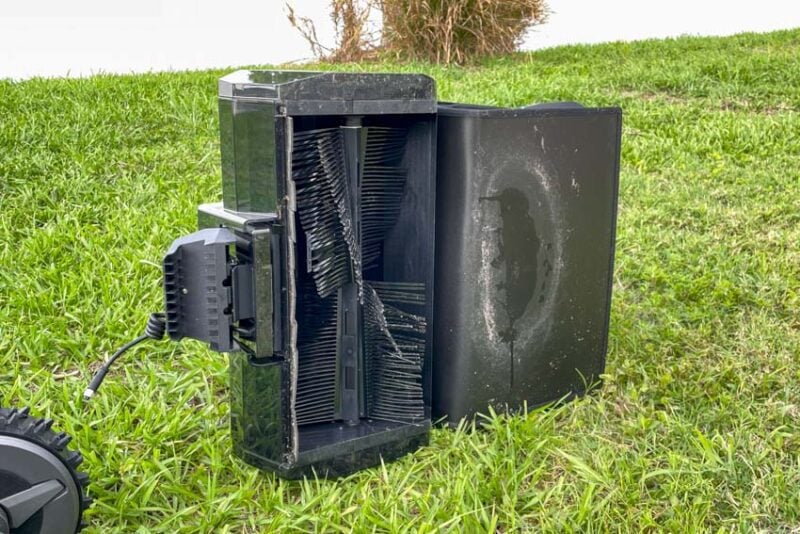 EcoFlow Blade Robotic Lawn Mower Sensors and Security
In addition to X-Vision obstacle detection, there are other sensors that keep the mower where it's supposed to be. A rain sensor detects rain or sprinklers and sends the mower back to the charging station.
There's a lift sensor that shuts the blades off and disables the mower until you restart it.
Theft is a real issue, and EcoFlow has a real solution. Cellular connectivity and GPS can help you find your mower if it leaves your property and you can mark it as lost in the app. It's best to get law enforcement involved if that happens, though. We live in crazy times.
All of these sensors have audio cues so you know what's going on whether you're looking at the app or in the yard next to it. Inside the app, you can adjust the volume and also control the mower's lights.
EcoFlow Blade Robotic Lawn Mower Price
You can order the Blade on its own for $2899. If you want the leaf sweeper with it, it's $3199. The sweeper on its own is $699, so you save $300 when you go ahead and order it as part of the bundle.
Both options also have an available 400-watt solar panel add-on if you'd like your mower to be off-grid.
EcoFlow backs the mower with a 4-year extended warranty.
The Bottom Line
EcoFlow did an excellent job with the design of the Blade robotic lawn mower and it continues to improve with each software update. It's more capable of handling imperfect terrain than most and the lawn sweeper kit is a fantastic innovation. Plus, it's easy enough to set up that you don't need to call in a professional for help.
This model is a great fit for areas up to 3/4s of an acre, even if there are no fences to create a boundary. It's best to avoid lawns or sections with obstacles in the middle of the mowing area, tight corridors, and/or a lot of tree coverage that can block the GPS signal. For the lawns that are a good fit, however, the EcoFlow Blade's design and performance are impressive and the improvements we're hoping for are achievable through software updates.