The Metabo HPT 36V Band Saw Showcases Impressive Power and Cut Capacity
Rebar, threaded rod, unistrut, hanging pipe, steel stock – we could go at it with a hacksaw or recip saw, but the handheld band saw is king in these applications. The Metabo HPT 36V Band Saw answers the call for folks seeking corded power with the cordless advantage. It not only offers an impressive deep-cut capacity for larger materials but it has plenty of power to get through challenging materials with ease.
Max No-Load Speed: 640 SFPM
Round Cut Capacity: 4-23/32 in.
Square Cut Capacity: 5 x 4-23/32 in.
Blade Type: 18 TPI bi-metal
Metabo HPT makes some pretty bold claims surrounding the cutting speed of the Deep Cut Band Saw. Their first big claim says that this saw makes cuts 16% faster than its closest competitor. It has a top cutting speed of 640 SFPM thanks to its brushless motor that helps the saw maintain consistent performance.
This cordless band saw features a 6-position speed dial and variable speed trigger. That lets you slow down the speed and feather the trigger for certain metals to optimize blade life and cut more efficiently. You can set the speed anywhere between 200 and 640 SFPM. There's also an Auto-mode function that automatically ramps up the blade speed as you begin to cut to increase accuracy and blade life.
| | |
| --- | --- |
| Speed Setting | Blade Speed |
| 1 | 200 SFPM |
| 2 | 305 SFPM |
| 3 | 417 SFPM |
| 4 | 528 SFPM |
| 5 | 640 SFPM |
| A | 395 SFPM (Idle Operation), 640 SFPM (Cutting Operation) |
This saw comes equipped with an 18 TPI bi-metal blade for cutting wood, metal, and PVC. Swapping blades is pretty simple, too. All you need to do is flip the tension lever to release so the blade goes slack. Then, carefully slip the old blade off of the pulleys, replace it with a fresh blade, and return the tension lever to its original position.
Model: Metabo HPT CB3612DA
Power Source: Metabo HPT 36V battery
Weight: 14.5 lbs (bare), 16.6 lbs (with 4.0Ah battery)
Tool Length: 22.25 in.
Max Blade Length: 44.875 in.
Max Blade Width: 0.5 in.
While this saw has the benefits of cordless operation, there is a fair bit of weight to contend with. As a bare tool, it weighs 14.5 pounds and adding the kitted 4.0Ah battery pushes that number to 16.6 pounds. Additionally, it measures 20.50 inches from end to end and stands 12.5 inches tall.
Luckily, Metabo HPT designed this saw with robust front and rear handles so you can maintain a secure hold while making cuts. In spite of its size, this saw is very well-balanced and easy to operate during longer cuts.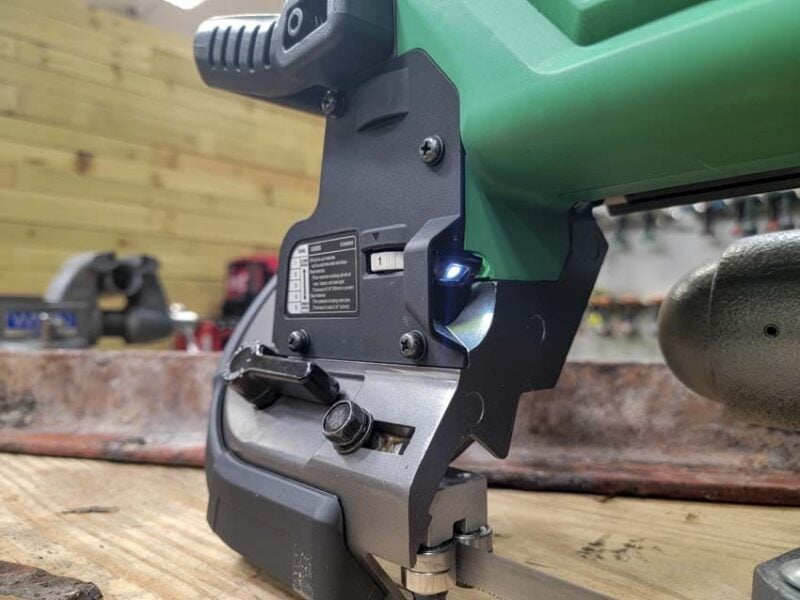 In terms of runtime, Metabo HPT claims you can get a whole day's worth of cutting done on one 4.0Ah battery. Or, because the Metabo HPT CB3612DA operates on the MultiVolt platform, you can hook it up to the AC power adapter for use with a wall outlet. On most hand tools this feature seems impractical, but for a bandsaw, it could get you out of a bind.
Additional Features
Folding rafter hook
Adjustable guide plate
You can pick up the Metabo HPT 36V Band Saw kit for $499. It comes with a 4.0Ah 36V MultiVolt battery, 44-7/8" x 1/2" x 0.020 18 TPI bi-metal blade, rapid charger, and plastic case. Like all of the tools in Metabo HPT's cordless lineup, this one comes with a 5-year warranty on the tool body.
The Bottom Line
The Metabo HPT 36V Band Saw is definitely a winner in our book, at least, according to our testing team! It is extremely easy to operate and maneuver and offers smooth, accurate cuts in EMT, steel pipe, wood, and PVC. All in all, the large cut capacity and premium ergonomics make this cordless band saw a great choice for metal-cutting tasks across the trades.