Milwaukee Nitrus Carbide Sawzall blades go above and beyond Milwaukee's standard carbide reciprocating saw blades. The team engineered them for the longest life in the toughest cuts you have to make. But are they worth the premium? We got a chance to talk to Karl Weber, Milwaukee's Sawzall Blades Product Manager, to learn more.
What is Milwaukee Nitrus Carbide?
There's a common misconception that the Nitrus upgrade is just a coating over the standard carbide blades. That's not the case, though. Nitrus is to the Sawzall blade lineup what M18 Fuel is to the cordless power tools—the top of the line. The major variables of the blade design come under an even more intense level of engineering scrutiny. Here is a sampling of what the product team worked on to make Nirtus Carbide different:
Carbide grade and binder
Tooth count, grind, and geometry
Attachment technique
Blade height and thickness
Keep in mind that these blades are purposefully designed to achieve a longer life than standard carbide while optimizing the blade for the materials it has to cut. The goal isn't to simply have a carbide blade, it's to have a blade that does the job well so that your experience makes you want to keep using them.
Why Use Milwaukee Nitrus Carbide Sawzall Blades?
To put it simply, Milwaukee Nitrus Carbide Sawzall blades are designed to make your cost per cut lower than other blades. Consider the Nitrus Carbide Torch. To demo out a 4-inch cast iron pipe typically takes two or three cuts. Using a bi-metal blade, you're going to go through as many as 25 of them just to make one cut! Even standard carbide has its limits. Those can typically make one or two cuts per blade.
Let's see what the math says.
For bi-metal, $3 per blade times 25 blades means each cut costs you $75.
For standard carbide, you're looking at $10 – $20 per cut, depending on if you're getting one cut or two from each one. So, let's call it $15 on average.
Nitrus Carbide Torch blades can get five to six cuts per blade at $30 each, making your cost per cut $5 – $6. That's a big difference!
Milwaukee Torch Nitrus Carbide Blades
Milwaukee's metal-cutting Torch Sawzall blade is one of the recipients of the Nitrus Carbide upgrade. A 7 TPI design gives the blades faster starting and smoother cuts. They also worked deeper gullets into the design for better chip ejection.
Those are well and good, but carbide has been around since ~2010. The problem is cast iron, and that's what Milwaukee is targeting with the Nitrus Carbide Torch blade. With its launch, this blade was getting about 3 times the life of standard carbide blades when cutting cast iron.
The blades are continuing to evolve as Milwaukee's product team keeps tweaking the carbide and binders, plus adjusting to an 8TPI tooth count. With the latest version, we're now seeing 5 to 7 times the life of standard blades.
They outperform and outlast diamond grit blades and, of course, standard carbide blades in these applications.
Because Milwaukee is so deep in the reciprocating saw class (they invented it), there's a tool-blade system advantage to help you get the most out of it. For the Nitruc Carbide Torch, the trick is to slow down. If you're using Milwaukee's M18 Fuel Super Sawzall, speed 3 – 4 is perfect. Not only will the cut be more efficient, but you'll also get longer life as well.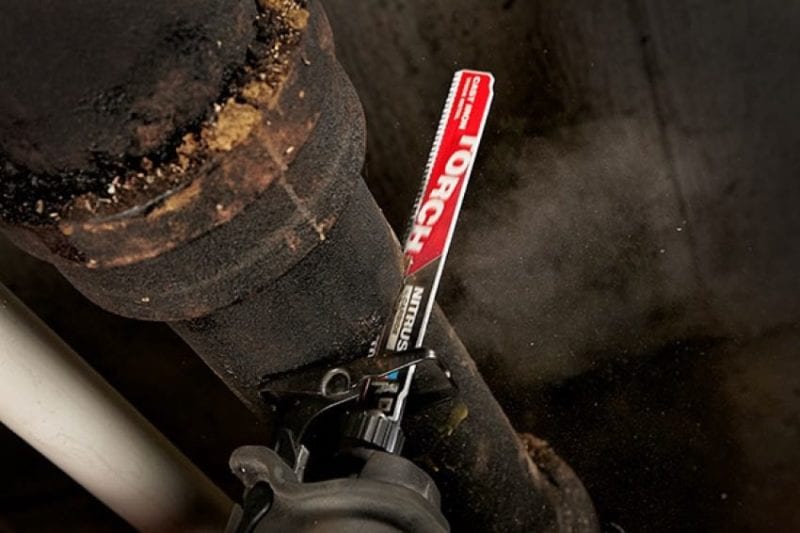 Size Options and Price
Milwaukee Torch Nitrus Carbide Reciprocating Saw Blades come in 6, 9, and 12-inch lengths. You can also purchase them in 1-, 3-, and 5-packs. Pricing looks like this:
| | Single | 3-Pack | 5-Pack |
| --- | --- | --- | --- |
| 6-inch Torch Nitrus | $16.99 | $46.99 | $74.99 |
| 9-inch Torch Nitrus | $21.99 | $59.99 | $89.99 |
| 12-inch Torch Nitrus | $27.99 | $79.99 | $119.99 |
Milwaukee Torch Nitrus Carbide Blades – 7 TPI VS Next-Gen 8TPI
Milwaukee's Data
There were impressive gains from the first generation to the second generation that we're seeing roll out for summer 2023.
First, up check out the speed of cutting from Milwaukee's internal testing.
Gen 1 Nitrus Carbide Torch
Gen 2 Nitrus Carbide Torch
2-Inch Sch 80
Black Pipe
27 seconds
24 seconds
3/8-Inch Angle Iron
15 sceonds
13 seconds
1-Inch Rebar
20 seconds
17 seconds
2-Inch Single Hub
Soft Cast
11 seconds
8 seconds
2-Inch Cast Iron
42 seconds
32 seconds
Now consider the blade life, again from Milwaukee's internal testing.
Gen 1 Nitrus Carbide Torch
Gen 2 Nitrus Carbide Torch
2-Inch Sch 80
Black Pipe
26 cuts
47 cuts
3/8-Inch Angle Iron
23 cuts
32 cuts
1-Inch Rebar
18 cuts
29 cuts
2-Inch Single Hub
Soft Cast
33 cuts
49 cuts
2-Inch Cast Iron
5 cuts
12 cuts
Hands-On Testing
We wanted to add some of our own testing to back up Milwaukee's numbers and we went straight to the toughest cut we make—cast iron. We use 3-inch cast iron in our testing, so the numbers are significantly different. For the saw, we grabbed our M18 Fuel Super Sawzall and set it halfway between speeds 3 and 4 on the dial.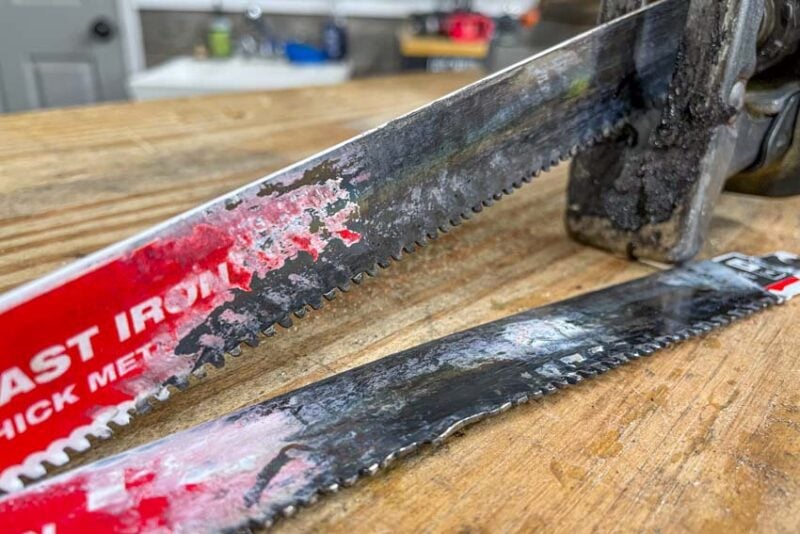 For the original blade, we were able to make 1 and a half cuts before we shut it down. The first cut was pretty steady and all the teeth were still on the blade, though some were damaged. Getting into the second took significantly longer and it was clear that the front teeth were having trouble making any progress even though the rear teeth were still cutting. Halfway through the cut, we check the teeth, and the front ones were completely gone.
For what we would consider reasonable cutting progress, we're it 1 cut for the original 7 TPI blade.
The 8TPI next-gen blade melted easily through its first two cuts. We were able to complete a third cut, but like the first blade, it was slower to start and the front teeth were making slower progress while the back teeth continued to cut well. However, the front teeth did continue to cut through the finish. When we inspected the blade at the end, all of the teeth were still present, though there was clear damage.
Across the board, the next-gen Nitrus Carbide Torch is making significant improvements. Whether it's getting through the cut faster or saving money by using fewer blades, this is an upgrade that's going to make a difference.
Milwaukee Wrecker with Nitrus Carbide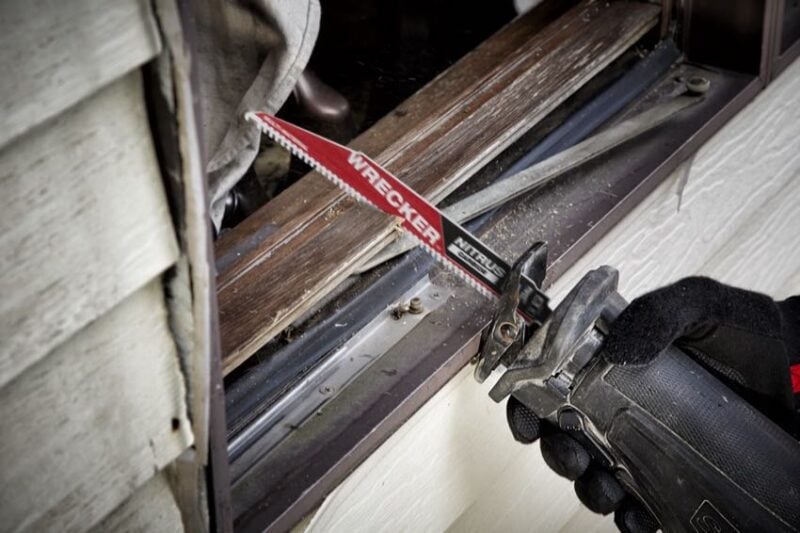 Similar to how we saw improvement in thick metal cutting with a new blend of carbide, the Milwaukee Wrecker with Nitrus Carbide also improves demolition cutting.
The Milwaukee Wrecker with Nitrus Carbide features a 6TPI design. That makes for fast wood cutting. The Nitrus carbide blend also lets these Sawzall blades tear through embedded nails and metal—which you expect to encounter when working demolition jobs.
This Milwaukee Wrecker with Nitrus Carbide sets out to eliminate the need for blade changes when encountering various materials in the course of demo jobs. Similar to the thick metal Nitrus blades, the Wrecker simply ramps up speed and chip clearing by dropping the TPI count and further reducing heat buildup.
Size Options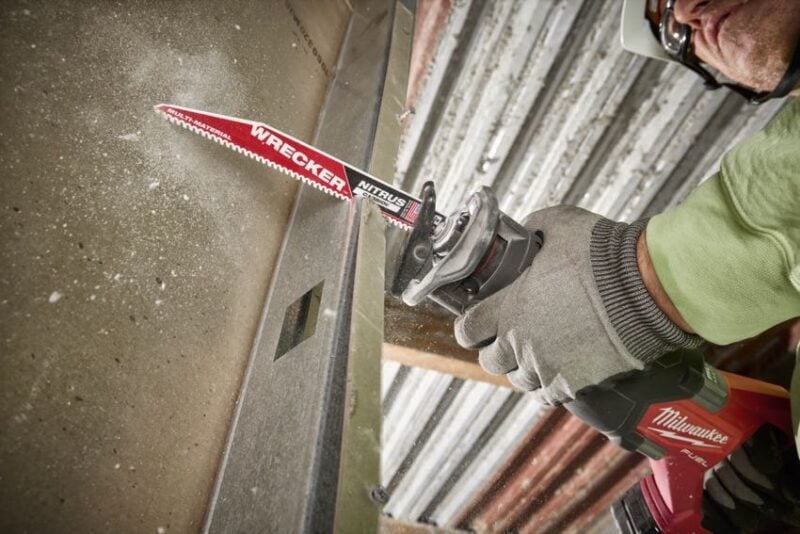 Similar to the Torch, you can buy Milwaukee Wrecker Nitrus Carbide Sawzall Blades in 6, 9, and 12-inch lengths. You can also purchase them in 1-, 3-, and 5-packs. Pricing looks like this:
| | Single | 3-Pack | 5-Pack |
| --- | --- | --- | --- |
| 6-inch Wrecker Nitrus | $15.97 | $42.97 | $69.97 |
| 9-inch Wrecker Nitrus | $19.97 | $54.97 | $84.97 |
| 12-inch Wrecker Nitrus | $24.97 | $66.97 | $109.97 |
The Bottom Line
When we look at blades like these we change our thinking to a more tactical approach. Nitrus Carbide doesn't set out to replace every blade in your accessory box. It positions itself as a time and money-saver when you know you might encounter the types of materials that eat other blades for lunch. These blades can keep you from stopping work to swap out blades as often by working longer and cutting more material, and that's a win.
What do you think—are you willing to give Nitrus Carbide a shot? Let us know in the comments below.