Have you thought about stepping up the quality of your work boots with a handcrafted pair? I've had my feet in a pair of JK Boots Forefront work boots to see what kind of difference you should expect if you're ready to move away from other brands.
Who is JK Boots?
The JK in JK Boots is for the founder, John Khadzhi. He learned the cobbler trade as an apprentice in Ukraine as a teenager. In 1994, he moved to the United States and made a name for himself in the bootmaking industry. Later, he started his own company, JK Boots, where he and his sons still work in Washington state.
Learn more by clicking here.
JK Boots Work Boots Sizing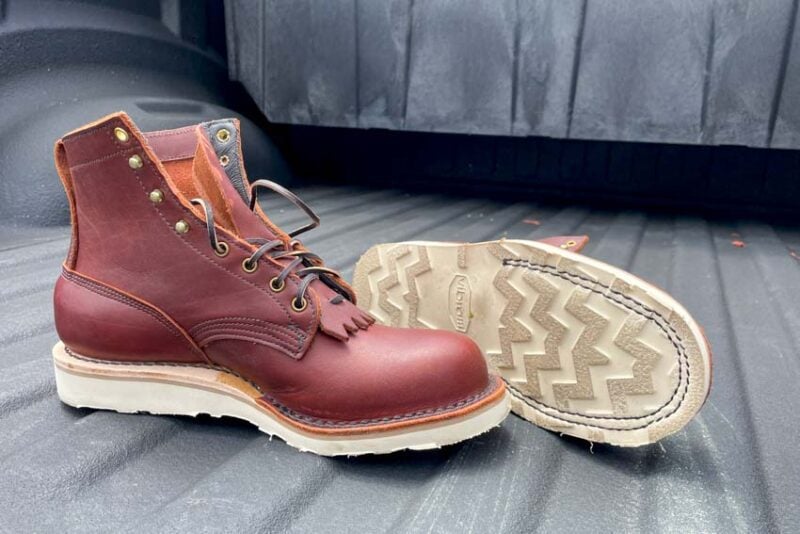 One thing you need to know is that the size you normally wear is not the size you're going to select from JK boots. The lasts run large, so you're going to pick a smaller size. Fortunately, figuring out exactly which size to order is easy:
Grab a ruler or yardstick with inch measurements (tape measures don't work well since they don't lay flat)
Put the 0-inch end against a 90° surface (walls are great, but avoid baseboards)
Wearing just a good sock on your foot, step on the ruler with your heel against the wall
Shift your weight to the foot you're measuring
Note the measurement to the longest part of your foot
Once you have the length, punch it into the calculator and go with that. I normally wear a 12 1/2 regular, but the calculator suggested an 11 regular and it was dead on.
JK Boots Forefront Work Boots Selection and Customization
You can find styles that work well for firefighters, loggers/foresters, farmers, and of course, construction workers. Looking over the list of options, I went with the Forefront. As a big guy (6 feet, 2 inches, and 210 pounds), I've grown to love the comfort of a wedge sole since I spend so much time on hard surfaces.
With each style, you have two choices—in-stock boots or custom. I wanted a 6-inch soft toe and I prefer the standard Redwood leather color, so I found what I was looking for in stock.
Custom boots have a lead time of around 2 months and it's worth it to get what you really want. For an additional charge, there's a rush option if you need your boots sooner. Here's a list of the elements you can customize:
Color
Boot height
Leather side (smooth, rough, or combo)
Hardware
Lace pattern
Lining
Toe style (including safety toe)
Sole color
Additional logo
Side sheath
Size
Width
Wearing JK Boots Forefront Work Boots
If you've never worn handcrafted boots before, understand that they need legitimate break-in time. As soon as they come in, try them to make sure the fit is right. Then apply a coating of the boot oil JK Boots provides in the package and start wearing them for a bit. Start with about an hour a day until they began to loosen up and keep up with the oiling. If you're dedicated, they'll be ready to go for a full day within a few weeks. That may sound like a long time before you can wear these gorgeous boots full-time, but it's worth it.
There are going to be some areas around the metatarsal and sides that feel a bit tight. Stick to the plan, though. They will loosen up and form to your foot very well.
JK includes Spenco inserts that provide a little bit of cushioning. At my size and weight (and frankly, age), I needed a bit more cushion, and going with my standard Dr. Scholl's insoles finished off the comfort level I was looking for.
Once the break-in period is over, it's smooth sailing. The big thing is remembering to clean your boots regularly and put a coat of oil on them occasionally. If you have any issues, the boots are repairable and rebuildable, so reach out to JK when the time comes.
JK Boots Forefront Work Boots Price
Both in-stock and custom Forefront boots start at $499. As handcrafted boots, they are repairable and rebuildable. JK Boots offers those services in-house so you can ensure your repaired boots are up to the same quality standards as they were the first day you put them on your feet.
The Bottom Line
There's a difference in your step when you wear handmade boots. JK Boots' commitment to quality in the build of the Forefront work boots we got the chance to wear is evident. Even though the sizing process is different than what we're used to and there's a break-in period, don't let that scare you. These boots look great, feel great, and are committed to working with you long after off-the-shelf boots fail and get tossed.