Unlike several other brands that might have one or two products, DeWalt has more than one impact driver in its lineup. Realizing this, we thought it might be helpful to classify each for its strengths. The best DeWalt impact driver for your application might not be the one with the most power. It also might not be the least expensive.
It might be somewhere in between.
Best Dewalt Impact Driver Overall
DeWalt DCF845 3-Speed (Tool Connect Chip Ready)
The highly-regarded DCF887 finally met its replacement in the DeWalt DCF845 impact driver that arrived in 2023. While featuring the same 1825 in-lbs of torque as the DCF887, the DCF845 gets a 150 RPM speed boost. That also increases the impact rate to 600 IPM.
If DeWalt had only focused on faster driving speeds, we'd be impressed. They also made it a bit more compact, reducing the overall length by 1/4-inch. That makes it just 5.1 inches long! Add to that its weight of just 2.2 pounds and this tool almost gives the compact DeWalt Atomic DCF850 a run for its money.
The new tool comes priced similarly to the 887 with the bare tool running $149.99. There are several kit options to choose from, including one with a 1.7Ah PowerStack battery.
Best DeWalt Impact Driver Value
DeWalt DCF887 3-Speed with Precision Drive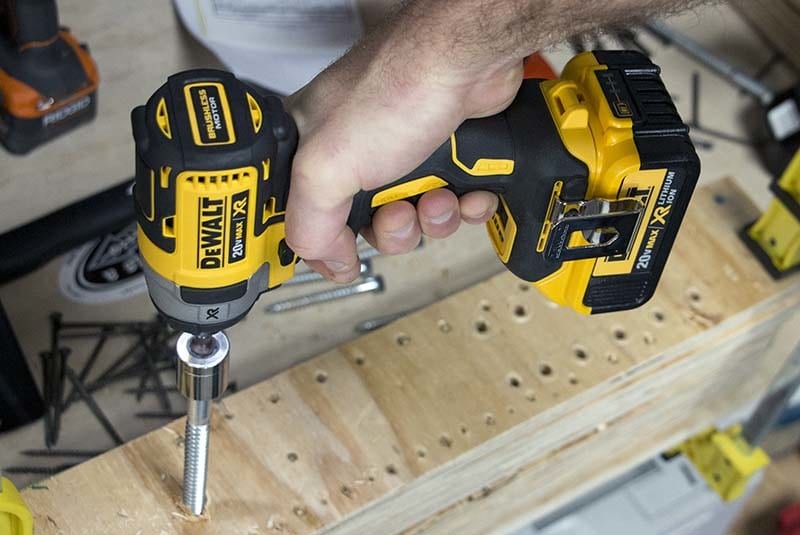 If you want the most feature-rich DeWalt impact driver, you go for the Dewalt DCF888 with Tool Connect. In our opinion, however, we'd call the DCF887 the best value DeWalt brushless impact driver. Why? It's "last year's model"—and that means discounts!
In our testing, the DeWalt DCF887 impact driver stayed in the top half for performance, design, and value. When we look over this tool, nothing stands out and says "fix this". It just works…reliably. DeWalt's product team doesn't necessarily chase the numbers that other brands push for. Instead, they seem content knowing they have an excellent impact driver. As a DeWalt user, the only decision is whether you want the Tool Connect features available in the DCF888.
On paper, it specs out to 1825 in-lbs of torque. In our tests, the brushless DeWalt DCF887 impact driver required 2,237 in-lbs from our Gearwrench flex-head torque wrench to loosen its fastening efforts and broke 3,000 in-lbs on our pre-torqued bolts.
3,000 in-lbs equates to 250 ft-lbs—the same kind of power we see in compact impact wrenches. Our best DeWalt impact driver comes as a bare tool and in several kits. Prices range from $149 to $319.
Best DeWalt 12 Volt Impact Driver
DeWalt DCF801
For compactness, you have two options. We'll start with the DeWalt 12 Volt impact driver review we completed recently. DeWalt has a rather shallow 12V line of tools. If you really want the lightest-possible experience, however, the DeWalt DCF801 does the trick. It also serves as a much-requested brushless upgrade for the company's dated DeWalt DCF815 12V impact driver.
With 60V FlexVolt tools supplementing higher power for their 20V Max cordless tools, smaller DeWalt 12V tools often get overlooked. In our testing, however, the DeWalt DCF801 does an admirable job accomplishing 80% or more of what you expect from a full-size impact driver.
The brushless DCF801 drops a full 1.2 inches off the head length of the prior model, shrinking it to just a hair over 5 inches. The top speed also jumps to 2850 RPM and you get three electronic speed modes including High, Low, and Precision Drive assist. In terms of power—maximum torque skyrockets to 1450 in-lbs using a 2.0Ah battery pack. This 12V impact driver rocks and you can get the kit for just $119!
Best Dewalt Atomic 20V Impact Driver
DCF850 Compact Brushless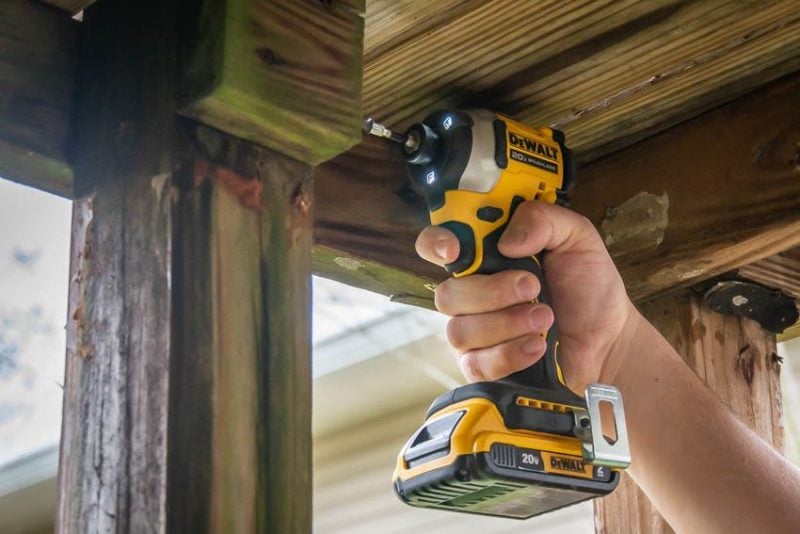 While the specs are the same as the DCF887, the DeWalt Atomic 20V Max impact driver has slightly slower performance in tougher driving tasks. Don't let that dissuade you, though. The DCF850 is a seriously compact impact driver that still has plenty of speed and muscle to be the only impact driver you need in your tool bag.
And it really redefines "compact". This tool measures just 3.97 inches in length!
We like the excellent ergonomics and the value. At $149 for the bare tool, this compact impact driver almost defies the laws of physics! Grab the kit for around $219.
Best Dewalt 20V Impact Driver Made in America
DeWalt DCF885
While both the DCF888 and some of the DCF887 kits are made in America we like another model for our top pick. The DCF885 may be a bit less "flagship", but it offers similar ergonomics as the DCF887/888. You can grab this made-in-America DeWalt impact driver kit for around $99 (we see frequent sales).
When on sale, this presents one of the best Dewalt 1/4 impact drivers you can find. For Pros looking to pick up an extra tool, or to outfit a truck or shop, we find it hard to pass up. This tool has the great tri-LED chuck light we love and supports 1-inch bits. That makes it SUPER-compact and easy to use in tough locations.
It honestly has much of what we like and very little we don't.
Editor's Note: Check out our DeWalt vs Milwaukee impact driver head-to-head article.
How We Determine Which DeWalt Impact Driver is Best
Speed Testing Under Load
Maintaining speed under load is more important than the no-load speed given on the back of the box. We drive ledger screws into glued-up laters of OSB and measure the maximum RPM with all of the threads engaged in the final inch of driving. Better drills have higher RPMs while under this moderate load.
Torque Testing the Best DeWalt Impact Drivers
To measure torque we run two tests on a steel I-beam using Grade 8 hardened bolts, washers, and nuts. After hand-threading each nut down onto the welded bolt, we use the DeWalt impact driver to give it three 3-second and 5-second bursts. We then measure the torque required to remove the nut and apply a formula to the results.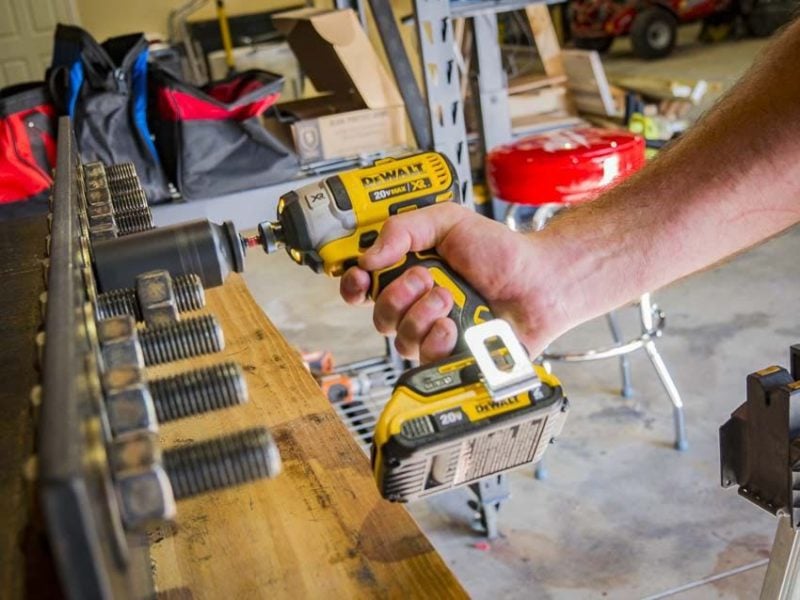 For the second test, we tighten down the nuts to a predetermined setting using a Gearwrench 64-832G torque multiplier. We then see what torque the impact driver can successfully back off. We do this using 10 ft-lb (120 in-lb) increments until we land on the maximum "nut-busting" torque value.
As a general rule, this type of torque represents around 50% more than fastening torque. However, it's not exactly the same in every tool, so there's no formula we can use to tell you how much fastening torque each model actually has.
Noise Output
DeWalt (and other) impact drivers are loud tools! We take an SPL meter and record the A-weighted dB sound pressure level readings from 24" away (approximating the distance from the tool to your ear). We do this in a consistent environment to ensure accurate results.
Weight
Impact drivers have lots of power, but the best tools also stay nice and compact. Overall weight remains an important factor. We measure the bare weight of each tool and also with the most advanced compact battery available at the time of testing.
The best impact drivers have a compact footprint. We measure both height and length for each impact driver using a digital caliper. The length is arguably more important than the height. Tools with a more compact head can squeeze into a smaller space.
Grip
While we don't come across many tools that have a terrible grip, some are better than others. We look at how the tool fits in your hand along with how comfortable and secure the rubber overmold is. Since someone with small hands tends to prefer a different style than someone with large hands, the handle size doesn't play a part in our scoring.
Feature Set
Sales 101 will teach you that every feature must have a benefit. When we look at the feature set to help determine the best impact driver, we're looking for features that have tangible benefits. That includes having a brushless motor, the number of speed settings, app-based controls, LED light design, bit insertion/ejection, and more.
Value
The value a tool offers will be different for everyone depending on what features, performance, and price you prioritize the most. Regardless, it's the sum of what you get compared to the price you pay that determines the value for you. That's how we give each impact driver a value rating.
Ever check out a "review" site and you can't tell if they actually tested the tools or if they're just "recommending" the Amazon top sellers? That's not us. We won't recommend anything unless we'd actually use it ourselves and we don't really care who the primary retailer is. It's all about giving you a legitimate recommendation and our honest opinion of each product.
We've been in business since 2008 covering tools, writing reviews, and reporting on industry news in the construction, automotive, and lawn care industries. Our Pro reviewers work in the trades and have the skills and experience to know whether tools can perform well in the field.
Each year, we bring in and review more than 250 individual products. Our team will put our hands on hundreds of additional tools at media events and trade shows throughout the year.
We consult with innovators in the technology and design of tools to gain a broader grasp of where these products fit and how they work.
We work with more than two dozen professional contractors around the United States who review products for us on real job sites and consult with us on testing methods, categories, and weighting.
We'll provide more than 500 pieces of new content this year absolutely free for our readers—including objective evaluations of individual tools and products.
The end result is information you can trust because of the editorial, scientific, and real-world professional experience we collectively utilize each and every time we pick up and test a tool.