Buying the best pliers might sound simple. If you're an electrician, you probably already have your favorites. However, if you just started out in the trades, or you need a solution for more than just the sparky applications, we can help. We cover individual pliers as well as the best plier sets to get you off and running. Hopefully, these recommendations work regardless of whether you're starting your career or just replacing some well-used or misplaced tools.
Our recommendations come after hours of hands-on testing and real-world use. We also bring in professional tradesmen to get their hands on these tools and lend us additional thoughts and feedback. In the end, we can't just recommend a single tool for everyone. For pliers, too many options exist. Hopefully, this article helps you find the model that fits your needs or application.
Best Wire Strippers
Klein Kurve Heavy-Duty Wire Stripper
We've used lots of wire strippers. The Klein Kurve Dual NM wire strippers rank highly. We find them ergonomic, quick, and versatile. When Klein came out with their heavy-duty model, however—we did a double-take. The Klein Kurve heavy-duty wire strippers made something great even better. They quickly became our vote for best wire strippers as soon as we started using them. Not only do they strip heavier gauge wire than the prior model, but the knurled jaw also lets us easily grab and twist wire. It's like a pair of linemen pliers and Klein Kurve strippers had a baby.
Also made in the USA, these pliers have all the great features of the first-gen Kurves but with a bit more. If you haven't used these, check them out. At around $35 for the pliers, you won't go back.
We also really like these wire strippers:
Best Pliers Set
Klein 6-piece Apprentice Tool Set
Believe it or not, not many pliers sets exist on the market. For the most part, these tools get purchased one at a time. Still, some options exist, and the Klein 6-piece Apprentice Tool Set makes for our current best pliers set by far. It includes 9-inch high-leverage lineman's pliers, angled-head diagonal pliers, 8-inch long nose pliers, and a basic compact wire stripper. You even get a couple of cushion-handled screwdrivers in the mix for good measure. While none of these tools might fall under our favorites overall—the sum of the parts works really well.
The pliers and cutters feature induction-hardened knives on the cutting edges. We also like that every single tool in this kit is Made in the USA. This pliers set runs around $97 but should get any apprentice up and running with some excellent, long-lasting tools.
Also good:
Best Lineman Pliers
Crescent 9-1/2″ Z2 Dual Material Lineman's Pliers (Z20509CG)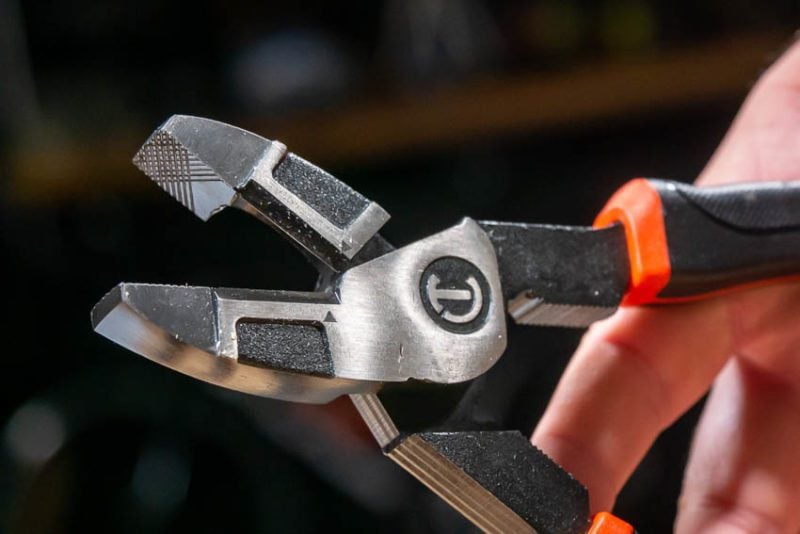 WHAT?! We have the gumption to recommend a pair of side-cutters not made by Klein Tools? Sure, why not. We really like the smooth open/close action on the Crescent 9.5″ Z2 Lineman's Pliers side-cutting pliers. They have an integrated crimper and fish tape puller. We also like that these pliers open and close easily with one hand. Finally, the crosshatched head makes them super-grippy.
Of course, while we do give this tool our best lineman pliers award, Klein and others make excellent products. We use several of them, in fact, and you can't really go wrong with any of them. Pick these up for $25.
Also, take a look at these excellent lineman pliers:
Irwin High-Leverage Lineman's pliers (1902415) – $36
Klein Tools lineman's pliers (D213-8NE) – $33.49
SATA insulated lineman pliers (ST70333ST) – $17
Best Needle Nose Pliers (aka Long Nose Pliers)
Knipex Long (Needle) Nose Pliers
This next recommendation comes from some experience. Often, manufacturers seem to overthink needlenose piers. In our opinion, the best needlenose pliers don't need to have tons of leverage. They don't need to open up super-wide. The point of a good set of needlenose pliers comes down to access. As such, you don't have to spend a ton of money to get a good pair.
The Knipex Long (Needle) Nose Pliers fit the bill for us. At $36 they don't come cheap—but they should last a lifetime.
Best Snap Ring Pliers
Sunex 4 Pc Snap Ring Pliers Set (3614V)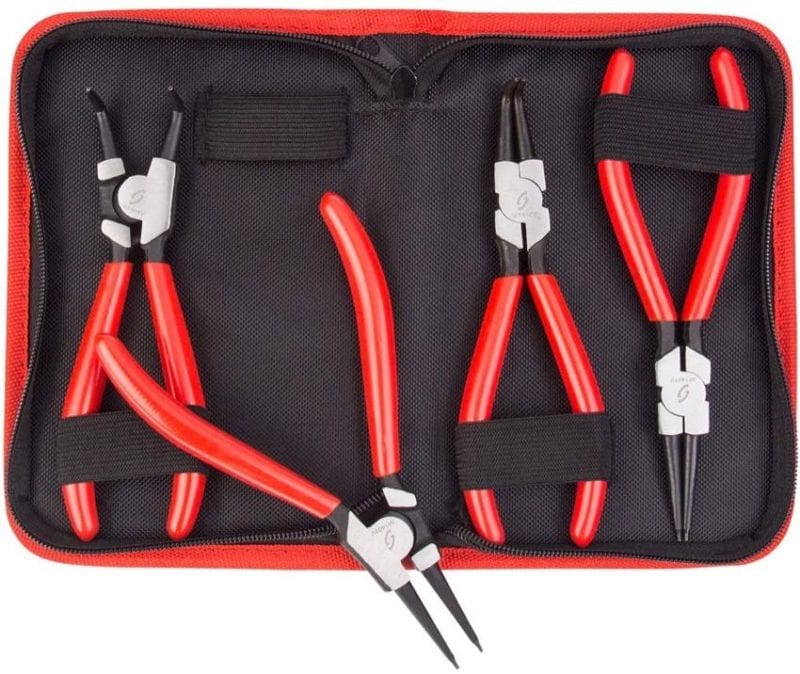 If you need snap ring pliers, we find it often works best to get a nice set. We chose the Sunex 4 Pc Snap Ring Pliers Set (3614V) as our best snap ring pliers set since it covers all the bases. You get four 7-inch snap ring pliers, including internal use straight nose and bent nose pliers as well as external use straight nose and bent nose pliers. Did we mention these come with a lifetime warranty? We like that too.
These snap ring pliers feature self-opening, spring-loaded handles, so you can easily use them one-handed. The 4-piece set runs just under $45.
Best Insulated Pliers
Klein Tools 5-piece 1000V Insulated Tool Kit (94130)
OK, this recommendation presented the toughest pick of the article. We like many of the available choices for insulated tools. The big deal comes down to trusting the brand, the warranty, and the certifications. For those reasons, we don't recommend going cheap or picking up a knockoff brand for these tools. Still, you can drop a lot of money on insulated hand tools, so it helps to shop around. In the end, the best insulated pliers belong to the Klein Tools 5-piece kit.
This Klein 5-piece 1000V kit gives you the basics. For just under $100 you get a side-cutter (2139NEEINS), diagonal-cutter (200028EINS), wire stripper (11054EINS), and two screwdrivers (6934INS and 6924INS). These tools are also Made in the USA and meet or exceed ASTM F1505 and IEC 60900 standards for insulated tools.
As mentioned above, this top pick has lots of great company:
WIHA Insulated Industrial Pliers/Cutters & Screwdriver Set (32985W) – $116
SATA 3-piece VDE Insulated Pliers Set (ST09261SJ) – $42
Knipex 7-piece 1000V Insulated Commercial Tool Set (989825US) – $182
Best Locking Pliers
Milwaukee Tool currently makes the best locking pliers—hands down. In particular, we like their 10″ Torque Lock curved jaw locking pliers. They also make straight jaw pliers, but we get the most use out of the curved jaws for grabbing onto pipes. For $16 you also can't beat the price. Grab onto anything, then insert a screwdriver to really clamp it down onto the material. They also release instantly. Even Irwin Vice Grips, which we also like, don't offer this level of convenience.
Speaking of Vice Grips…
Irwin 2-pack Fast Release 10CR Locking Pliers (11T) – $35
Best Hose Clamp Pliers
ARES 78005 Flexible Hose Clamp Plier
You really need several different hose clamp pliers to cover everything you can run into. However, the best hose clamp pliers we've come across have to be the ARES 71100 flexible hose clamp plier. For removing spring clamps in odd or tight locations, you can't beat them. We like the rubberized grips and the auto-locking mechanism that holds the clamp open until you choose to release it back onto the hose.
We also recommend you have a couple of direct hose clamp pliers as well, but if you only had one pair, this one tool covers anything from 18–54mm hoses. It prices out around $35 online.
Best Long Nose Pliers
Channellock 317 8-inch Long Nose Pliers
The best long nose pliers don't need to cost a lot of money. These tools give you extended reach into tough areas while still providing a decent grip. Unlike needlenose pliers that don't give you a ton of grip strength, a good set of long nose pliers are similar to your lineman pliers but with a pointed tip. We feel the best long nose pliers are the Channellock 317 8-inch Long Nose Pliers due to their narrow form factor and long reach. They're also made in the USA and sell for about $25.
Channellock doesn't include a spring on these particular long nose pliers. If you want that feature, look for our secondary recommendation from Klein Tools.
Another great pick with a spring:
Klein 7-inch Long Nose Side-Cutters with Spring (D203-7C) – $25
Best Slip-Joint Pliers
Klein Slip-Joint Pliers
The best slip joint pliers always have a "kick out" at the base of the grip. It keeps your hand from slipping off and feels more ergonomic when using the tool. We prefer dipped handles on these tools and we look for a solid shear for cutting wire when needed. The Klein 8-inch slip-joint pliers come in three sizes and you can also get them with an integrated hose clamp function. Pick up a pair in either 6, 8, or 10-inch sizes from $16–25.
We also like these very much:
SK Tools Model SKT-7208 8-inch combination slip joint pliers – $22.31
Best "Channellocks"
Irwin Groovelock Pliers
We know, we know…the best channellocks better be made by Channellock, right? Possibly. For us, the best channellocks should easily slide open and closed. Manufacturers also called these groove-joint pliers. Over the years many groove-joint pliers have hit the market. Few have impressed us as much as the Irwin Groovelock Pliers. These remain our top recommendation for best channellocks (in the generic sense) simply due to their ease of use.
Squeeze that center button and the head opens and closes easily. With Groovelock you also get more adjustment points over standard groove-joint pliers. Plus, the tool allows for true one-hand adjustment. Genius. For just $50 you can get a set of three common sizes of these tools.
We'd do you a disservice if we didn't also mention these:
Knipex Cobra Pliers – $121
Wait Just a Second…What About the Best Actual Channellocks?
Channellock 4pc Pro's Choice Set
Fine, fine…Our recommendation on actual Channellocks follows a desire for a solid, reliable, USA-made pair of true Channellock pliers. Everyone should have a pair—period. They make a 4-piece Pro pack that gives you four common sizes to get you on your way. The set includes 4.5, 6.5, 12, and 16-inch tongue and groove Channellock pliers. Get this kit for around $77.
Best Diagonal Cutting Pliers
Southwire 8-inch Hi-Leverage Diagonal Cutting Pliers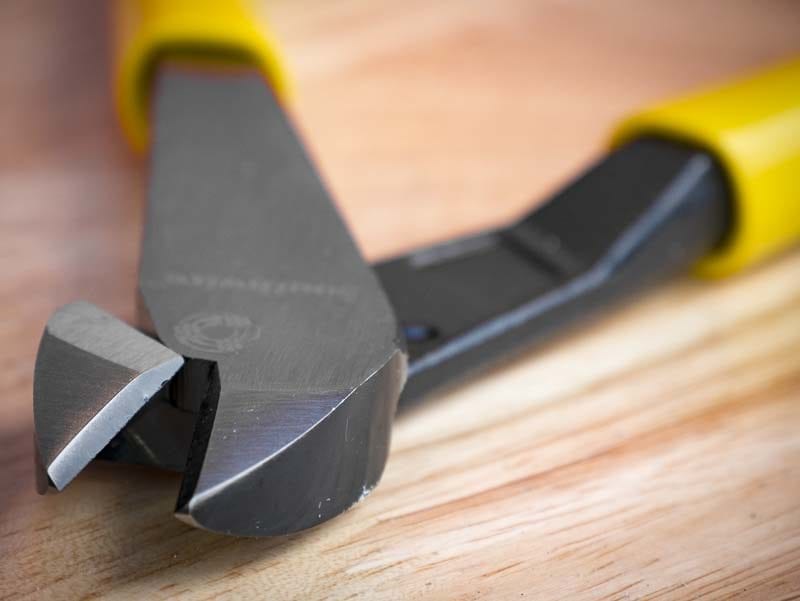 Our crew uses diagonal cutting pliers all the time. While that "high-leverage" term gets bandied about quite a bit, this tool makes it more than just a marketing term. In fact, these Southwire pliers are the best diagonal pliers we've ever used. They give you the strength of much larger pliers, have excellent durability, and feel very comfortable.
High leverage used to mean "longer handle". Now, manufacturers started moving the pivoting point (in this case a hot-riveted joint) closer to the cutting blades. A sharp tip delivers pinpoint accuracy and cutting. At one point we used these to cut through a braided guidewire that was too thick for the pliers as a whole. Using the sharp, pointed knives, we snipped the individual strands until we got through. It also cut MC cable, Romex, and up to #6 wire with more ease than my traditional 9-inch cutters. Grab these for around $18-35 (dipped, comfort grip, or angled) and don't look back.
How We Tested
Real-World Use
Our crew consists of professional electricians and plumbers as well as contractors, auto mechanics, and handymen. Add on top of that a staff of people who use, review, and test tools all day long for their profession, and you have a lot of practical experience.
If it has a cutting edge, we cut through appropriate material—Romex, copper wire, straps, steel cabling, and more. If it strips wire, we test both the top and bottom gauges to see how accurately and consistently it works.
For products with knurled teeth and gripping force, we grab onto both flat materials as well as EMT pipe. The best pliers should grip securely and allow you to twist, pull, or otherwise maneuver material as needed to get the job done.
Our goal is to tell whether a pair of pliers really does what it says—or whether it just has a "neat" marketing gimmick.
Handle Material and Grip
Insulated pliers clearly have a particular requirement for handle materials. For other models, we waver between nice molded comfort handles and plastic-dipped. Molded handles work best for when you need a secure grip and lots of applied pressure. Dipped handles excel for basic tools that you want to grip quickly and get into tighter areas. Many of these tools come in both, and we find that personal preference often leads the way here.
Regardless of which you choose, the best pliers won't slip out of your hands when you get a little oil or grease on them. Dropping tools from height makes for a bad work experience and lost productivity. It's also dangerous!
U.S. Steel vs Other Steel Sources
We make an effort not to draw the line on USA steel. However, when possible, we like to use tools made in the USA with US steel. Steel quality definitely varies around the world and each country uses its own designations to signify the blend. We find US tool steel to be very consistent and reliable overall, so it's our preference.
Cutting Edges
For tools with cutting edges, we look for good induction-hardened cutting knives. We typically use these types of tools enough to get a feel for how well these blades hold up when cutting wire over time. A good pair of side cutters should handle cutting smaller hardened steel like piano wire—without leaving a notch. If your pair says "not made for steel" then the jaws only really support copper and aluminum wire.
Leverage and Jaw Opening
We check how much leverage a pliers delivers. For side-cutters (lineman's pliers), you can find two ~9-inch tools with vastly different max jaw openings. We also look at how far apart the handles need to open in order to get those jaws fully apart.
The best pliers maximize the jaw opening and exert a good amount of leverage without requiring you to have gigantic hands.
Feature Set
In general, here are the features we look for on pliers:
Type of steel used
Leverage provided
Cutting, stripping, shearing, pulling, crimping options
Maximum head opening width
Jaw knurling if applicable
Adjustability and/or locking
Insulation (if applicable)
Unique features
Value
Value is more than just the price of the tool. We consider the whole picture of what you get for the price you pay. That includes the performance, features, ergonomics, warranty, and of course the price of the tool.
Ever check out a "review" site and you can't tell if they actually tested the tools or if they're just "recommending" the Amazon top sellers?
That's not us. We only recommend what we'd actually use, even if we don't earn a commission from it. It's all about giving you a legitimate recommendation and our honest opinion of each product.
We've been in business since 2008 covering tools, writing reviews, and reporting on industry news in the construction, automotive, and lawn care industries. Our Pro reviewers work in the trades and have the skills and experience to know whether tools can perform well in the field.
Each year, we bring in and review more than 250 individual products. Our team will put our hands on hundreds of additional tools at media events and trade shows throughout the year.
We consult with innovators in the technology and design of tools to gain a broader grasp of where these products fit and how they work.
We work with more than two dozen professional contractors around the United States who review products for us on real job sites and consult with us on testing methods, categories, and weighting.
We'll provide more than 500 pieces of new content this year absolutely free for our readers—including objective evaluations of individual tools and products.
The end result is information you can trust because of the editorial, scientific, and real-world professional experience we collectively utilize each and every time we pick up and test a tool.