This week, we have two of the most popular brands in the game going up against each other with their flagship hammer drills. Representing the professional class and with features and performance that go way beyond basic, we have a DeWalt vs Milwaukee hammer drill head-to-head review for you!
Check out our DeWalt vs Milwaukee overview for a higher-level comparison of these two popular brands!
For DeWalt, it's the DCD999—DeWalt's 20V Max FlexVolt Advantage Hammer Drill. Capable of using 20V Max batteries for solid performance, when you insert a FlexVolt battery, it steps up to a whole new level. Plus, it's built on the foundation of a DeWalt drill that's been field-proven for years.
On the Milwaukee side, it's the 4th generation M18 Fuel Hammer Drill. Upgrading both performance and features from the 3rd generation model, it was our #1 overall recommendation in our 2023 Best Cordless Drill buying guide.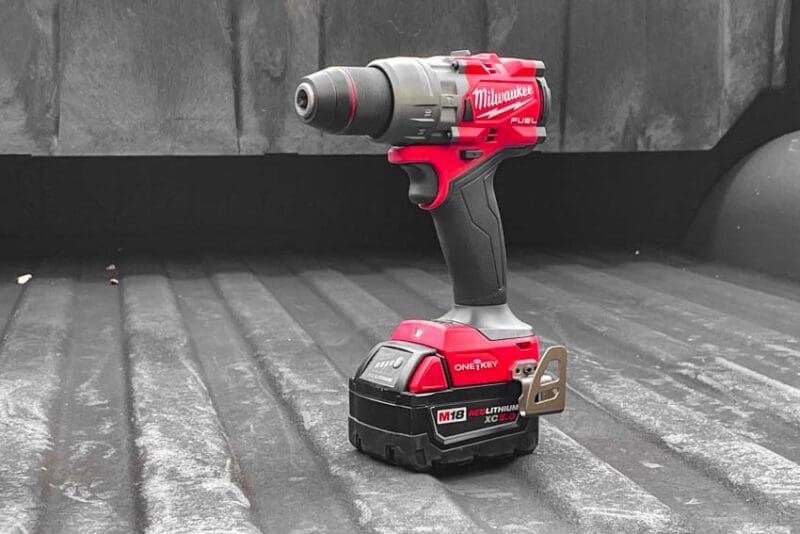 We set up four performance tests for these drills to complete. While performance is certainly the biggest consideration for drills at this level, it's not everything. We'll take a look at size, weight, features, and price. Once you have all of those numbers in front of you, you can decide for yourself whether DeWalt or Milwaukee deserves the win.
Interested in impact drivers? Check out our DeWalt Vs Milwaukee impact driver head-to-head review!
DeWalt actually has several drills you might consider "flagship" models. The DCD996 is the foundation. The DCD997 add Tool Connect app-based controls and diagnostics.
The DCD998 steps up yet again with the Power Detect feature that steps up performance when you use an 8.0Ah battery or higher.
The DCD999 tops them all in terms of overall power output, so it's the natural choice to go against Milwaukee's 2906 in a performance-heavy head-to-head review.
DeWalt Vs Milwaukee Hammer Drill Specifications
Before we jump into the performance tests, here's how these two drill line up on paper.
DeWalt FlexVolt Advantage
DCD999
Milwaukee M18 Fuel
2906
Top Speeds
450/1300/2000 RPM
500/1500/2250 RPM*
500/2100 RPM
Max Torque
1219 UWO**
1400 in-lbs
Max Hammer Rate
38,250 BPM
33,000 RPM
Head Length
8.4 in
6.9 in
Bare Weight
3.6 lbs
3.3 lbs
Weight w/Tested Battery
5.9 lbs (6.0Ah FV battery)
5.0 lbs (5.0Ah battery)
4.9 lbs (5.0Ah battery)
*DeWalt has a higher speed profile in hammer drill mode. **DeWalt reports Unit Watts Out as a measure of power instead of in-lbs of torque.
Take a look at our DeWalt vs Milwaukee Rear-Handle Circular Saw Review!
DeWalt Vs Milwaukee Hammer Drill Test Results
We ran a series of four tests to compare the performance of both hammer drills. To make sure it's fair, we recharged the battery before each test.
Soft Torque
To test the soft torque, we used an inline torque meter and drove a thick lag screw as far as we could into stacked OSB subfloor. This gives us an idea of how much torque each drill is able to put into wood fastening, but it's not perfect.
Modern brushless motors sense the load and shut the motor off before it reaches its full power potential as a protection mechanism. That said, we get an objective, comparable number that's representative of the soft torque in a demanding wood fastening application.
DeWalt FlexVolt Advantage
DCD999
Milwaukee M18 Fuel
2906
Max Measured Torque
468 in-lbs
539 in-lbs
Spade Bit
For our medium-load test, we used a 1-inch spade bit with a self-feeding tip to drill through 4 inches of stacked and glued 1/2-inch OSB. The result is the average of three tests. Any outlier results were thrown out, and the run repeated.
DeWalt FlexVolt Advantage
DCD999
Milwaukee M18 Fuel
2906
Average Time
2.7 seconds
3.4 seconds
Self-Feed Bit
To get an idea of how these hammer drill perform under a heavy rough-in load, we used a 2 9/16-inch self-feed bit to drill through a 2×4 pine stud. We tried each drill in high speed first, and if it was unable to complete the test, dropped into low gear. The result is the average of three tests. Like before, we eliminated any outlier results and repeated the test.
DeWalt FlexVolt Advantage
DCD999
Milwaukee M18 Fuel
2906
Average Time
2.3 seconds
2.6 seconds
Concrete Bit
The final test was drilling through concrete. Using a 3/8-inch concrete twist bit, we drilled 3 inches deep in fully-cured 4000 PSI concrete. We took the average of three tests to get our results. Again, in the event of any outliers, we threw out the result and repeated the test.
DeWalt FlexVolt Advantage
DCD999
Milwaukee M18 Fuel
2906
Average Time
2.9 seconds
3.7 seconds
What About Milwaukee's High Output Battery?
To make our DeWalt vs Milwaukee hammer drill head-to-head review a little more complete, we also gave Milwaukee the advantage of running the same tests with its 6.0Ah High Output battery. You won't find that battery kitted with this tool, and it adds a bit more weight to the package, but we did see some improvement.
For that matter, we also tested DeWalt with a 5.0Ah battery to see how it performs with that pack as well.
Here's how it all stacked up:
DeWalt
DCD999
5.0Ah
DeWalt
DCD999
6.0Ah FV
Milwaukee
2906
5.0Ah
Milwaukee
2906
6.0Ah HO
Soft Torque
380 in-lbs
468 in-lbs
539 in-lbs
591 in-lbs
Spade Bit
3.4 sec
2.7 sec
3.4 sec
2.6 sec
Self-Feed Bit
3.6 sec
2.3 sec
2.6 sec
2.2 sec
Concrete Bit
4.2 sec
2.9 sec
3.7 sec
3.4 sec
Weight
5.0 lbs
5.9 lbs
4.9 lbs
5.7 lbs
DeWalt Vs Milwaukee Hammer Drill Highlight Features
As the flagship drills for their respective platforms, these some of the best features available from these two top brands. Here's a quick breakdown of the major highlights:
DeWalt DCD999
Brushless motor
Significant performance boost when using a FlexVolt battery
3 speeds
Higher top speed in hammer drilling mode
Multiple LED light settings
Tool Connect Chip ready
Milwaukee 2906
Brushless motor
Kickback control
2 speeds
One-Key customizable controls, tracking, inventory, and security
DeWalt Vs Milwaukee Hammer Drill Price
The last piece of the puzzle is price. As top-tier tools from premium brands, it's not a surprise to find that these drills are on the expensive side of what's available. That doesn't mean they're a bad value, though. When you need the best performance available or the most innovative features, these drills can make a real difference in how productive you are, and that can be an excellent value. It's all about how you work.
One more quick note—you can get Milwaukee's drill with or without One-Key, so we included both.
DeWalt FlexVolt Advantage
DCD999
Milwaukee M18 Fuel
2906
Milwaukee M18 Fuel
2904
Bare Tool
$239
$249
$199
Basic Kit
$329
GPH01 Hammer Drill
1 x 6.0Ah FV Battery
NA
$299
2904 Hammer Drill
2 x 5.0Ah Battery
2-Tool Combo
$399
DCD999 Hammer Drill
DCF887 Impact Driver
1 x 6.0Ah FV Battery
1 x 2.0Ah Battery
$449
2906 Hammer Drill
2957 Impact Driver
2 x 5.0Ah battery
$379
2904 Hammer Drill
2953 Impact Driver
2 x 5.0Ah Battery
Prices at Acme Tool at the time of writing