Stud finders are great for locating the studs behind your walls. The tried-and-true "tap and guess" method might work in a pinch, but how many holes do you really want in your wall? Grabbing the best stud finder can help eliminate some of the frustration and repainting that comes from less modern methods.
With a focus on residential and light commercial construction, our team uses stud finders all the time once the drywall is up. Even when we're not using them professionally, there are always pictures and mirrors to hang, shelves to mount, and any number of projects going on around our homes.
There are a lot of "best" stud finder options out there. But let's face it, there's no single model that's exactly what everyone needs. To help you out, our team has broken out a list of our favorite stud finders in a variety of situations along with what we like and don't like about each.
Our Top Picks
Want even more options? Check out what other people are buying!
What is a Stud Finder?
Stud finders help you detect where studs are behind your wall. Most people using one are setting a nail or screw, usually to hang something that might pull through the drywall on its own.
Stud finders primarily come in two categories.
Magnetic stud finders work by using a magnet to locate the screws that hold your drywall in place. They cost less than stud finders that use active sensors, but they're more limited. They can't detect the actual stud, so there's some guesswork as you look for the exact center.
Electronic stud finders actively detect differences in wall density to find studs. They typically use batteries as a power source. Many can detect wood or metal studs and some have AC power detection. The simplest models help you find the edges of studs while others show you the entire stud width. These are more expensive than magnetic models, but not prohibitively so. Some of the best professional stud finders still cost less than $25.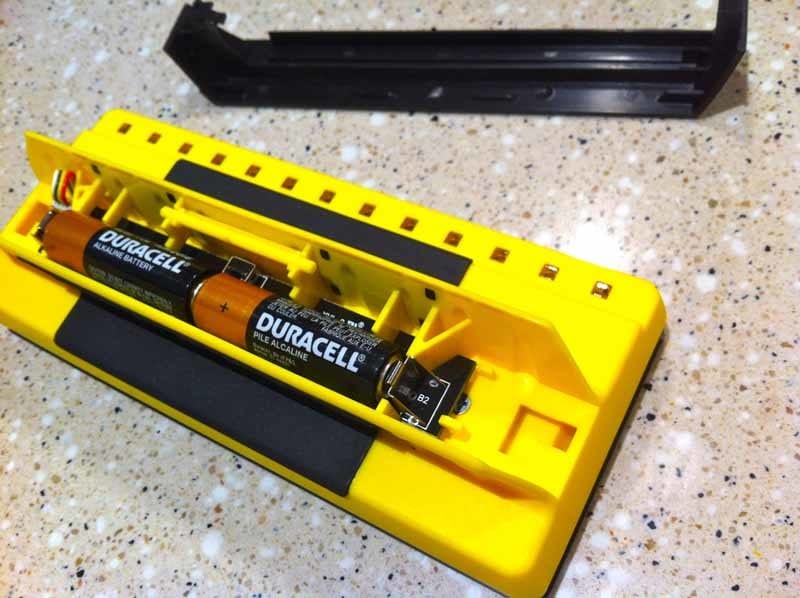 What About Wall Scanners?
There are also other types of tools to detect objects beneath the surface of a wall. Advancing beyond the types of stud finders we recommend, you encounter wall scanners. These radar-like tools typically only get used by professionals to "see" what's behind the wall beyond just studs.
There's an App for That
With the evolution of technology, you can find stud finding apps for both iPhone and Android smartphones. They use the phone's magnetometer (the sensor that drives the compass) to detect metal nails or screws behind the drywall. Presumably, those nails or screws will be in the middle of that stud you're attempting to locate. In our experience, they're not accurate enough to rely on.
Make sure you know if your model needs calibration and how to do it.
Keep your stud finder flat against the wall while you're detecting.
Keep your hands off of the wall to avoid interference.
Unless you're using a whole-stud detector, mark your position from several directions to ensure the best accuracy. Use a piece of painter's tape on the wall if you want to avoid marking directly on the paint.
Combine a stud finder with a cross-line laser to mark the entire length of the stud or to hit the same height across multiple studs.
Stud finders also work great on the ceiling for finding joists.
Studs are typically 16 inches apart (walls) and occasionally 24 inches (ceilings). If you're having trouble finding one, get a good reading on another part of the wall and measure over.
Keep an extra set of batteries in your toolbox for electronic stud finders.
Trying to detect studs in plaster walls sucks. Most stud finders are iffy at best on plaster and lathe. Use a dedicated metal detector instead (recommendation below).
Best Professional Stud Finder
Franklin Sensors makes some of the best stud finders in the game and covers a wide range of styles with a close eye on professionals. The best of the best is the ProSensor M210. Featuring 13 sensors with 21 LEDs over a 7-inch width, this model is more precise in both the sensor and the display than other options.
Using AA batteries for power, it's capable of detecting the full width of wood or metal studs up to 1.7 inches deep, which is handy if you're working on walls with more than the standard single sheet of drywall covering it. There's an AC detector to let you know if there are live wires nearby and a built-in level to help you layout your markings straight. There's even a pencil caddy to keep a pencil on board so you have one when you need it.
Pros
Whole stud detection
Deep sensing
13 sensors with a precision display
One-hand operation
No calibration required
AC detection
Built-in bubble level
Made in the USA with global materials
Cons
Bigger than many units
More expensive than basic stud finders
Price: $62.99
Best Electronic Wall Stud Finder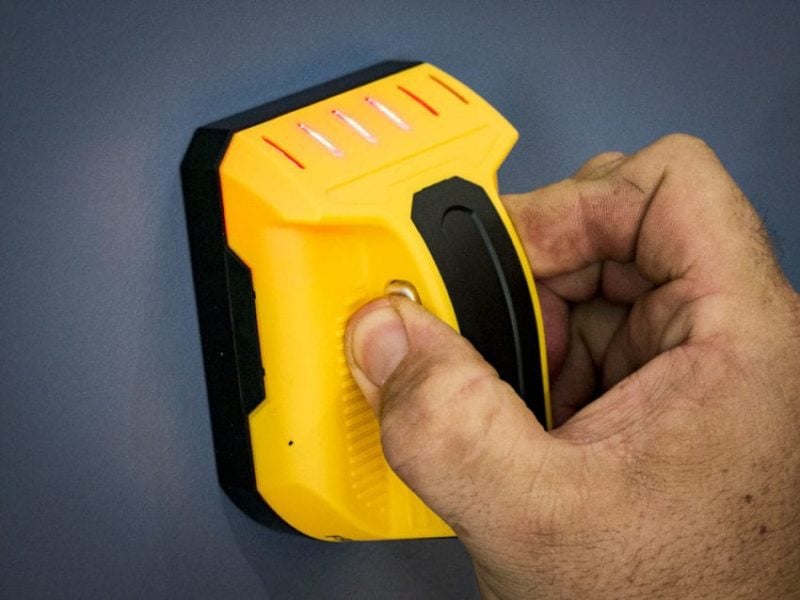 If you're the type of person that's willing to spend a little more to save time and get better results, the Franklin ProSensor T6 is the best compact stud finder. Its small profile is easy enough to store in a drawer or toolbox until you need it, and its whole-stud detection meets the needs of full-time Pros.
Operation is simple and one-handed. The $25 price tag is higher than an inexpensive magnetic model, but it will make your projects go so much more smoothly. It's seriously worth stepping up.
Pros
Whole stud detection
Easy operation
Pro-level accuracy
No calibration needed
Small profile stores easily
Made in the USA with global materials
Cons
More expensive than basic stud finders
Price: $24.99
Best Magnetic Stud Finder
CH Hanson Magnetic Stud Finder
Magnetic stud finders get us back to where it all began—using a magnet to feel where nails or screws are in the stud. Simple options like StudPop work well, but the CH Hanson Magnetic Stud Finder had the most appeal to our team.
It has stronger magnets than many of its competitors, guiding you to the fasteners easily. It also has a rotating bubble level.
Without the ability to electronically sense the sides and center, it's important to get the stud finder level so you can more easily follow the stud. Of course, that assumes the stud itself is straight. We've seen some that are questionable in that department.
We're not alone in thinking CH Hanson makes the best magnetic stud finder. It's consistently rated very highly by customers at every retailer that sells them.
Pros
Tried-and-true simple operation
Strong magnets
Detects ferrous metal studs and wood stud fasteners
Integrated rotating bubble level
Inexpensive
Cons
Unable to detect wood stud sides and center
Price: $11.99
Best Stud Finder With Laser Level
Craftsman 20-ft Self-Leveling Line Generator Line Laser Level
The best stud finder with laser level goes to the Craftsman 20-ft Self-Leveling Line Generator Line Laser Level. By combining a horizontal auto-leveling laser level with a stud finder, you can take care of hanging multiple pictures or longer items with more confidence.
On the stud sensing side, it detects both wood and metal studs by identifying the edges. The red laser is visible up to 20 feet and has 1/8-inch accuracy.
As a 2-in-1 option goes it works. There are some limitations, though. Unlike most dedicated cross line lasers, there's no vertical line or ability to lock in an angle for creative installations. It's also possible to break off the hanging pin if you try to force it in at an angle. If those are functions you need, consider going with a dedicated stud finder and cross line laser as separate models. Several brands have combo bundles available.
Pros
Stud find and laser level in one
Auto-leveling up to 4.5º
Detects wood and metal studs
Detects live AC
Cons
No vertical laser
No angle lock for the laser
The hanging pin can break off
More expensive than other homeowner-focused stud finders
Price: $54.98
Best Stud Finder for Plaster Walls
Zircon MetalliScanner m40
Trying to accurately find studs inside a plaster wall is hard. Magnetic stud finders often won't penetrate far enough and electronic models are iffy at best. Our selection as the best stud finder for plaster walls isn't technically a stud finder—it's a metal detector. In our experience, metal detecting gives us the best results.
The Zircon MetalliScanner m40 is able to detect metal in a variety of materials, including plaster. Like a magnetic finder, you're searching for nails or screws. Lathe can have more nails than the ones just on the stud, so once you find a good stud, measure out from there.
Pros
Senses metal deeper than magnetic models can attract
More accurate in plaster than standard stud finders
Pinpoint scan (turning the scanner sideways) helps identify nails and screws more easily
Cons
Not a good option if you have wire mesh in your plaster walls
Metal pipes and other metal objects may throw off your search for studs
You need to run it multiple times horizontally and vertically to ensure the most accurate results
Price: $46.99
Best Stud Finder for Home Use
Earning our pick as the best stud finder for home use, Ryobi strays from traditional designs and made a solid one-hand model. The ESF5002's elongated physical form gets your hand out of the way so it's easy to see the LEDs even when you're reaching up and keeps all of the controls and stud marker at your fingertips.
This model uses AAA batteries, so there's a good chance you already have some on hand when it's time to replace them.
Pros
Whole stud detection
Finds metal or wood studs
Simple one-button operation
No calibration required
Built-in marker
Cons
The ergonomics aren't for everyone
No AC detection
Price: $31.97
Best Value Stud Finder for the Money
HART Professional 9-LED Stud Finder HART9PRO2
If you're looking to get away from magnetic stud finders and shift to a whole stud electronic style, it's hard to argue with the performance and price of the HART Professional 9-LED Stud Finder. As our pick for the best stud finder for the money, it's accurate, it's inexpensive, and it's easy to use. Thanks to the latest upgrade, it now has an easier-to-see AC detection indicator. We can't ask for much more than what you get with this tool!
Pros
Wide-view whole-stud finder
One-hand operation
AC detection
No calibration needed
Excellent value
Cons
Slightly oversensitive to 120V in-wall voltage
Price: $27.44
Best Stud Finder App
Stud Finder by Tue Nguyen Minh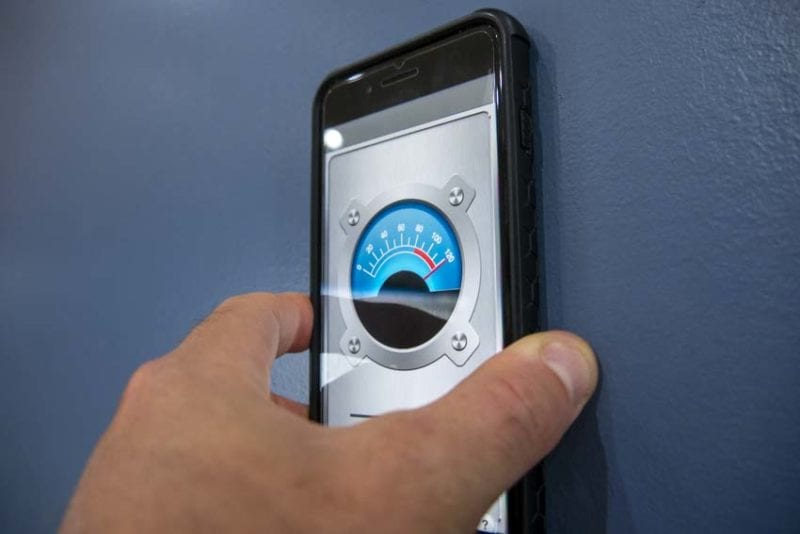 Your best stud finder app options use your phone's EMF sensor (electromagnetic field) to hone in on the source. The most reliable we've found is Stud Finder by Tue Nguyen Minh on iPhone's app store. The interface is simple to understand and easy to read.
The downside is that there's some guesswork based on where your EMF sensor is. Considering you only have 1 1/2 inches of stud to hit, being off a little can move you off of your target completely. In our testing, it's not as accurate as other stud finders. However, if you come at it from several directions, you can dial in the nail's position reasonably well.
It's not available on Android, though. For that system, we couldn't find one we could genuinely recommend you use.
Pros
No cost
The meter shows you signal strength as a measure of closeness
Cons
Iffy accuracy
For best results, you need to mark the strongest signal multiple times from several directions to hone in on the source
Price: free
Best Stud Finder – More Recommendations from Brands We Trust
While the choices above are excellent in their own right, there are other stud finders we use and recommend. Check out these options if you still haven't found one that meets your needs.
DeWalt 1 1/2-Inch Electronic Stud Finder
This is an inexpensive Pro-grade electronic stud finder that forgoes some of the bells and whistles to keep the price down. Like our Ryobi pick, Its flat design isn't for everyone.
Price: $20.99
This model has been a top pick of ours for years before being replaced by the M210. It's a solid performer with 13 sensors. The main difference between the 710+ and the M210 is that this model has fewer LED indicators. It's a solid choice for Pros.
Price: $54.99
Stud Buddy Magnetic Stud Finder
The elongated design of the Stud Buddy has earned a good following and its strong magnets make finding nails and screw easy. It's a good pick for DIYers who want an inexpensive stud finder without worrying about electronics.
Price: $9.97
StudPop was one of the first magnetic models to feature a super-strong magnet. On most walls, you can easily locate nails and screws and then lift your hand away while the Stud Pop stays put on the wall leaving both hands free to work. They're available in a range of color choices.
Price: $8.95 – $13.95
Zircon L30 Electronic Stud Finder
The L30 is a basic edge-finding stud finder. While its 3/4-inch capacity doesn't scan as deep as higher-priced models, its sub-$20 price tag makes it an attractive option as an entry-level electronic stud finder.
Price: $17.99
Zircon M4 Electronic Stud Finder
The M4 is Zircon's full-featured electronic stud finder. It features 5 scanning modes – TC (Target Control), StudScan, DeepScan, Metal Scan, and AC Scan. Its ability to reduce the number of false positives to help you avoid drilling into PVC and metal pipes set it apart in a crowded field of options. Prefer shopping at Lowe's instead? Look for the H4 to get the same features and performance.
Price: $69.97
Ever check out a "review" site and you can't tell if they actually tested the tools or if they're just "recommending" the Amazon top sellers? That's not us. We won't recommend anything unless we'd actually use it ourselves and we don't really care who the primary retailer is. It's all about giving you a legitimate recommendation and our honest opinion of each product.
We've been in business since 2008 covering tools, writing reviews, and reporting on industry news in the construction and lawn care industries. Our Pro reviewers work in the trades and have the skills and experience to know whether tools can perform well in the field.
Each year, we bring in and review more than 250 individual products. Our team will put our hands on hundreds of additional tools at media events and trade shows throughout the year.
We consult with innovators in the technology and design of tools to gain a broader grasp of where these products fit and how they work.
We work with more than two dozen professional contractors around the United States who review products for us on real job sites and consult with us on testing methods, categories, and weighting.
We'll provide more than 500 pieces of new content this year absolutely free for our readers—including objective evaluations of individual tools and products.
The end result is information you can trust because of the editorial, scientific, and real-world professional experience we collectively utilize each and every time we pick up and test a tool.