Expand Your Portable Power in Any Weather With Bluetti's AC60 Power Station
What do you look for in a portable power station? A lightweight design? Water and dust resistance? Performance under load? Bluetti tells us the AC60 Power Station is an answer to all of these requests. Coupled with the B80 Expansion battery, we're looking at how it brings you power wherever you need it.
Can't Wait? Buy Now from Bluetti
Bluetti AC60 Power Station
Equipped with a 600W inverter
Includes 403Wh LiFePO4 battery
IP65 rating
Lightweight: 18.9 pounds
Dimensions (LxWxH): 11.3 x 8.5 x 9.7 inches
Folding handle for maneuverability
Three operating modes: Silent (160W), Standard (225W), and Turbo (600W)
Fully charges in as little as 1.2 hours
Supports solar charging up to 200W
Compatible with various solar panels
6-year warranty
The AC60 is a mini power station that brings all the power of one of a larger size. As Bluetti's most compact portable power supply to date, it weighs a very manageable 18.9 pounds and features a folding handle for added maneuverability. Bluetti also designed it to be water- and dust-resistant, carrying an IP65 rating.
This power station is equipped with a 600W inverter and is powered by a 403Wh LiFePO4 battery. The battery recharges in as little as 1.2 hours through a variety of charging methods, such as solar, AC, and 12V.
It features three operating modes: Silent (160W), Standard (225W), and Turbo (600W). In silent mode, it operates at 45dB, which is around the volume of a quiet conversation.
Bluetti B80 Expansion Battery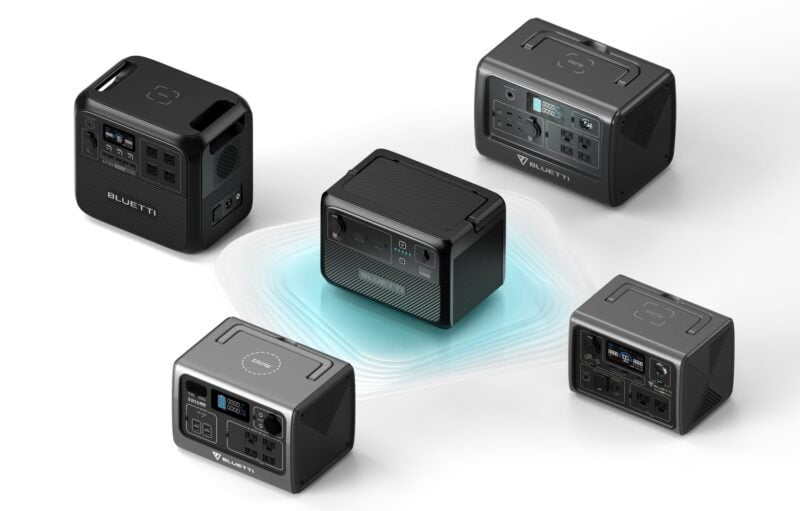 IP65 rating
Cycle life over 3000 cycles
Six-year warranty
Expands AC60's capacity to 2015Wh
Serves as a power bank for other Bluetti solar generators
Functions as a standalone DC power source
Three DC ports: USB-A, USB-C, and 12-volt
806Wh of energy output
Recharge on its own or when used with the AC60
Supports AC adapters and 200W solar charging via standard PV cable
Bluetti also announced the release of the B80 Expansion Battery. Like the R60, it features an IP65 rating for water and dust resistance and a NEMA 4X enclosure. That NEMA 4X rating means the chassis is rated by the National Electrical Manufacturers Association to include a gasket that protects against liquid and solid ingress. That makes the AC60 and B80 suitable for rugged outdoor use.
Not only does it serve as a power bank for the R60, but it's also compatible with other Bluetti solar generators. Plus, it functions as a standalone DC power source with three ports: USB-A, USB-C, and 12-volt. With 806Wh of energy output, it can charge a smartphone up to 43 times in a single charge.
You can recharge the B80 on its own or when hooked up to the R60. It also supports AC adapters and 200W solar charging using a standard PV cable.
Price and Availability
You can buy the Bluetti products at either the BLUETTI website or on Amazon. The early bird price on the AC60+B80 combo is $1198 while the regular price is $1398. You can also purchase just the AC60 or B80 on its own for $699 (Early bird pricing is $599). Early bird pricing ends on May 31, 2023.