Battery-Powered String Trimmers Continue Gaining Popularity In 2023
Even if you're not quite ready to pull the trigger on an electric lawn mower, cordless string trimmers are a much easier jump for most homeowners to make. Even Pro lawn care crews have legitimate options to replace gas models. What's the best battery-powered string trimmer for your needs? We got our team together to determine top picks for a range of priorities.
Want to see our top overall string trimmer picks, including gas models? Check out this article!
Table of Contents
Best Battery-Powered String Trimmer Overall
EGO started back in the day with surprisingly strong performance for a cordless string trimmer and eye-opening vibration control. Since then, it's only gotten better as battery and motor technology have improved. Add to that, EGO's PowerLoad feature makes line changes the easiest to load we've ever used—just thread your line to the middle and press a button.
As for the latest advancement, Line IQ automatic line feeding keeps a 16-inch cutting swath without having to bump the head. It sets the bar very high for any other brand hoping to compete for the title of the best battery-powered string trimmer.
Price: Price: $219.00 bare, $299.00 with a 4.0Ah battery and charger
Best Battery-Powered String Trimmer Power
In case you haven't noticed, Ryobi has been absolutely unleashed in the lawn care department. The 40V HP Brushless lineup has been impressive, taking the Home Depot-exclusive brand to a whole new level in OPE. For the latest flagship string trimmer, that means impressive cutting power.
The combination of advanced battery and brushless motor tech lets you use line up to 0.105-inch with a 17-inch cutting swath. It's fantastic when you're reclaiming overgrown areas or simply have a lot of lawn to maintain. It gets even better, though, because this model is also part of the Whisper Series, boasting 60% quieter operation than a comparable gas model thanks to specifically focusing on the pitch of the sound.
Price: $279.00 bare, $329.00 with 6.0Ah battery and rapid charger
Best Lightweight Battery-Powered String Trimmer
When we're talking about the best all-day, everyday professional string trimmer for crews who prefer light weight models, we love Husqvarna's 520iLX. What helps it rise above others is its combination of lighter weight, extremely low vibration, and thoughtful feature set in conjunction with excellent performance—all with a sub-10-pound operating weight. Other professional brands hit several of the same elements, but none of them put them together as completely as Husqvarna.
Price: $299.99 bare tool
Best Attachment-Capable Battery-Powered String Trimmer
When we tested cordless attachment systems, none of them had the overall performance that Sithl's 36V KombiSystem did. It was the closest one to using a gas powerhead. Now the performance is even better with the KMA 135 R powerhead.
Even though Stihl doesn't use a universal attachment mechanism, the brand's list of available attachments is deeper than we've seen from any other. Plus, Stihl's extensive dealer and service network is there to support you after the sale.
Price: $349.99 powerhead only
Best Cordless Handlebar String Trimmer
Greenworks Commercial 82V Bike Handle String Trimmer
Bike handle string trimmers are the way to go for trimming large areas or long fencelines. Their harnesses shift the weight off of your arms and lower back while offering a stable platform to maneuver.
Of the battery-powered options on the table, the Greenworks Commerical 82V bike handle string trimmer is our top choice. Boasting higher power levels than 36cc gas models, its 5700 RPM top speed and 18-inch cutting swath clear overgrowth in a hurry.
A 4.0Ah battery powers the brushless motor for up to 45 minutes and Greenworks' rapid charger gets it back in the game in just 30 minutes. With a pair of batteries at your disposal, you can charge one while using the other and only have to stop long enough to swap them.
Price: $471.99 bare tool
Best Budget Battery-Powered String Trimmer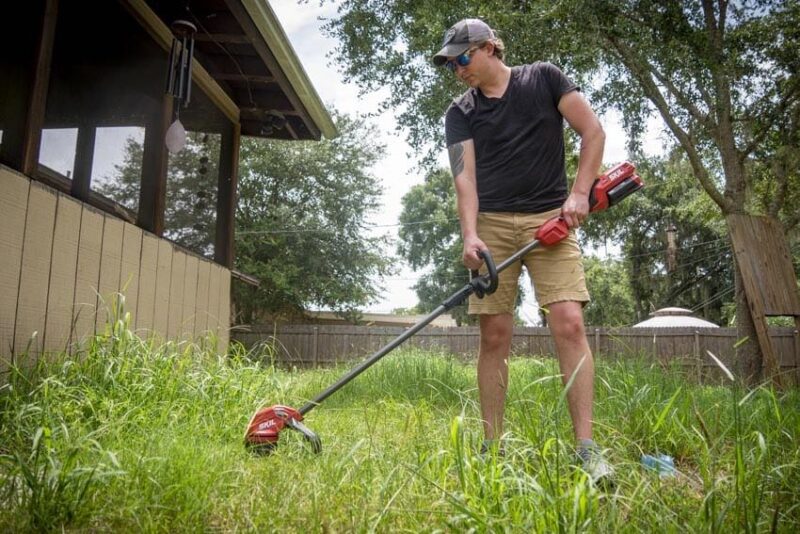 If you're on a budget, there are still quality string trimmers to choose from. There are plenty of good high-voltage ones under the $200 mark and several 18V/20V max models to choose from under $150. But what if you want the performance of a voltage boost but $200 is still too high?
That's where the Skil PWRCore 40 Brushless String Trimmer steps in. This brushless battery-powered trimmer fills a need for a capable weed eater that doesn't go overboard on weight or price. With more power than 18V/20V models, it's a good fit for budget-minded individuals. It also carries a 5-year limited warranty.
Price: $159.00 with 2.5Ah battery and charger
Best Line for Battery-Powered String Trimmers
Echo Black Diamond 0.095-Inch Trimmer Line
Echo Black Diamond trimmer line is denser than others and has sharper cutting edges in its design. For battery-powered string trimmers, you can use Black Diamond 0.095-inch line that cuts like it's thicker without killing your runtime. There's some reduction because of the increase in mass, but not as much as when it combines with the increased air resistance of thicker lines. It's the line we prefer on our gas trimmers and with cordless models being as capable as they are today, we're able to on those as well.
Price: $14.99 1-pound package (253 feet)
Best Battery-Powered String Trimmers: More Recommendations From Brands We Trust
DeWalt sports an impressive 17-inch cutting swath on its latest 60V Max brushless string trimmer. It's a 2-speed attachment-capable trimmer using a universal connection system, opening up more options beyond DeWalt attachments. With 5800 RPM on the top end (4650 in low), there's plenty of speed and you can swap out the 0.080-inch line that comes pre-spooled with 0.095-inch.
It's a little beefier than some models with the 3.0Ah 60V battery pushing the total weight over 11 pounds. The trigger grip section is also a bit thicker than most, so you might not care for it if you have smaller hands. On the plus side, there are three points for the attachment detent to lock into, making it simple to convert the trimmer head into a string edger.
Price: $259.00 bare tool, $329.00 with 3.0Ah battery and charger
Best Echo Cordless String Trimmer: 56V eForce X Series 2600 Series
Our top choice for Echo is a bit different than other brands in that we're recommending a series built on the same foundation. The DSRM-2600 has the top performance with three speeds and a brushless motor that tops out at 5700 RPM. Add in a 17-inch cutting swath and you get a cordless fast grass-clearing machine that has plenty of confidence.
This model comes in a few forms, starting with a standard string trimmer(DSRM-2600) and a bike handle version (DSRM-2600U). There's also an attachment-capable model (DPAS-2600) if that's the route you prefer.
Price: $379.99 – $549.99
Greenworks' Pro 60V line has a few options and we like the ST60L04 as the best overall balance of performance and price for trimming. It's a smooth-operating trimmer with an easy-loading Load N' Go head that uses 0.095-inch line and runs for more than half an hour on its 2.5Ah battery.
Price: $199.99 with a 2.5Ah battery and charger
HART stepped up big time and has a brushless 15-inch carbon fiber shaft model for its 40V Supercharge line. It's another attachment-capable option using a universal connection and is capable of whipping 0.095-inch line with performance that tops what a 25cc gas model can do. Thanks to its carbon fiber shaft, the weight comes down a bit without sacrificing the strength you need for the job.
Price: $237.00 with a 4.0Ah battery and rapid charger
Best Makita Battery-Powered String Trimmer: 40V max XGT GRU03
We realize not everyone is in a place to jump onto Makita's ConnectX system. If you want high performance with wider OPE and power tool compatibility, give the 40V max XGT GRU03 a look. It has three speeds and tops out at a blistering 7000 RPM. Plus, the trimmer's 30cc gas equivalent performance has a 17-inch cutting swath and is suitable for use with a brush cutter blade, making this the most capable string trimmer in the line.
Price: $299.00 bare, $399.00 with a 4.0Ah battery and rapid charger
Milwaukee's M18 Brushless String Trimmer sites alongside the M18 Fuel Quik-Lok attachment system as your two choices from Team Red. Both are solid choices and it's the dedicated brushless string trimmer that earns our top recommendation.
Though not part of the M18 Fuel system, it is brushless and compatible with all of Milwaukee's M18 batteries. This 2-speed model features a 14 – 16-inch cutting swath that cut very confidently in our tests. What sends it over the top is the value proposition. It's under $200 as a kit and it comes with a 6.0Ah High Output battery that retails for $179 if you bought it by itself. If you're a fan of Milwaukee tools, this is a great entry into its OPE line.
Price: $179.00 bare, $199.00 with a 6.0Ah High Output battery and charger
Ridgid fans don't have to consider a separate battery system to join the cordless lawn care craze anymore. Fully compatible with Ridgid 18V power tool batteries, there's a nice range to get started with.
The string trimmer is on the smaller side, featuring a 12 – 14-inch cutting swath but still capable of using 0.095-inch line. It's also on the lighter side, weighing less than 10 pounds with a 4.0Ah battery.
Price: $189.00 bare, $249.00 with a 4.0Ah battery and charger
Stihl was already doing a great job in the professional battery-powered lawn care department, but the 135 line takes it a step further with even better performance and durability. Comparable to the power the FS 91 offers, it's matching up with one of Stihl's workhorse gas models. The trimmer works best with 0.095-inch line and has a 16.5-inch cutting swath. It also comes in both standard and bike handle models, giving you a great option for clearing large areas.
Toro's 60V 51830 is the top performer for the Flex Force line. Its brushless motor offers an excellent 16-inch cutting swath and a well-balanced design. While it doesn't have some of the cutting-edge features that some of the other models do, we don't have any complaints. It's an excellent all-around option that keeps its price reasonable.
Price: $149.99 bare, $219.99 with a 2.5Ah battery and charger
Best Battery-Powered String Trimmer Buying Guide: What We Look For
Cutting Power
Three primary factors go into cutting power: line speed, line thickness/mass, and motor torque.
The faster the line whips around, the better the tips cut grass. Most battery-powered string trimmers are fine in this category. As long as you're getting at least 5000 RPM, you should be in good shape. The top models are capable of hitting 6500 RPM and there is a significant difference in how fast you can complete your trimming duties at higher rotational speeds.
Shifting the focus to the line thickness, the higher the line mass, the more force it's able to cut through thicker grass with. It's like the difference between getting hit by a 175-pound safety and a 225-pound linebacker at the same speed. More mass equals more cutting power.
Most cordless string trimmers take 0.080-inch line at a minimum. We recommend 0.095-inch for the best all-around performance. If you have tougher grass or deal with overgrowth frequently, a string trimmer with 0.105-inch line lets you power through even better. Just keep in mind that line diameter has a direct effect on runtime—thicker line takes more power to run.
Finally, a motor with higher torque helps the trimmer resist slowing down as the going gets tougher. Even though trimming grass seems like a low-demand task, grass does push back against the line, causing it to bend back and eventually start to bog the motor. Higher torque holds keeps the head spinning better in tough cutting situations, even when its highest RPMs are lower than low-torque gearing.
Cutting Swath
Having a large cutting swath helps you clear large areas faster or gives you a more generous border for your mower. You need more power to run wider, though, and runtime is always a consideration. That said, in the past couple of years, we've seen the technology come together to give us solid options. Look for a 15-inch cutting diameter for most situations. Recent 16- and 17-inch models are a great choice when you have larger areas to cut.
Runtime
The average homeowner on a 1/4-acre lot only needs about 15 minutes of consistent trigger time to cover trimming. Most cordless string trimmers are able to hit that at high speed without too much trouble.
Professional lawn care crews need much more, though. So do homeowners with large properties and farm/ranch acreage.
If your runtime needs are greater, look for a string trimmer that balances the efficiency of a brushless motor, uses 0.095-inch line, and possibly comes with a higher-capacity battery. Of course, you can always carry multiple batteries.
Also, consider learning how to trim at low speed when the grass isn't as thick. Even though you have to slow down a bit, you'll cut a significantly larger area.
Vibration
We highly value low-vibration string trimmers. We already have enough work to do managing the weight of such a long tool without vibration adding additional fatigue. The harmonics in some of today's models are so good that hardly any vibration makes it up the handle… and they are a joy to use!
Weight and Balance
If you're working all day on a lawn crew or even just putting the finishing touches on your own lawn, you want the lightest weight you can get without sacrificing the power you need. Bare weight isn't everything—the battery can add a lot. If you can get a fully-loaded battery-powered string trimmer that meets your performance needs and comes in under 10 pounds, that's a big win.
Balance is a consideration and the trimmers that have the best typically mount the motor on the trimmer head to counter the battery weight on the back. Many models also let you adjust the front handle to help dial in your fit.
If you're after an attachment-capable model, you're stuck with the motor in the back, and the balance shifts back. For those trimmers that are simply heavier by nature, consider adding a shoulder strap to help you out.
Sound Level
Low noise is one of the major benefits of moving away from gas power. Cordless string trimmers we've tested range from decibels in the low 80s to the upper 90s (measured at our operator's ear). Even at the top end, it's an improvement over the majority of gas trimmers.
Your line selection plays a bigger part than it does on gas trimmers. Sometimes, switching the line you use can reduce the overall noise level or change the tone to a less irritating pitch.
Line Changes
When you have to change the line, it can be an easy or frustrating process. Manual loading is largely a thing of the past, though some trimmers still have manual heads. To make the process easier, look for models that have some type of fast-loading system (SpeedFeed, Rapid Load, etc). With these, you thread the line through the head to the middle, turn the head to load it, and go get on with the work.
Regardless of what comes on the trimmer, you can upgrade most to a quick-load head.
The best on the market right now is EGO's PowerLoad design. It takes the fast-load concept and adds automatic winding and gives us the easiest, quickest line changes we've ever had.
Attachment Capability
Pro lawn crews typically have dedicated machines for string trimming, edging, and hedge trimming, but homeowners can save a lot of money by using interchangeable heads and tools that cover everything from blowing to brush cutting.
As we mentioned earlier, attachment systems require a top-mounted motor that affects the balance. It's a trade-off you have to make for the convenience you gain.
One thing to keep an eye on is the attachment connection style. Models with a "universal" connection can use attachments from other brands, opening up far more choices. Recent multi-head systems including EGO, Milwaukee, and Stihl aren't compatible with others, so you need to make sure they have everything you need before investing.
Why You Can Trust Pro Tool Reviews
Ever check out a "review" site and you can't tell if they actually tested anything or if they're just "recommending" the Amazon top sellers? That's not us. We won't recommend anything unless we'd actually use it ourselves, and we don't really care who the primary retailer is. It's all about giving you a legitimate recommendation and our honest opinion of each product.
We've been in business since 2008 covering tools, writing reviews, and reporting on industry news in the construction and lawn care industries. Our Pro reviewers work in the trades and have the skills and experience to know whether tools can perform well in the field.
Each year, we bring in and review more than 350 individual products. Our team will put our hands on hundreds of additional tools at media events and trade shows throughout the year.
Pro Tool Reviews consults with innovators in the technology and design of tools to gain a broader grasp of where these products fit and how they work.
We work with more than two dozen professional contractors around the United States who review products for us on real job sites. We consult with them extensively on testing methods, categories, and practical applications.
Our site will provide more than 500 pieces of new content this year absolutely free for our readers. That includes objective evaluations of individual tools and products.
The end result is information you can trust because of the editorial, scientific, and real-world professional experience we collectively utilize each and every time we pick up and test a tool.